Pioneering local vegan cafe Stem & Glory shares the story behind its rise to success – and some delicious recipes
After a barnstorming campaign in 2021, when over half a million people officially pledged to go animal-product-free for 31 days, the new year is expected to bring yet another record-breaking Veganuary. It's just one marker of the rapid rise of veganism across the world – which, according to some estimates, has seen a staggering 40% increase in the UK alone.
The success of local plant-based cafe Stem & Glory has grown in tandem with this gathering momentum of veganism. But the story started much earlier, explains owner Louise Palmer-Masterton. "I'd been rolling the idea of a vegan cafe around in my head for many years, through my own love of cooking plant-based food, and the total lack of places to get a decent vegan meal," she explains. "There were various incarnations of the brand within my leisure business, so it evolved over quite a long time. But the first Stem & Glory proper opened in 2017." 
Since then, helped along by incredible crowdfunding efforts, the Stem & Glory brand now incorporates a thriving cafe in Cambridge, a site at Barts Square, London, and a third coming soon to Broadgate, near Liverpool Street Station, as well as an online store delivering meals and merch all over the UK. 
The company's mission, says Louise, is about serving plant-based food delicious enough to turn everyone vegan – and to do so in a way that is light on the planet. That's not lip service: after much hard work, Stem & Glory is now, proudly, a net zero company. 
It's a rare thing that an independent cafe manages to expand into a second or third branch, let alone successfully rolling out its offering in the saturated London dining market – while a global pandemic rages on, no less. So, what's the secret to Stem & Glory's amazing ascent? Louise thinks it boils down to having a great product, yes, but also a cause at its heart bigger than simply being a place to eat – and getting people to buy into that.
"I think the reason we've been so successful in crowdfunding is that it works really well for mission-driven businesses," she reflects. "It's all about resonating with investors. If they believe in your mission, they will support it."
In 2018, when Stem & Glory did its last big fundraising push, veganism was starting to trend – and the company was able to ride that wave. Things are different now, and the market is much more established, but Louise believes if you can sell people on your philosophy and get the strategy right, there's no reason you can't effectively utilise the tool to get a business off the ground, or grow it.
"Crowdfunding is part art and part science. If you get the right 'recipe', it works," she advises. "It's mostly about having a pre-existing crowd. Anyone thinking of doing a raise, don't rely on the platforms to provide the interest – you have to drum that up yourself."
As the founder of Cambridge's first dedicated vegan cafe, Louise has had a front-row seat for observing the seismic shift in public opinion towards plant-based diets. While great strides have been made, there is a way to go, she cautions: "Non-vegan restaurants are improving their offerings all the time, and I hope that works out, as obviously demand will have to be there. Research points to everyone eating less meat – but being vegan is still actually a very niche thing. People just don't think deeply enough about eating animals. If they did, surely everyone would be vegan!" 
The future looks bright for the team, as they work towards their next major milestone – the opening of branch number three, on London's Liverpool Street. The company's biggest project to date, it should be up and running by April, and will incorporate a bar, as well as serving food all day. As with the other outposts in the burgeoning group, the menu offers an ever-evolving selection of vegan dishes, packed with British produce. Fancy a preview of the treats in store? Celebrate Veganuary by trying your hand at one of Stem & Glory's tasty recipes. 
Sea-spiced tofu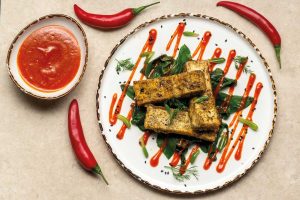 Ingredients
250g tofu in water/naked tofu
100g arrowroot powder/cornflour
1 tsp sea salt
1 tsp cracked black pepper
½ tsp smoked paprika powder
1 nori sheet/1 tsp seaweed powder

 

100ml sweet chilli and sriracha mix – or make a spicy-sweet combo
200g greens, wilted (we use coastal natives like sea beet, but grab what's available, eg spinach or Swiss chard)
2 tbsp vegetable oil
½ tsp extra virgin olive oil
Mixed seeds, to garnish
Step-by-Step Guide
1. Open the tofu, and take it out of the water, to a chopping board.
2. Cut the tofu into 2cm sticks.
3. Mix the arrowroot, salt, black pepper, smoked paprika, nori sheet blend and place in a shallow dish.
4. Heat vegetable oil in a frying pan on a low heat, then dip the tofu sticks in the arrowroot powder mix.
5. Fry the coated tofu sticks in the pan for 30 seconds, and ensure all sides are golden (you might need a little more oil as you fry in batches).
6. When the tofu is done, place on kitchen roll to remove excess oil. 
7. Wilt the greens in a pan with extra virgin olive oil. Don't season, your sauce will do the job.
8. Now build the dish: place the greens straight in the middle of the plate, and top with the tofu. Drizzle the chilli and sriracha sauce and decorate with peppercorns and mixed seeds. Add some more sea flavours like seaweed powder, if you wish
If you wish, add some more sea flavours like seaweed
Cauliflower buffalo wings & ranch dip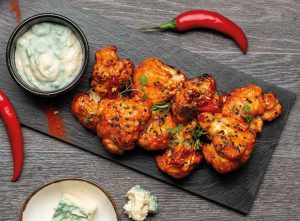 Ingredients
1 large head of cauliflower
240ml milk alternative (eg oat milk)

 

60ml apple cider vinegar
130g all-purpose flour (gluten-free flour works, too)
1 tbsp garlic powder
1 tbsp smoked paprika powder
½ tbsp chilli powder
½ tbsp cumin powder
½ tbsp black pepper

 

1 tbsp sea salt
Hot sauce/barbecue sauce to glaze

 
Step-by-Step Guide 
1. Preheat frying pan with oil at 180°C.
2. Cut cauliflower into bite-size pieces. 
3. In a large bowl, add the milk alternative, apple cider vinegar, flour, garlic powder, smoked paprika, chilli, cumin, black pepper and salt. Whisk until well-combined.
4. Add the cauliflower to the batter in the bowl, and toss to combine. Remove the pieces of cauliflower, one by one, and tap off some excess batter a few times on the side of the bowl. Place on a tray, ready to be fried. 
5. Shallow fry for two to three minutes. Flip and fry for two more minutes, until golden brown. Place on kitchen roll to remove excess oil. 
6. Brush barbecue/hot sauce on each wing, or toss the florets with the sauce in a large bowl, then serve. 
Tap off some excess batter on the side of the bowl
Ranch Dip
Ingredients
120ml vegan mayo, or coconut yoghurt
1 tbsp chopped parsley

 

1 tbsp chopped dill
1 tbsp garlic powder
1 tbsp black pepper

 

1 tbsp sea salt
Step-by-step guide 
Place the vegan mayo/coconut yoghurt in a bowl, mix in garlic powder, black pepper, sea salt with a whisk; then add the chopped parsley and chopped dill. If you're using coconut yoghurt, add two tablespoons of apple cider vinegar.
Tofu katsu with purple kimchi
Ingredients
Tofu steaks 
200g drained and pressed tofu (smoked tofu is best)
1 tsp curry spice mix (mild korma spices work, or make your own with the recipe below)
100g panko breadcrumbs

 

20g desiccated coconut
120ml aquafaba (or 1 tbsp flaxseed powder mixed with 4 tbsp water)
Step-by-Step Guide 
1. Slice the tofu to the desired thickness and set aside. 
2. Mix the breadcrumbs, desiccated coconut and curry spice, for breading. 
3. Dip the tofu steaks in the aquafaba, then into the breadcrumbs – repeat if you need to have a thicker crust – and place on a tray with baking parchment, ready to cook in a 200°C oven for eight minutes.
Ingredients
Katsu sauce with vegetables 
250ml coconut milk
1 tsp agave syrup

 

60ml tamari or soy sauce

 

4 tbsp extra virgin olive oil

 

2 tbsp curry spice mix
1 tbsp tomato puree
1 tsp grated ginger

 

1 tsp minced garlic
1 tsp cornflour, or arrowroot/coconut flour
1 medium aubergine, diced

 

1 courgette, diced

 

1 carrot, finely diced
100g green beans, halved
1 tsp sea salt
Step-by-Step Guide
1. In a hot pan, add olive oil, aubergine, courgettes, carrots, ginger and garlic; cook for three minutes.
2. Add curry spices, tomato puree, tamari, and cook for around two minutes; add the coconut milk, agave syrup and green beans, cover and leave to simmer for five minutes on low heat. 
3. Add salt and cornflour, stirring quickly in a figure-of-eight motion, so the cornflour doesn't lump; cook for one minute.
Ingredients
Purple kimchi salad
100g purple cabbage

 

1 tsp garlic powder
1 tsp chilli powder, or chipotle powder

 

1 tsp salt
75ml apple cider vinegar
Step-by-Step Guide
Shred the cabbage to your liking. Place in a bowl with garlic, chilli, salt and apple cider vinegar. Rub with your hands until soft.
Make Your Own Spice Mix
1 tsp ginger powder
1 tsp turmeric powder
1 tsp cumin powder
1 tsp coriander powder
1 tsp cinnamon powder
1 tsp garlic powder
1 tsp paprika powder
Short on time to cook from scratch, or just fancy a day off? Check out these vegan eateries in Cambridge!