Enjoy a taste of Bombay, delivered to your doorstep
Causing a crackle of excitement on the Cambridge food scene, Indian restaurant par excellence Dishoom popped up on takeaway app Deliveroo at the end of January. It was after months of speculation that this famous eaterie was planning some kind of opening in the city, with fans keeping a close eye on social media for announcements. Sadly, we're not being treated to a full-blown Dishoom restaurant (yet), but the Deliveroo kitchen will be cooking up all the favourites, from the Chicken Ruby to the House Black Daal, using the same great ingredients and sought-after recipes. You can order between 12pm and 10.30pm daily, and deliveries can be made to areas including Romsey, Eddington, Chesterton and Cherry Hinton, amongst others. From sumptuous Kathi rolls at lunch to punchy pepper lamb curry or veggie specialities like the jackfruit biryani, as well as Dishoom IPA and handsomely bottled house cocktails, you'll be spoiled for choice with the menu's feast of flavours.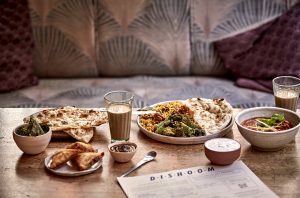 As in the restaurants, for every meal served, Dishoom will donate a meal to a child that might otherwise go hungry. This pledge began in the cafés in 2015 during Ramadan and was made permanent at Diwali the same year, and to date, Dishoom has donated almost 10 million meals in partnership with charities. The team has committed to the same pledge for their delivery service, and for each meal served via Deliveroo, they donate a meal through Akshaya Patra, a charity in India which provides nourishing free meals to state school children. In 2020, Dishoom donated over 110,000 meals to Akshaya Patra through their delivery kitchens alone.
If you're not in the catchment area for deliveries, you can still get in on the Dishoom fun with a bacon naan kit, or by purchasing the Bombay with Love cookbook: both are available via the Dishoom Store.