Elisha Young (aka @elisha.eats on Instagram) is here to help you break out of your date-night dining rut and try something new 
Q: Is there a hidden gem in Cambridge you could recommend for a date? Ideally with a cocktail menu, too.
A: I am strongly of the belief that any restaurant can be a date restaurant if you are determined enough. I have been on a first date where we ordered from a fried chicken food truck, sat at a bench and ate with our hands – but both had a fantastic time. That being said, I don't know what kind of date you're going on. Is it a first date? A special occasion? A cute weekend outing? I'll give you different suggestions and hopefully one will hit the mark!
First up is an eatery that's actually located inside of a cocktail bar – so that should cover all your bases when it comes to drinks. Lazy Boys is a fried chicken joint that serves incredible wings, tenders and burgers from 2648, the cosy underground cocktail bar on Trinity Street. Fried chicken may not sound all that fancy, but trust me when I say that this place is a true hidden gem. The menu ranges from Korean glazed wings with Kewpie mayo to mac 'n' cheese, including a satay sauce chicken burger (which I highly recommend) and chorizo beans. There's also a mushroom burger, with a patty that's handmade on-site to ensure that vegetarians get to enjoy the same flavour explosion as the meat eaters. And I promise this fried chicken isn't heavy and greasy. The chicken is free-range and from Norfolk, while the batter is gluten-free, resulting in some of the lightest, crispiest fried chicken I've ever eaten.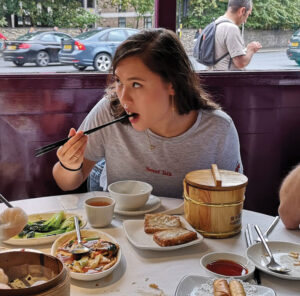 Speaking of great food you can find alongside alcoholic beverages, I should also mention Oscar's Lockdown Pizza – a pizzeria in residence at the Blue Moon pub on Norfolk Street. Oscar's strong point is inventive flavour combinations – plus the fact every single pizza is also available in a vegan alternative. You can look forward to perfectly charred sourdough bases topped with exciting ingredients like deep-fried aubergine or mango chutney. The pizzas also come with a dangerously addictive tarragon and garlic dip that will have you polishing off all your crusts without even meaning to; while the garlic bread options include caramelised garlic flatbread and garlic butter sticks. Oscar's also serves homemade pistachio gelato – only available when eating in. There are dairy and vegan versions, and the former enjoys a generous topping of white chocolate. Pretty romantic way to finish a date, right?
If you're more in the mood for a daytime date, I can't recommend Chez Amélie highly enough – tucked away in Cambridge Cookery School, which is a ten-minute walk from the train station. With a sun-drenched terrace worthy of the Mediterranean, this little cafe serves the same flammekueches as its sister restaurant in the Grafton, as well as perfectly executed brunches (think shakshuka and poached eggs on sourdough) and a whole collection of homemade cakes, quiches, pastries and tarts. The baked goods change regularly, but keep an eye out for pains au chocolat and fruit tarts if you're after a superlative sweet treat. There's a wine, beer and cider selection, plus excellent coffee. Oh, and it's dog-friendly, too. 
Whether it's a first date or not, I hope you've found somewhere to enjoy a bite to eat and a cocktail or two. The Cambridge food scene is full of hidden gems if you know where to look, so it's always worth trying somewhere new. You might discover a favourite!