With its centenary coming up, Fitzbillies owner Tim
 H

ayward shares plans for the cafe's celebrations

 

2020 will be the centenary year of Fitzbillies. We're just the latest in a long line of families who've owned this Cambridge institution, but we take our responsibilities seriously. We're experts in celebrating, so we'll be doing what we do best. We'll be doing cake, we'll be doing parties and, for this most important of occasions, we also wrote a book.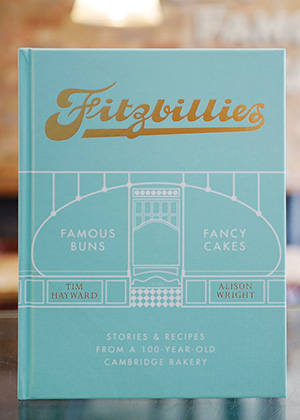 Many restaurants publish recipe books, but was it right for Fitzbillies? Our most famous recipe, the iconic Chelsea bun, has been a well-kept secret for the best part of a century – and should we really be telling people how to make our macaroons, friands and sachertorte at home? Perhaps we're too close to it but, for us, Fitzbillies is about so much more than the cakes. It's also about our customers and the community we serve, our fantastic staff, our relationship with the town and university, the history of high street bakeries in the UK, and our whole 100-year story in this city. 
Once we started writing, though, the shape of the book became apparent very quickly. Collecting together our recipes, adjusting them for home baking and testing them extensively was fun… we all love baking after all. But writing down all the century's worth of stories we'd collected from customers past and present, organising the facts and timelines of our business and researching the history of high street bakeries… well frankly we were soon wondering where we were going to find space to put all this fascinating stuff. 
It's been eight and a half years since we rescued Fitzbillies from closure, the latest custodians of the legendary name. It's been hard work, immensely rewarding and totally involving – which is why the best part of writing a book for us has been the chance to really look deeply at what we do. It's too easy in the rush of work, to forget that the Fitzbillies 'day' starts at 9pm when the night bakers arrive for work and doesn't finish until 7pm the next evening when the cafes have closed, the floors are mopped and the chairs are up on the tables. It's not until we wrote A Day in the Life of Fitzbillies that we really appreciated how full-on it is. 
It was a similar revelation to see how full our calendar is, with special cakes for Valentine's and Easter, surges in business during graduations, matriculation, high tourist season and, of course, the madness of Christmas.
Fitzbillies is about so much more than cake. It's about our customers and the community we serve
We start making Christmas cakes and puddings in the quiet of September. They benefit from a slow and contemplative baking process, followed by a period of maturation, and the cakes also need regular feeding with alcohol. When term ends early in December, we can get down to some serious preparation: the Christmas cakes get their last shot of rum and are topped with marzipan and icing.
Then begins the madness of the mince pie marathon. All leave is cancelled, every baker –plus as many other members of staff as are deemed competent – crowd round the giant tables in the bakery and, with the sort of production line that would make Henry Ford turn in his grave, produce thousands of the most delectable mince pies you will ever eat. They have been called 'sublime', 'heavenly', 'addictive'… one of our more irreverent young bakers once dubbed them 'Cambridge crack'.
This is also the time of year when meringue snowmen start appearing in the shop. We think they might be related to the meringue ghosts that appear around Halloween, but nobody is sure. It's a strange thing. We never plan the snowmen, there's no 'launch date' or particular fanfare. The first Christmas after we took over the business, the snowmen arrived as if of their own volition, as they apparently always have, and every year since they've done the same.
At this time of year, we also make our spectacular decorated Genoa cake (below) and the very popular gingerbread. Why not have a go yourself.
We've got the recipes for both right here