Local company OliveOlive has released a cookbook full of Mediterranean inspiration for family mealtimes
"We wanted a selection of easy family recipes that anyone could replicate and enjoy. There are a few trickier options for the more advanced cook to try their hand at, but we can guarantee you'll get a real taste of the Mediterranean from all the meals," says Rob Marsden, co-author of the new OliveOlive Mediterranean Cookbook. Together with his wife, Pam, he's compiled a mouth-watering selection of 50 recipes, ranging from traditional Greek and Cypriot dishes such as kleftiko, katimeria, ravioles and eliopittes, to favourites like black olive tapenade and souvlaki. 
The book has delicious ideas for cooking with both olive oil and halloumi, showcasing how you can utilise amazing Mediterranean flavours in everyday cooking
The couple have a wealth of experience with Mediterranean produce and cuisine, having run OliveOlive since 2014. This Cambridgeshire-based company started out supplying the UK with authentic olive oil from Pam's family in Cyprus, but has since expanded the range to include handmade halloumi made by friends on the island. The book has delicious ideas for cooking with both the olive oil and halloumi, showcasing how you can utilise amazing Mediterranean flavours in everyday cooking. Aside from a few recipes contributed by chefs who use and love OliveOlive products in their restaurants, such as the Greek-style roast fish from Bedford Lodge Hotel and heirloom tomato carpaccio with olive ice cream from Maison Bleue in Bury St Edmunds, most of the recipes are from Pam, her family and their friends. 
"They're all delicious, because most have been tried and tested down the generations!" enthuses Rob. "But we have some special treats for halloumi lovers in particular, as we're always being asked what else can be done with it, apart from grill, fry or barbecue. We're happy to say that around a quarter of all the recipes involve it. The halloumi burgers are a particular favourite. As is Pam's 'Stuff that! Chicken' – which is always a hit in our house."
Cousin Costas' kleftiko
Kleftiko means 'stolen'. It originated in 14th-century Greece, when mountain guerrillas would steal a lamb or goat and cook it in underground pits to avoid smoke or the smell of cooking. This is my cousin Costas' recipe, which he kindly let me share.
Serves: 4-6 
Prep time: 10 minutes
Cook time: 2 hours 30 minutes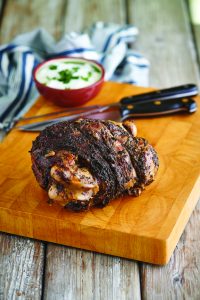 Ingredients 
• 1 leg of lamb
• 1 onion, peeled and sliced into rings
• 2 tbsp extra virgin olive oil
• 3 garlic cloves, crushed
• 4 bay leaves
• 1 tbsp dried oregano
• 1 tbsp dried thyme
• 1 tsp ground cinnamon
• 300ml water
• Sea salt and black pepper
Step-by-Step Guide 
1. Preheat the oven to 160°C/140°C fan/gas mark 3. Put all the ingredients into a large, deep roasting tray, then cover the tray with foil and slow roast in the preheated oven for two hours 30 minutes. The meat should separate easily from the bone and melt in your mouth.
2. Serve the kleftiko with a nice big dollop of Greek yoghurt and Cypriot salad on the side.
3. You can also add potatoes to the recipe; peel a couple, slice into discs, then add to the roasting tray with everything else. They absorb all the flavours from the lamb and taste delicious.
Halloumi fries with pomegranate, spring onion and coriander
If you've ever had the famous halloumi fries at The Crown Inn, Broughton, you know exactly how delicious they are – here's the recipe, straight from the head chef himself, Mark Frith. 
Serves: 3-4
Prep time: 10 minutes
Cook time: 10 minutes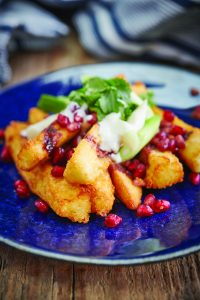 Ingredients
• 250g halloumi
• Gram (chickpea) flour or cornflour
• 1 pomegranate
• A few spring onions
• Fresh coriander
• 1 lemon, juiced
• 100ml mayonnaise
• Pomegranate molasses
Step-by-Step Guide 
1. Cut the block of halloumi into chip-sized fingers, then shake over enough flour to dust all the halloumi in a tray. Roll the fingers in the flour until thoroughly coated.
2. To prepare the garnish, deseed the pomegranate by halving it, holding one half cut-side down in your hand with your fingers slightly spread, then firmly tapping the fruit over a bowl until all the seeds have fallen out. 
3. Wash the spring onions, then slice on the diagonal. Roughly chop the fresh coriander. Stir some of the lemon juice into the mayonnaise and taste to see whether you are happy with the flavour. Add more lemon juice or a little water until the mixture is the consistency of salad dressing.
4. Once everything is ready, heat a deep-fat fryer to 180°C. Alternatively, use a large saucepan half filled with oil, but only do this if you have a thermometer.
5. Shake the excess flour off the halloumi fingers, then carefully place them into the hot oil. Move them around gently until golden brown, and don't take your eyes off them, as they can darken fast. When the fries are ready, transfer them on to a tray lined with kitchen paper to drain off the oil and help them stay crisp.
6. To plate the halloumi fries, arrange them mostly into one layer so everything gets an even helping of toppings. Drizzle over some pomegranate molasses (if you don't have any, or prefer not to use it, balsamic vinegar can be used here instead), then sprinkle the halloumi fries with the pomegranate seeds and spring onion slices. 
7. Finish with the lemon mayonnaise and a scattering of fresh coriander.
Fasolakia yiahni
A dish of fine green beans in tomato sauce, with potatoes and optional chicken, this hearty recipe is perfect for an autumn evening.
Serves: 4
Prep time: 10 minutes
Cook time: 10 hours 15 minutes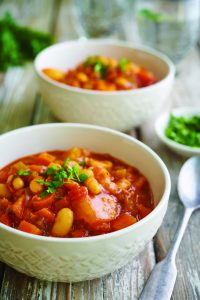 Ingredients 
• 8 skinless and boneless chicken thighs, sliced into strips
• Generous drizzle of extra virgin olive oil
• 2 white onions, finely chopped
• 2-3 garlic cloves, grated
• 1 cinnamon stick
• 1 bay leaf
• 4-5 carrots, thickly sliced
• 500g potatoes, peeled and cubed
• 1 tbsp tomato puree
• 1 tbsp red wine vinegar
• 600g fresh or frozen green beans (if fresh, trim the ends)
• 400g passata
• 600ml chicken or vegetable stock
• Sea salt and black pepper
Step-By-Step Guide 
1. Place a large saucepan over a medium heat, then seal the chicken strips in a generous drizzle of olive oil. Transfer the chicken to a plate and set aside.
2. Using the same pan, saute the onions and garlic. Add the cinnamon, bay leaf and a pinch of salt, then the carrots and potatoes. Cook for five minutes.
3. Stir in the tomato puree and red wine vinegar, cook for a further two to three minutes, then stir in the green beans, coating them in the sauce. Add the passata and stir thoroughly before adding the stock.
4. Put the chicken strips back in the pan, stir well, cover with a lid and simmer for about one hour. Stir occasionally and, when the sauce has thickened, the potatoes are cooked through and the beans are soft, season the mixture with sea salt and black pepper to taste.
5. This recipe can also be made with lamb or pork, or without meat altogether, in which case you only need to simmer the mixture for up to 40 minutes after adding the stock. 
A trio of hummus
Homemade hummus is easier than you think, especially if you use tinned chickpeas. You can play about with different flavours, like roasted aubergines or beetroot, but here are three classics in our family.
Makes: 500ml of each
Prep time: 10 minutes each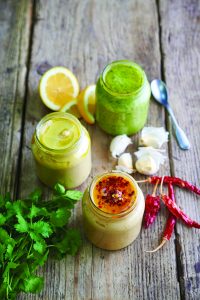 Ingredients 
Plain hummus
• 400g tinned chickpeas
• 2 garlic cloves
• 1 lemon, juiced
• 2 heaped tsp tahini
• 6 tbsp extra virgin olive oil
Lemon and coriander hummus
• 400g tinned chickpeas
• 2 garlic cloves
• 1 lemon, zested and juiced
• 2 heaped tsp tahini
• 6 tbsp extra virgin olive oil
• 60g fresh coriander
Sweet chilli hummus
• 400g tinned chickpeas
• 1 lemon, juiced
• 2 heaped tsp tahini
• 6 tbsp Chilli Fused Olive Oil
• 2 tbsp sweet chilli sauce
• Pinch of chilli flakes (optional, if you like it hot)
Step-By-Step Guide 
1. Drain the chickpeas and throw them into a food processor. Grate or crush in the garlic if using, then add the lemon juice (and zest, for lemon and coriander hummus) and tahini.
2. Turn on the food processor and drizzle in the olive or chilli oil as everything blends. You may end up using more than six tablespoons, but who's counting?!
3. Lastly, add the extras, depending on what type of hummus you are making (fresh coriander, sweet chilli sauce and chilli flakes, if you're using them), then taste to check the seasoning.
4. Chill before serving.
Patates me t'avaya
This means 'potatoes with eggs', but it's so much more! I don't have a recipe for this, because I just add whatever I have in the fridge or cupboard, but this is my favourite ingredient combo.
Serves: 4
Prep time: 20 minutes
Cook time: 30 minutes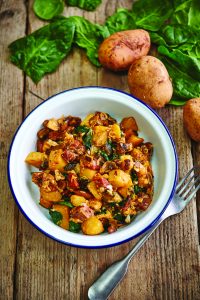 Ingredients 
• 6-8 medium-sized potatoes
• 350ml extra virgin olive oil (for deep frying)
• 250g mushrooms
• 1 medium-sized courgette
• Half a chorizo sausage
• 280g jarred artichoke hearts
• 125g halloumi, diced
• 3-4 large spinach leaves
• 4-5 eggs
• Sea salt and black pepper
Step-By-Step Guide 
1. Peel the potatoes and cut them into similar-sized cubes. Heat the olive oil in a large pan and deep-fry the potatoes until golden. Remove from the pan and place in a bowl lined with kitchen roll to mop up the excess oil.
2. Chop the mushrooms and courgettes into small pieces. Place a little of the hot oil from the potatoes into a frying pan. Add the mushrooms and courgettes to this pan and fry until soft.
3. Halve the chorizo lengthways, then slice and add it to the pan. Stir until the chorizo is cooked. Chop the artichoke hearts and throw them in, followed by the diced halloumi. Stir well. 
4. Cut the spinach leaves in half down the centre spine and then slice up. Add the spinach to the pan and stir until it has wilted.
5. Stir in the fried potatoes, keeping the heat high, then break the eggs into the pan. Stir well until the eggs are cooked, season to taste, and serve.
About the book
The OliveOlive Mediterranean Cookbook retails at £12 and is available to purchase from Amazon, bookshops – including Waterstones – and online from mezepublishing.co.uk