This part-cycling shop, part-cafe has become a community hub for Saffron Walden residents, as well as cycling clubs around the country
Words by Siobhan Godwood
Bicicletta is a bright, airy cafe with a cycling theme that opened in Saffron Walden in 2015. When general manager Peter Moore took the reins in 2017, his ambition was to make the cafe a centre for the community, making the space available for local events and using local suppliers for the food and drink offering. Now, the space has quite literally opened up, with an expansion and refurbishment almost doubling the place in size, and opening up a host of opportunities. 
"For the last couple of years, we've seen Bicicletta find its way into the hearts of people in Saffron Walden and beyond," says Mandy Weetch, Bicicletta's events co-ordinator. "It's very much a community cafe, and the refurbishment and expansion have only enhanced that." Bicicletta has been in its spot on Market Walk since it opened, and it wasn't small to begin with, offering seating for around 30 people; but in 2019 the building next door became empty, so it was the perfect opportunity for the business to grow. The cafe closed its doors at the end of 2019 and remained shut for the whole of January, celebrating its new look at a grand reopening party on 31 January. 
"It's a huge space now," says Mandy, "and comfortably sits around 60 people at tables. We had this crazy deadline for reopening, and we were so delighted that we actually got everything done in time. The relaunch event was brilliant – we had food from Steak & Honour, three DJs doing sets… and since then it's been going from strength to strength." 
The cafe has retained the striking black, white and yellow colour scheme that is such a recognisable part of its brand, but the menu is now much bigger, catering for vegetarians, vegans and other dietary requirements, and the cafe is fully licensed between Thursday and Saturday evenings, staying open until 10.30pm. "There's a local feel to the bar and restaurant," adds Mandy,  "with craft beers from Brewboard and Wylde Sky, both local breweries, and wines from Joseph Barnes – another Saffron Walden business. We get our bread from Mini Miss Bread in Saffron Walden and use local greengrocer Blue Nature for our fruit and veg." 
Being a part of the town's community is important to us
The new size of the cafe makes it more suitable for use as an event space, and the Bicicletta team has a busy schedule of talks and demonstrations planned for the whole year, as well as visits from food trucks and DJs. "On Thursday evenings we focus on arts and community events, and on the first Thursday of each month we have a guest speaker," explains Mandy. "We got off to a flying start in February with an evening with Mini Miss Bread, an artisan baker who's almost a cult figure in Saffron Walden. Tickets for that sold out within a week. On Fridays and Saturdays we have a late bar, and a rotation of different DJs. We also have live music: The Hooligans, a traditional folk band, are playing a St Patrick's Day set, and another local band, Twisted Funk, are coming to play in April. There is always information and tickets for our events on the website."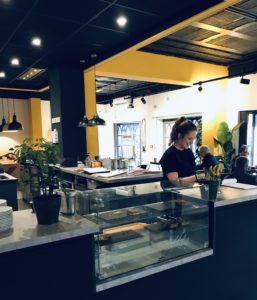 Food has always been an important part of what Bicicletta offers: alongside its own menu, there are nights when local food trucks set up outside and the cafe's kitchen has a night off. "The street food scene is really thriving at the moment," says Mandy. "One of our ambitions is to have pop-up kitchens with guest chefs. The way the space is set up now – there's so much scope to do different things, it's very exciting."  
One thing that hasn't changed at Bicicletta is its popularity with cycling teams and clubs. You might not see the appeal of long bike rides in winter, but perhaps you'd be more keen if there was excellent coffee and cake waiting for you. For most of January, Mandy and the team were taking calls and emails from enthusiasts keen to know when their favourite cafe was reopening. The bike theme is a big part of Bicicletta – there's a major clue to that in the name. 
"The layout still nods to all loyal clubs that come and ride to us, and we've made an area down one end of the cafe where the cycling groups can go and relax together. We have groups that come from Essex, Norfolk, Cambridgeshire and London. We're very much on the cycling road map, but in the last year or so we've become a hub for other groups – runners, walkers, groups of mums and dads, families. As a result, we've stepped back a little bit from selling all the cycling gear we used to, so it's welcoming to everyone while still being an homage to bikes and everyone that loves them." 
It's been a brilliant start for Bicicletta, and the new part of the building has the advantage of opening out on to the alleyway off Market Walk, so there's plenty of potential for outdoor seating when winter ends. "We're excited about the future and all the things that we can do now we have so much more space; being a part of the town's community is really important to us," says Mandy. "The lovely welcome we've had since we reopened has made it clear to us that Saffron Walden has really taken us to its heart."