Alison Wright, Owner of Fitzbillies, gives her top tips for choosing a cake that's right for your big day celebration
1 – Number of guests
How many people does the cake need to serve? This sets the size of the cake and number of tiers. Of course, you can always have an extra cutting cake for a larger wedding. If you'd like a tiered cake for a smaller event, you can always send some cake home with the guests or freeze it for later. The cakes we make most frequently are three tiers to serve around 75 guests. A four-tier cake will serve around 130. For a larger wedding, a five-tier cake will serve up to 200 and then you can add cutting cake. For a smaller wedding, a one- or two- tier cake, beautifully decorated, will make a great centrepiece. Unlike birthday cakes, wedding cakes are usually cut into squares or rectangles across the cake, rather than segments. Your cake maker can advise on a cutting guide, but most venues will be very familiar with how to cut cakes.
2 – Where & When
What is the role of the wedding cake in the day? Where and for how long will it be displayed? When will it be cut? When will it be served? Is it going to be the dessert? 
Will it be served at the end of a large meal, mid-afternoon before an evening event, or perhaps later in the evening to help revive the flagging guests and keep them dancing?
"What is the role of the wedding cake in the day?"
All these factors influence the style of cake and decoration. It would probably not be wise, for example, to display a buttercream cake with fresh flowers in a hot marquee in August.
3 – Cake flavours
With the technical questions settled, we can get down to the enjoyable business of flavours – and taste some cake! What are the bride and groom's favourites? What do they feel will suit the majority of their guests, and when and where the cake is to be eaten? It should not be too similar to whatever dessert they plan to serve. A sharp, zesty lemon cake is a great summer flavour, a crowd-pleaser and can make a good dessert served with extra berries – but if there's a fruit dessert and the cake comes later, maybe chocolate or carrot cake would fit better into the menu. 
Most couples go for different flavours for each tier. A large cake can combine two main flavours, and if the bride or groom has another special favourite, they can have a special top tier, just for themselves. It's worth remembering though, that with a naked or semi-naked cake, lighter and darker cakes will show through, so need to be planned – perhaps alternate tiers. 
Now wedding cakes are rarely fruit cake, fewer couples keep the top tier for the first anniversary (or christening), but of course you can freeze a sponge cake top tier if you wish.
4 – Style & Decoration
Thirty years ago, almost every wedding featured fruit cakes with royal icing. Twenty years ago, fondant icing was introduced, allowing a mixture of fruit cake and sponge cake tiers. In the last ten years or so, most couples moved to sponge cakes covered with fondant icing, often still with elaborate piped or sugar craft decoration.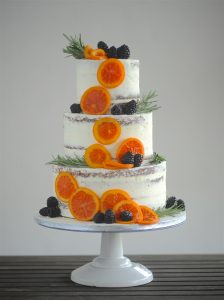 Today, the majority of wedding cakes are naked, semi-naked or buttercream decorated. It's a more natural style and puts the focus on the delicious taste of the cake, rather than the icing. Smooth fondant-iced cakes still have a role, as they offer a more formal, pristine finish and allow a wider range of decorative styles. When it comes to decoration, the possibilities are endless. Couples often email us pictures of cakes they like, or we look at Pinterest boards together. It's a great tool for inspiration and, in this case, a picture is definitely worth a thousand words.
The majority of cakes at the moment are decorated with fresh flowers or fruit. At Fitzbillies, we love very natural-looking cakes decorated with a riot of fresh fruit, flowers and macarons. Metallic touches are also popular, from a full edible gold leaf tier, to touches of gold on the icing or decorations. And we're always delighted when we get the chance to exercise our piping and sugar flower-making skills on more elaborate cakes.
5 – Display of the cake
What will the cake stand on? Is there a separate cake table? Or a sideboard where the cake will stand? Cloth or no cloth? What sort of cake stand? An elaborate vintage silver stand or a slice from a tree trunk? Does the venue have one you can borrow, do you have something in mind already or would you like to borrow one of our stands? And don't forget about a beautiful cake knife for the ceremonial cutting. Many venues have an antique silver one. The stand and the area around it can also be decorated. A floral arrangement, provided by your florist, scattered fresh rose petals or perhaps silk leaves for an autumnal wedding, or even sparkling baubles?
6 – Wedding favours & dessert tables
With the cake design settled, it's time to consider any other elements you'd like to coordinate. At Fitzbillies, we offer edible wedding favours and table place markers, such as iced cookies or boxes of macarons. Or perhaps a macaron tower, cupcakes or other mini cakes for a desert table. While the choices are effectively infinite, there's only one overriding consideration at Fitzbillies: creating a cake that will delight bride, groom and guests, will live long in their memories, that looks as good as it tastes… and tastes as good as it looks.