For those keen to sample the finer aspects of Indian cuisine, a warm ambience, and first-rate hospitality – head to Prana
Nothing beats a slap-up curry feast, especially during colder months – and fortunately for us, there are great options in all directions here in Cambridge. Prana, which sits on the corner of Mill Road and Gwydir Street, is an enduringly popular choice, having built up a great reputation in the city since opening in late 2012. But if glowing recommendations from the curry-lovers of Cambridge aren't enough to convince you of its quality, the slew of industry awards – which includes Best Indian Restaurant in England 2017 at the Curry Awards – certainly should be. Prana also enjoyed a celebrity endorsement recently from Chris Evans, who prompted a surge in orders by praising the restaurant on his BBC Radio Two show.
Owner Kobir credits the restaurant's success to its hard-working team, dedication to delivering exceptional service, and the fact that it offers diners something different, steering away from stereotypical dishes like Tikka Masala and instead serving up authentic, lesser-seen recipes created with the finest ingredients. The restaurant sets itself apart from traditional curry houses visually too, with glossy, light-filled interiors and crisp white tablecloths that lend a modern feel.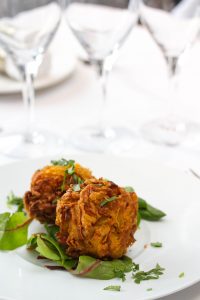 The food is the real ace up Prana's sleeve though, with the menu opening up a world of exotic-sounding possibilities. On the recommendation of Kobir, we begin with a lavish spread of starters that included Rizwan's: a smoky platter of perfectly cooked meats, and some succulent, tamarind-drenched king prawns. We also tried the truly delicious samosa chaat, a symphony of salty-sweet-spicy flavours, with crushed chickpea and potato, puffed rice, pomegranate seeds and crunchy veggie samosas, drizzled in tangy sauce. One bite and it's easy to see why chaat is one of India's favourite street food dishes (it's also one of Prana's many fully vegan options).
For mains, we chose one of Prana's signature recipes, the Sikandari lamb shank; a showstopping dish which is roasted for 48 hours and marinated in chickpea sauce to achieve perfect, meltingly tender texture and lip-smacking flavour. Our other main was a creamy and coconutty green curry (with juicy chicken breast, broccoli and aubergine), and some excellent sides including crispy, sesame-seed studded fried courgettes and a pillowy naan, dripping in garlic butter for which the trip to Prana is worth alone. It's easy to fill up as the portions are generous, but save some space for pudding if you can – the 'firni' rice pudding is a creamy, sweetly-spiced hug in a bowl, while the poached pears, served with a shard of cinnamon, drenched in sugary syrup and bursting with aromatic flavours, is a revelation.
The last few months have taken a heavy toll on businesses in the hospitality sector, and despite good takeaway trade, Prana was not unscathed. The restaurant remained open throughout, donating around 500 workers to key workers and people in need, and the team have put a lot of thought into how they can reopen safely, without undermining the customer experience. The solution has been to reduce capacity, zap each customer with a thermometer on entry and provide hand sanitiser on each table. They're done a great job: it feels completely safe and welcoming and the team are working extra hard to make the experience as pleasant as possible. It was only sad that there weren't more diners there to enjoy the excellent hospitality on offer. In terms of what's next for Prana, Kobir is bursting with ideas, from thali nights to tiffin-style deliveries, so the future looks bright for this brilliant little restaurant – watch this space!