When staying in became the new going out, Cambridge's food scene got creative, from bottled cocktails to steam-at-home bao kits and DIY gourmet burgers, here's our pick of the top at-home dining experience
Smokeworks cook at home
If you love barbecue food but can't be bothered tinkering about with rubs and marinades and waiting hours for that perfect 'low and slow' flavour – check out Smokeworks' Ribs & Buns kits. Containing enough to generously feed two, they come with a rack of baby back ribs, a mound of smoky pulled pork, corn on the cob, homemade slaw and a generous portion of lip-smacking BBQ sauce – all for £18. After a brief hiatus in July, you can now once again order kits at the Smokeworks website and through the Cambscuisine country pubs, adding in whatever else you fancy from the relevant restaurant's menu.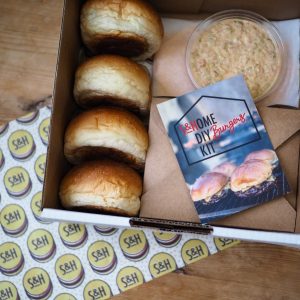 Steak & Honour burger kits
When it comes to Cambridge burgers, Steak & Honour is the undisputed king. Whether enjoyed from the hatch of its vintage trucks or at the neon-lit Wheeler Street restaurant, S&H's perfect patties hit the spot every time. When lockdown hit and local burger fans were left jonesing for a fix, prayers were answered in the shape of the doorstep-delivered DIY burger kits. Containing all the ingredients to recreate your favourite S&H burgers at home, customers also have the option to add in craft beer packs and iced treats from the restaurant's nearly neighbours, Jack's Gelato. The kits are priced at £35 – order by midday on Thursday for Saturday delivery.
Bottleproof Cocktails
Rose Crescent nightspot La Raza has pivoted to cocktail deliveries during lockdown, partnering with sister company Bottleproof to serve up favourite tipples made with fresh juices, homemade syrups and premium spirits.
"Given the current situation and the expected long wait until pubs and bars can get back to any kind of normality, we have decided, for a limited time, to sell our bottled cocktails via our bar, La Raza, direct to the public," explains Charlie Anderson, owner of La Raza and Ta Bouche cocktail bars in Cambridge, and co-owner of Bottleproof Cocktails. "This represents an amazing opportunity to try one of our multi award-winning cocktails at home. At the same time, it provides our bars, La Raza and Ta Bouche, with a means of receiving some income. Diversification like this is essential to enable us to get through this uniquely challenging time."
The menu includes espresso martinis, daquiris, negronis and more – with prices starting at £4.10 a serve. Order via the La Raza website or delivery company Click It Local.

Vanderlyle To Go
There are lots of local success stories from restaurants switching up their business models with mind-boggling speed during lockdown, but perhaps the most impressive case of all was Vanderlyle, which went from serving fine-dining tasting menus to doorstep-delivering family meals within what seemed like a matter of minutes. Vanderlyle To Go was born, serving seasonal, nourishing comfort food, such as veggie lasagne with freshly baked focaccia. Recently, the restaurant added picnic boxes to its menu, offering ready-to-eat dishes packed with exquisite local produce, to be enjoyed while relaxing alfresco. Picnics start at £15 per person and family meals at £20 per person. Book your slot via Tock.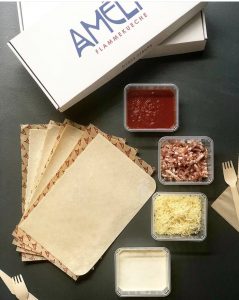 Flam-kuche Flatpack
Cambridge has fallen in love with flammekueche – a pizza-like dish with a light, crispy dough served with crème fraiche and a variety of tasty toppings – since Amélie introduced it to the city from its base at The Grafton. During lockdown, the restaurant launched 'Flam-kuche Flatpack' kits, allowing fans to make their own with bases, crème fraiche, lardons, gruyère cheese and easy-to-follow instructions. The kits are priced at £16.95 and come with enough ingredients for two large flammmekueche. 
Pint Shop at home
This city centre favourite launched a whole array of DIY meal kits during lockdown, ranging from sumptuous curry feasts to elaborate burgers. Excitingly, you can also order kits to make your own Pint Shop posh kebabs, selecting either seitan kofta or slow harissa lamb shoulder accompanied by pickled cabbage, apple and chili sauce, and crispy shallots. If you're feeling extra hungry, you can add a couple of Pint Shop's famous scotch eggs, too. Kits start at £18, with free home delivery to all CB postcodes.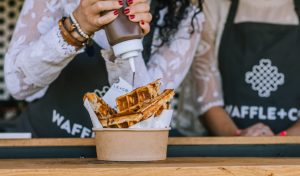 Waffle + Co
Waffle+Co began life around two years ago in Saffron Walden, quickly winning fans for its tasty batter-based treats served from a cute converted horsebox. From southern-fried buttermilk chicken with whipped chive butter and maple syrup, to banana, salted caramel and biscuit crumb, the topping combos are mouth-watering and served atop a home-made waffle. During lockdown, the team launched a Waffles at Home service, delivering sweet and savoury waffle kits to doorsteps around the region. Waffles arrive ready-made, with pots filled with toppings for you to apply yourself, and the menu is updated weekly. 
"We have received some amazing feedback over the past two months of home deliveries, which has been so lovely," comments co-owner Tori May. "It's been so positive. We are truly overwhelmed by the response and reviews. And lots of repeat customers! We're so humbled and thrilled with the support we've received."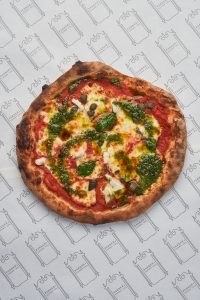 Pizza on the Piece
Parker's Tavern demonstrated its knack for crowd-pleasing once again this summer, launching Pizza on the Piece: a luxury pizza pop-up on Parker's Piece. With chewy and charred sourdough bases, the pizzas come with a range of sumptuous toppings (ours is a Wiltshire truffle and cream cheese), plus home-made soft drinks and freshly whipped ice cream. All that's left for you to do is recline on grass and attract envious looks from your neighbouring picnickers… 
Prices start at £8.50 and orders can be made at the Parker's Tavern website.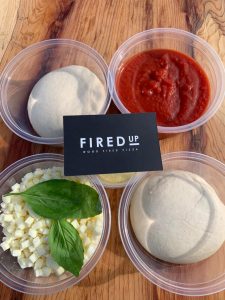 Fired Up pizza at home
You'll be whipping up dinners worthy of a Neapolitan pizzaiolo thanks to Fired Up's kits, which come complete with fresh dough, semolina, tomato sauce and tasty toppings. They're super simple to make and perfect for families looking for a fun dinner experience to share, with deliveries taking place from Tuesday to Saturday depending on your location. The kits are priced at £10 for two pizzas, with the option of adding in additional toppings and drinks from Cambridge Wine Merchants. 
Steam at home with Guerrilla Kitchen
Street food faves Guerrilla Kitchen adapted nimbly to the 'new normal'  of lockdown by quickly launching a 'steam at home' range. Containing six pillowy bao and fillings such as Sticky Pig (with lashings of gochujang sauce and jalapeño dressing) or panko-crumbed tofu with peanut, lime and ginger dressing, these lip-smacking steamed buns pack a serious flavour punch. Order at Guerrilla Kitchen's website by 10pm on Tuesdays for delivery on Thursday, using the code CAMDELIVERY to get free local delivery.