Nicola Foley dines in halls that great speakers have frequented. Nestled in the heart of the city, the Cambridge Union opens up to present its newest offering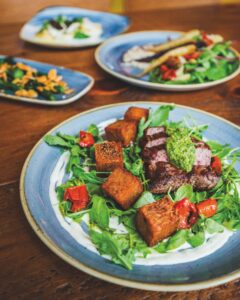 What do Winston Churchill, the Dalai Lama, Bill Gates and Pamela Anderson have in common? They have all – among many other notable public figures – been guest speakers at the Cambridge Union; the world's oldest debating society and a bastion of free speech and spirited discussion since 1815. Up until a couple of years ago, these hallowed halls were the exclusive domain of 'gown'; cloistered away from the general public save for the odd talk or event.
All that changed in spring 2021 with the unveiling of The Orator, a new dining destination at the heart of the Union, which promised to finally open this historic gem to the wider city and welcome all with a cold drink and a warm smile.
Through a £3.4 million facelift, the space was transformed from a well-worn student bar to a bright, modern restaurant. The venue wears its lineage proudly – from the framed photos of speakers lining the walls to the Cambridge-blue panelling, but it marries with a fresh, colourful aesthetic. The yellow bar decorated with old bicycle wheels makes an eye-catching centrepiece.
    On the Menu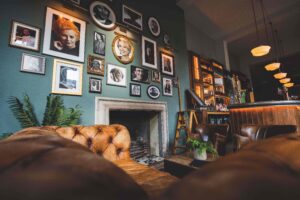 Food-wise, the menu is divided into burgers, flatbreads and sharing plates, which you can have either as mains or tapas-style small dishes. We kicked off with a pile of fresh-from-the-oven crispy flatbreads – accompanied by a smoky, garlicky baba ganoush topped with crushed pistachios, a lip-smackingly salty olive tapenade and a hot and buttery artichoke dip. A great match for the bottle of ice-cold pinot which our table was happily making its way through.
On to the mains, and we opted to 'go large' on a couple of sharing plates. The first thing to say is that the portions are definitely generous, so if you're a light eater, you might want to bear that in mind. My bavette steak was a showstopper: a juicy flank cut, perfectly pan-seared and deliciously paired with green harissa, a piquant fermented chilli sauce and a dollop of creamy crème fraiche, as well as a slab of crispy, golden potato rosti. On the other side of the table, my dining partner enjoyed the vegetable ratatouille – one of a good selection of vegetarian options. A medley of fresh vegetables and aromatic herbs, this dish transported taste buds to Provence and came served with thick slices of fresh sourdough to mop up the tangy sauce. We also ordered the triple-cooked chips for the table – which, while delicious, proved completely unnecessary and unfortunately put paid to any ideas of dessert. We did, however, get to enjoy a balmy bit of late summer outside in The Orator's courtyard – a beautiful, fairy-lit haven which feels a million miles from the city centre (despite being right in the middle of it: tucked directly behind the Round Church). 
The Verdict
This storied setting is the perfect place to bring Cambridge visitors who are keen to lap up the city's illustrious academic history. With its buzzy atmosphere and gorgeous garden, it's also an idyllic spot for catching up with friends over a drink. It's so faultless, in fact, that we think even Winston Churchill himself would have a job making a cutting remark…