If you'd told the Smith brothers a decade ago that, at the start of 2020, they'd be filming with Jamie Oliver and Jimmy Doherty in a Channel 4 feature devoted to their thriving chocolate business, they'd probably have chuckled in disbelief – but then, as Forrest Gump said, you never know what you're going to get.
Greg and Chris Smith are the founders of Hill St, an artisanal chocolatier with two outlets: their flagship store on the eponymous street in the heart of Saffron Walden, and a new Cambridge boutique nestled in All Saints' Passage. 
This new opening gleams bright candyfloss pink from floor to ceiling, with exquisite displays of intricately glossed individual chocolates, miniature three-dimensional chocolate sculptures and striking graphic branding that boldly announces the brothers' arrival in town.
Hill St is very much a family affair. The brothers' sister Lisa works as a designer in New York, but was able to assist with the brand direction that defines Hill St's splendidly polished visual identity (realised by one of her friends and former colleagues, James Kape, founder of OMSE).
"Our first shop on Hill St is very similar to this building," Greg says, standing in the Cambridge store. "It's listed, it has lovely gothic features – and all of these blocks in our design came from features of the building. So we used them to create our own icon that sums it all up," he points at their neat logo, from top left through to bottom right: "Two guys, making chocolate, with love and craft, in Essex. These are supposed to be the three swords of Essex – an artistic version, anyway!" 
Two guys, making chocolate, with love and craft, in Essex
It's quickly clear how passionate the two brothers are about this part of the UK: born and raised in Wendens Ambo, Greg and Chris lived in London and Paris respectively before realising they wanted a better quality of life for themselves and their families, and could find it back in the region where they grew up. Chris's career and success as a chef led him to London and then to Paris, where he flourished as a pastry chef and then as a creator of exquisite chocolates, while Greg spent ten years climbing the rungs of the education ladder and was working as an assistant headteacher for a large secondary school in west London. "We had a little house quite near to the school, which was lovely, but it's so competitive there to get own your child into a school. It all just fell at the right time for Chris and me, though starting a business with my brother making chocolates was not something I'd considered at all," he laughs. 
Opportunity first knocked at Greg's wedding to wife Natalie, when Chris offered to create chocolates for the couple's favours. "I'd never actually tried one of his chocolates before then," Greg says, "but our guests started stealing all the extra boxes – they were just so good – and that's probably where I started to think properly about it. We'd had some conversations about going into business before, but at the wedding I thought – actually, these are amazing!"
The two brothers jumped in feet first. "We both gave up our jobs, we created a plan, we invested our own money and completely changed our lifestyle. We wanted to develop a brand and a business," Greg says. They started trading as Smith's: L'Art Du Chocolate, and rented kitchens just outside of Bishop's Stortford in a big community centre. "We traded on our local market in Saffron Walden and in Bishop's Stortford – sometimes in Bury St Edmunds on seasonal occasions, and a farmers' market in north London near Palmers Green. Working on the markets really gave us an opportunity to develop products, to gain lots of customer feedback, to understand what people liked. My brother had made chocolates in Paris, but there are a lot of cultural differences in people's tastes: there are more citrus flavours in Paris – chocolate-coated lemon and grapefruit is a bit more niche here, whereas that might be more of a regular item over there."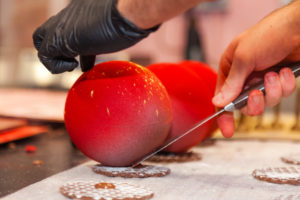 For three days a week, the brothers sold their chocolates at markets around the area, and spent the rest of their time in kitchens, dividing and conquering according to their skill sets. They quickly noticed how the Saffron Walden community took their chocolates to heart – and not just because of the exceptional quality of their creations. "I think it's because we had grown up in this town: we have a big respect for our local community, and tried to be very responsive to people's requests." As demand grew, the stall became difficult for the two brothers to manage on their own. "Sometimes, around Easter time, we would set up at maybe 5am, and we could be sold out by 10am. We would have people desperate, because they had that one opportunity, only one day where they could buy the chocolates."
This trend for consumers eschewing supermarkets in favour of visiting multiple individual food specialists is becoming more and more apparent around our region. "In Saffron Walden now we've got a fishmonger, which does traditional filleting in front of the customer, and an excellent bakery – and we've always had a couple of butcher's that have done well there, but I think, you can see the pattern – it's almost going round in a cycle," Greg says. "But there's a way to go – in England, there isn't the training and the background, so we don't have the number of independent chocolatiers creating items. Whereas in France, in a little town the size of Saffron Walden, you might have two chocolatiers, two grocer's, two butcher's – and there's a more competitive element to it." 
The popularity of the brothers' creations led them to consider opening a bricks-and-mortar store to expand and diversify their offering. "People being able to choose chocolates for a chocolate box is one of the most popular products that we offer, but it was too difficult to do on a market, in the open air. So – we thought, let's have a look for a store," Greg says. It took the brothers a long time to find the right location: "It's only a small town, so to find the right spot and a landlord that would support a start-up business without a background… we certainly lost one or two locations," Greg says. "But actually, it led us to this one particular spot on Hill Street, which has turned out to be the best place that we could have come across – a beautiful old listed building with a really supportive local landlord who wanted us to be successful and is helping us expand." 
The brothers also took the opportunity to switch their name from the heavily French-influenced former title to Hill St, the name of the road their store calls home. "Although we really respect the background and the training Chris has, we felt we needed to launch ourselves as more of a British brand." 
That Britishness extends through to the products they're creating. Though inspired by French techniques, the brothers have always tried to evolve their chocolates to use as many local ingredients and flavours as they can source. "There's Maldon sea salt, the saffron is from just outside Saffron Walden, the fresh mint is from a little organic farm in Abington where we source a lot of our fruits, and the honey in 'The Girls' chocolate is from a chap called Derek who keeps bees in Wimbish. He just had a sign on the side of the road and when we went to visit his hives he said: 'Do you want to come and meet the girls?', which is where the name of the chocolate came from." 
When the brothers can't source locally, they source the best, using a new grocery store based in Saffron Walden to ensure they get hold of the highest quality products. "For the quality of ingredients and what we're creating, I think most people find that we're good value for money," Greg says. "If you compare us to a mass producer: some are using artificial ingredients, and have to consider a very long shelf life in their product. If you had 100 shops, it would be very difficult to do an artisan batch of 400 Maldon-salted caramel ganaches with that kind of freshness. That's definitely something that we don't wish to compromise on."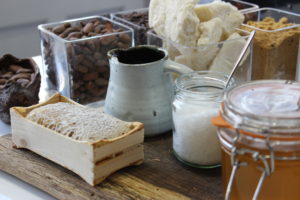 The brothers' devotion to crafting flavour and exceptional quality isn't just paying off with local audiences, it's also seen them develop a following on the other side of the planet. "For the last two years we've been exporting our chocolates to Japan, to a wonderful Japanese client," Greg says. "In Japan, they really respect chocolate products that have come from France, Switzerland and Belgium: those from other areas of Europe get a little attention, but those from England are normally disregarded," Greg says. 
"Chris's chef, Patrick Roger, is a hugely well-respected chocolatier in Paris who also exports to Japan and whose support is a huge accolade. We hope to capture the attention of some of the larger department stores in Tokyo in the future, through strengthening our presence in Japan. The Japanese client we supply to actually put Hill St on the front page of this catalogue in the first year, which was amazing – and they placed a really large order for Valentine's Day." Greg laughs and his eyes widen, remembering the relentless intensity of delivering the order.
 "It took three of us 14 days to fulfil it, without being able to make anything else – normally we're making all our other products for the stores as well. We just saw the quantities growing, and growing," he laughs again. "And now we've developed such a wonderful relationship with them. We're really in the early stages of our business, and them having such confidence in an English chocolatier is so rewarding – compared to a newcomer based in France, who might have got into Japan quickly, partly because of them being from France. We've still got some work to do developing our brand in Tokyo and in Japan, but we're up for the challenge," he grins.
Japan has very strict legislation about the purity of ingredients, with certain additives and colourings outlawed – but this presented no challenge for Hill St, which has always prized freshness and used authentic ingredients to create a dazzling intensity of flavour. 
"Take our mint chocolate, for example," Greg explains: "Chris makes this with fresh, locally grown spearmint, infusing it in ganache. Predominantly, mint chocolates you've tried before are normally made with artificial flavouring, made into a sort of fondant. For some reason, people think that's OK – or at least you do until you try the real thing – and then you can't go back," he laughs. "A lot of people in Saffron Walden say we've got them hooked, and now they can't have any other chocolate."
A lot of people say now they can't have any other chocolate
Over the four years that the brothers have run their business, they've noticed their customers becoming more conscious of ingredients and the quality of what they're eating – as well as an increasing number of allergens and specific dietary requirements. "We have quite a few vegan products, and a few customers that are coeliac, they're probably the two main ones," Greg says. "And then we have a very health-conscious community that wants a sort of sweet treat, but with minimal amounts of sugar: we sell a 100% raw cacao that some people thoroughly enjoy – though I'm probably not one of them," he laughs. "I like a little bit of sugar. But they like the stripped-back ingredients. So it's very clear, very clean, as there are no additives or preservatives involved." 
The brothers are about to face their busiest half of the year, with Valentine's Day, Mother's Day and Easter in quick succession, and have plans to expand their offering even further in the summer months, when their Saffron Walden store spends the warmer part of the year churning fresh Italian gelato on a daily basis, deciding whether to do so depending on the weather forecast, and the intention is to bring this to All Saints' Passage. 
"My brother worked in many restaurants before he was a chocolatier and had always made gelato on a small scale," Greg says. "So when we were evaluating how to progress that part of the business, naturally we had to take a business trip to Italy," he chuckles. "We ended up training at the Carpigiani Gelato University in Bologna: we couldn't believe the integrity, the science, the quality of ingredients – we were really inspired by the process and how it complemented what we were doing with the chocolate."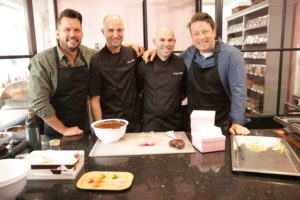 With their second store getting busier by the day and new orders coming in from Japan, the brothers found themselves propelled even further into the public eye at the start of February when they appeared on an episode of Jamie and Jimmy's Friday Night Feast, broadcast just as this issue went to print. Once back down to earth, their intentions for the year ahead are to settle in at the Cambridge branch, possibly expand the Saffron Walden store to offer a little more of an experience and to work on growing the brand's burgeoning profile in Japan. "I know a lot of French chocolatiers that have actually opened a store in Japan," Greg grins. "It's a huge leap – that's certainly not in our plans at the moment, but I think we would love to visit and understand the market better."
Wherever the next few years takes them, one aspect they'll never compromise on is the relationship between the two of them. "We have a really good balance of loyalty and respect for each other, but also hugely different skill sets," Greg says. "Chris effectively takes complete control of all the culinary activity in the kitchens, and then everything outside of that is for myself – but that allows him to be more creative, and not have to worry about spreadsheets and accountants. Our different skill sets strengthen our relationship: it might be harder if I was a chef, and we were both working alongside each other trying to make similar decisions, because we're both quite strong-minded – but that's not the case. There's a loyalty, a trust that comes from working with your family, that I don't think you could ever get from a friend or another business associate."
Perhaps the ingredients for happiness are right there in plain sight on Hill St's branding: two brothers, making chocolate, with love, in Essex. When you put it like that, it seems simple – but it's clear that the method involves hard work, dedication, an entire family pulling together and a little bit of sugar – which makes the Smiths' deserved success all the sweeter.