In celebration of Edition's 100th issue, Alex Rushmer rounds up his favourite Cambridge eats and drinks, past and present 
Last month marked the incredible achievement of this little magazine publishing its 100th issue.
My own column failed to make reference to this fact for the simple reason that during the summer of 2015, I managed to miss my only deadline (although I am well aware that I've pushed others to the absolute limit – sorry Nicola) and consequently, my last column was my 99th. Which means that this is the 100th missive I've penned for this fine publication.
It is often said that writers and journalists short of time or ideas famously resort to submitting list-based pieces in lieu of actually writing some real copy. With that in mind, I am delighted to present a list of 100 of the best things I've consumed in and around Cambridge over the eight and a half years I've been proudly featuring my writing on these pages. 
Let me assure you, it would have been far easier to write 600 words on barbecuing, picnics or whatever other subject I usually tackle at this time of year and this, while not comprehensive or exhaustive, required a significant amount of thought and memory recall. Finally, there are certainly great many foods and drinks that should have made this list that I simply couldn't recall. To anyone who feels aggrieved at being left out of this exercise in onanistic subjectivity, I apologise. And I promise to include you in the 200th issue when that rolls around at some point in 2027. 
Without further ado, here are 100 of the best things I have eaten, drunk, experienced or otherwise consumed since 2008. 
1: Steaming pork and chinese chive dumplings in hot and sour soup at Zhonghua Traditional Snacks. (Perhaps with a char siu pork bun on the side. And a cucumber salad. And some fried dumplings. To share.)
2: Lemon and ricotta-filled cannoli from Signorelli's Deli.
3: Half a pint of Calverley's chenpi and sichuan flower pepper Sichuan Saison beer. And then a full pint of the same. 
4: One for Ella burger, sweet potato fries and hot sauce from Steak & Honour (actually, might as well make that a double).
5: At just under £7, Franco Manca's chewy, charred sourdough margherita is one of the city's best food bargains.
6: One scoop of fior di latte and one scoop of salted balsamic caramel from Jack's Gelato.
7: Aromi's insanely good pistachio croissant.
8: Thick and rich Milanese-style hot chocolate from the lovely people at Savino's.
9: A double Cambridge Dry Gin, tonic water, plenty of ice and a mint leaf. Anywhere. 
10: Maurizio's deadly six-shot Negronis.
11: It may well be the Italian equivalent of Billy Bear ham but, my god, I love a mortadella sandwich. The fine people at Culinaris will be delighted to help (add artichokes to feel slightly less trashy).
12: Vietnamese-style coffee, sweetened with condensed milk. A caffeine/sugar double whammy from Urban Larder sure to keep you pepped until lunchtime, at which point…
13: …they can make you an incredible cheese toastie. 
14: Stir-fried chicken with chilli, ginger and spring onion from @72 China. Fiery and seriously tasty. 
15: All of Guerrilla Kitchen's bao are epic but the Fat Hen is the star of the show every time. Pillowy buns and wonderfully flavourful fillings = lunch of dreams.
16: Guinness bread and whipped butter from Restaurant 22, if only because you know it will be followed by a whole tasting menu.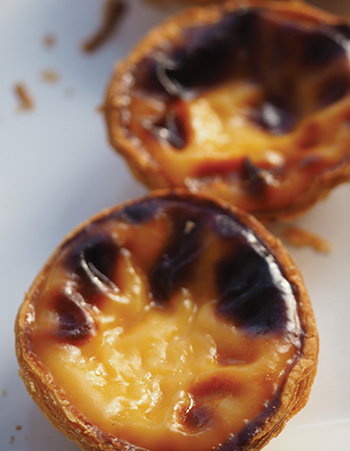 17: Midsummer House's masterful tarte tatin (which remains the best dessert I've ever had).
18: Jalan Jalan may be taking an extended break from making epic street food, but their tofu banh mi still lives on in the memory.
19: Kura Kura's cashew nut curry and peerless onion bhajis transport me back to Sri Lanka every time I eat them.
20: SmokeWorks' The Works. Go in hungry, leave very full indeed (main picture above).

21: Truffle risotto at Parker's Tavern, where they never say 'I think you've got enough truffle on that already'.
22: The super fresh and super delicious salad bar at The Garden Kitchen.
23: Batch brew filter coffee from Hot Numbers Coffee.
24: The Wandering Yak's mix and match mezze box. Award-winning for at least seven delicious reasons.
25: A box of six pastéis de nata from Norfolk Street Bakery.
26: A dish of smoked eel, pistachio and apple from the kitchen of Alimentum.
27: Once upon a time there was a noodle bar called Dojo. We would order No 6 and No 39a and it would always be great. We can no longer do that. My most missed restaurant in Cambridge. 
28: (Now off-menu) naga ghost chilli curry at Prana. Rumour has it that they require you to sign a disclaimer nowadays. I don't remember doing so. 
29: Xiao long bao soup dumplings at Noodles Plus (above). Proceed with extreme caution, and think about wearing a bib.
30: Grilled ham and cheese sandwich with pickles and beetroot salad, Cafe Foy's finest.
31: Sala Thong's spicy, salty, sweet and sour som tam salad.
32: Eight pieces of nigiri, 12 pieces of hosomaki – Japas Sushi's Jo set: a Sunday night staple for a very long time.
33: Afternoon Tease remains much missed for a great many reasons, for me the cheese scone is right at the top of that list…
34: …closely followed by the chocolate Guinness cake (right).
35: A Pavitt's Pie (any flavour).
36: The Gardenia has, quite rightly, been an institution for decades. The chicken souvlaki explains why.
37: Half a Fitzbillies chelsea bun. Offer the other half to a loved one. 
38: A flat white and an exercise in the art of conversation – from the brilliant Dom at Rubiaceae.
39: Leftover doughnuts and way too much salted caramel dipping sauce eaten after service in the kitchen at The Hole in the Wall.
40: Banana Leaf's plate-sized dosa filled with potato masala.
41: Several ridiculously cheap – and delicious – pints of locally brewed beer at the St Radegund.
 42: A Gog's scotch egg.
43: A squidgy, ripe and runny goat's cheese, a bowl of rillettes and a side of cornichons from The Cambridge Cheese Company. 
44: Slices of Stir Bakery's toasted sourdough and plenty of salted butter.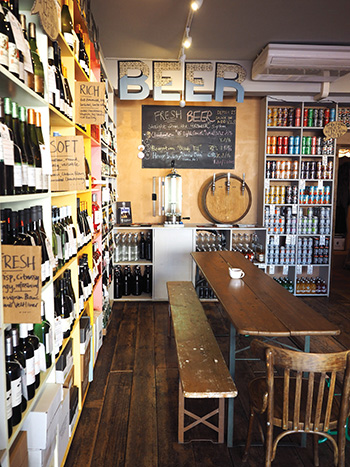 45: An americano from Cambridge's original barista, the Caffè Mobile (to remind me of student days). 
46: Bratwurst. Ketchup. Curry powder. Berlin's finest available on Cambridge Market (if only sporadically).
47: Falafel wrap with everything – the ultimate lunch from Carlos BBQ.
48: Several of the beers in the fridges at Thirsty (left). Oddly, the more you try, the better they taste.
49: A rib of wagyu beef from the Mill Road Butchers – eaten with triple-cooked chips and the first sprouting broccoli of the season.
50: The finest jamón ibérico, marcona almonds and Spanish olives from the amazing Daniel at Pata Negra Spanish Food. 
51: A selection of exquisite handmade chocolates from Dulcedo.
52: Fish and chips from The Sea Tree. With a side of halloumi fries (to share, obviously). You might need a pickle with that. 
53: Very early morning pizza (or kebab – at that time I'm not particularly fussy) from the fine folks at Grill House.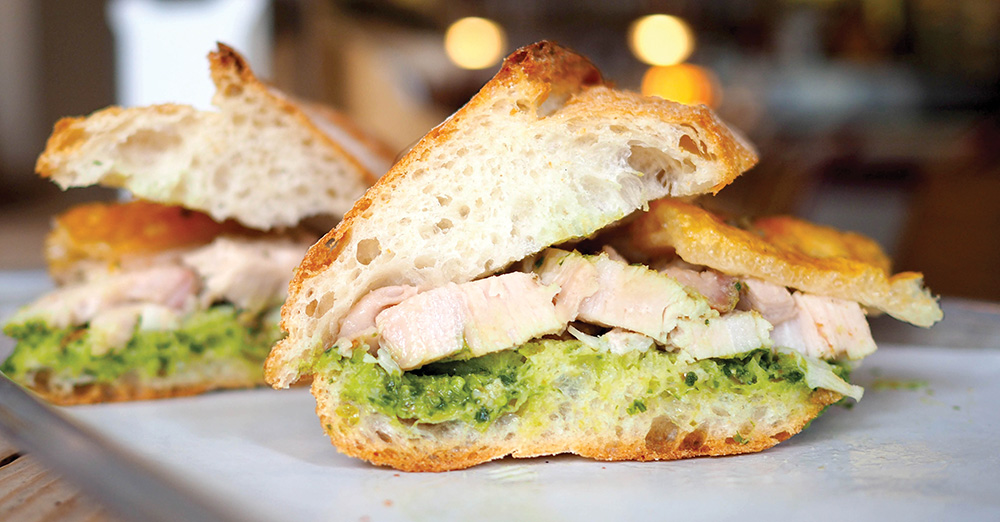 54: Porchetta sandwich from Bread & Meat (above).
55: Cambridge is the sort of place where we are lucky enough to have a restaurant on a bus. It's also brilliant. La Latina's tostones and empanadas are superb.
56: Any one of several hundred Belgian beers at The Cambridge Blue pub.
57: Bibimbap at Bibimbap House.
58: Nameless but delicious (and very cheap) handmade biscuits from Mill Road International Supermarket.
59: 196's cocktail list is lengthy and comprehensive. I am a man of simple pleasures. One old fashioned, please.
60: Any one of the five blends at 5 Blends Coffee House. And don't forget a sfogliatella to go with that.
61: Seoul Plaza's homemade kimchi, great with fried rice at any time of the day.
62: Steamed brioche bun. Beef hot dog. Far too many toppings to eat tidily. Road Dogs' Dirty Dog is a thing of beauty.
63: It may well have taken several years of my life, but the Volcanic Cheesy Chicken at Ji's Chicken Shop was well worth it.
64: Several (dozen?) samples of free fudge from Fudge Kitchen on King's Parade.
65: Dripping on toast, pork scratchings and warm ale at The Queen's Head, Newton makes me forget, for at least for an hour or so, that social media exists and goes some distance to instilling a sense of peace and tranquillity.
66: Cherry Box takeaway pizza. Eaten in bed with a glass of Chianti DOCG. A rare, but important, treat. 
67: Taking advantage of Tradizioni's BYO fee of just £1 and drinking an outrageous bottle of wine alongside a lovely pizza. 
68: Weekly trips to the 'spice den' and stocking up on naan bread at Al-Amin. Favourite recent discovery? Realising how delicious asafoetida is, despite its truly challenging smell.
69: The friarielli and tuscan sausage pizza from Charlie's Coffee Company & Pizzeria.
70: MeatLess' jackfruit shawarma shows what modern vegan food is all about. It is a joy. 
71: A little taste of Sweden thanks to Cambridge Cookery School & Cafe's cardamom and cinnamon buns.
72: Buffalo Joe's buttermilk fried chicken burger is both big and clever. And very, very delicious.
73: Vivid green and freshly made, Limoncello's pesto is a far cry from the sludge that comes in jars and masquerades as the real deal. Try it and vow never to go back. 
74: A cracking bottle of Californian pinot noir picked up from The Old Bridge Wine Shop in Huntingdon.
75: Sunday morning, June 2015. Newspapers, coffee and Bloody Marys at the Kingston Arms. My happy place.
76: An epic dim sum feast from Cafe Oriental on Burleigh Street.
77: A few years ago I took myself off to Midsummer House and dined solo for several glorious hours. Also glorious? A main course of grouse, girolles, cabbage and elderberries.
78: Apple & cinnamon cake from Tom's Cakes.
79: A deep bucket of salted popcorn from the kiosk at the Arts Picturehouse.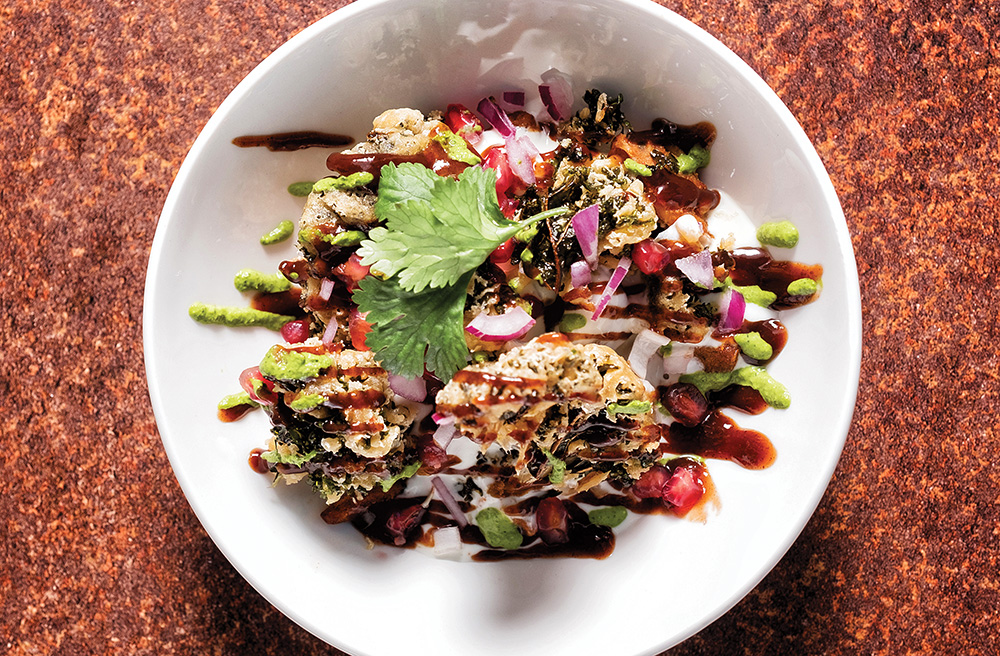 80: There are few restaurants where I am happy to order the same thing every time I go. Tiffin Truck's kale chaat is the exception that proves the rule (above). Fried kale, yoghurt and pomegranate seeds: together at last in happy harmony.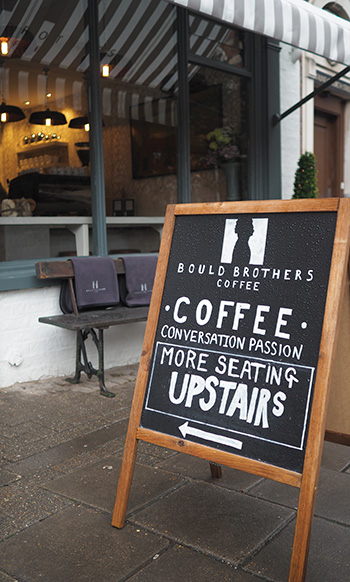 81: A slab of thick, heavily topped Sicilian-style pizza from Aromi. And a San Pellegrino to wash it down.
82: Cream cheese bagel from Indigo.
83: The distinctive and enticing smell on King Street comes from one place and one place only: Efes.
84: There are too many truly good small-batch chocolate bars to pick a single one, but I'm slowly making my way through the selection at Culinaris.
85: Hummus and other assorted mezze from Lagona.
86: A proper whisky sour, upstairs at Novi.
87: Coffee and a muffin from Bould Brothers Coffee (right).
88: Cold champagne from plastic cups on Jesus Green.
89: Another Cambridge institution sadly no longer with us, but the lunch deal at Clowns included some of the best – and most comforting – pasta anywhere.
90: Smoked salmon from River Farm Smokery, sadly no longer smoking in an old RAF base in Bottisham. Thankfully, however, now called Chapel and Swan and just over the border in Exning.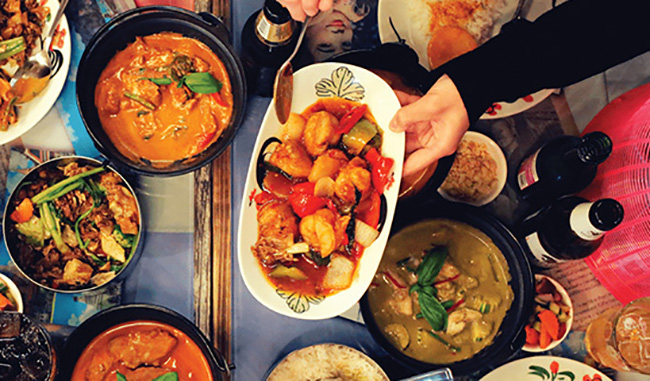 91: Thai-style barbecued pork on rice from Thaikhun (above).
92: Hot Numbers' bacon sandwich on toasted sourdough. Yes, please, I would like some HP Sauce. 
93: Cobs Bakery cheese scones (via Darwin Nurseries & Farm Shop).
94: Experimental cocktails made, and tasted, at the Cambridge Gin Laboratory on Green Street. 
95: Hastily assembled punt picnic and emergency Pimm's (assorted suppliers around the city).
96: The Tin Kitchen's halloumi and roasted vegetable filled ciabatta.
97: The Al Chile food truck is something of a will-o'-the-wisp on the Cambridge scene, but the carnitas burrito I had from there a few years ago means I still keep a beady eye out for them when I'm in the mood for some top-notch Mexican food.
98: Fried dumplings from the Cambridge Market dim sum stall.
99: Cold beers from the fridge at Bacchanalia.
100: And finally, a brand new one: it might be coffee and pastries, huevos rancheros, yoghurt or granola, but staff breakfast
every Saturday at Vanderlyle is the food memory I look forward to making many more of over the next few years.