After the festival's unexpected return last summer, we find out what's in store for this July's Secret Garden Party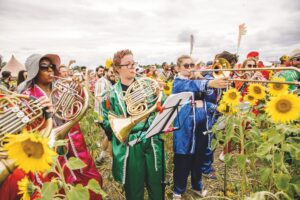 When Secret Garden Party announced its 2017 event would be its last ever, festivalgoers were dismayed. For 15 years, the event had been a beacon of creativity and anti-commercialism on an increasingly crowded festival scene; an exhilarating three-day party where silliness and hedonism were celebrated above all and guests (or Gardeners as they're known) were placed front and centre in the unfolding spectacle.
On announcing the event's grand finale, founder Freddie Fellowes promised an almighty send-off, which was more than delivered in spite of some pretty biblical weather – and then all was quiet for nearly five years.
"We genuinely thought we'd ended it!" exclaims Freddie, also known as the Head Gardener. "It was the logical conclusion at that stage. It had always been my intention to go out with a bang rather than slowly fade away. We'd hit a real high, but felt we were in danger of losing our identity to our audience, so we thought it would be a great way to cement the legacy."
Something changed for Freddie during the third national lockdown in early 2021, when he learnt about a film celebrating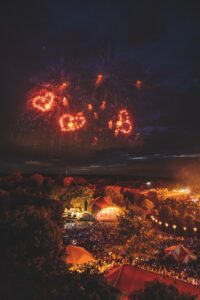 Secret Garden Party and its seismic impact on the festival scene. The film's distributor reached out to discuss a screening on-site, suggesting a mini Garden Party to launch the film. "I had one of those moments, and just thought – do you know what, it would be easier to do a whole festival," he recalls. A sign-up page was floated on the website to gauge interest, which racked up 70,000 sign-ups in the space of a couple of weeks. "We got picked up in the momentum and excitement. Having been in lockdown, it suddenly put closing the festival in a very different perspective. It almost felt like quite a spoilt move… and we knew we could do it again and do it better."
Tickets sold out within two hours on a Sunday morning in late 2021, allaying any fears Freddie and his team may have had that the once loyal Gardeners might have moved on. "Last year was like hanging onto the tail of a screaming comet!" he laughs. "It was exhilarating – and one hell of a ride. And it was fun enough that we want to take it forward into its new chapter." Back in its beautiful Abbots Ripton site this July, Secret Garden Party 2023 will see iconic acts like The Libertines, Underworld and Fat Freddy's Drop take to the main stage, along with the usual array of immersive entertainment to explore elsewhere around the site. A big innovation for Secret Garden Party 2.0 has been its embracing of a social enterprise model, which will see the festival commit 65% of profits to good causes. 
Get your tickets here or click here for the full article!