Returning to its usual spot in the heart of Cambridge, Strawberry Fair is back on 1 June with a day of music, art and fun. A major fixture of the summer calendar in the city, the event is free to attend, and run and managed entirely by volunteers, offering a celebration of Cambridge's lesser-seen bohemian side. It attracts some 40,000 visitors every year, beginning with a colourful parade that snakes its way through the city centre before alighting on Midsummer Common for the official opening at midday. Featuring costumes galore, stilt walkers, street performers and music from samba band Arco Iris, the parade is always an enjoyable spectacle, beginning the event in exuberant style before the party begins.  
As always, there's a veritable of banquet of treats in store for music lovers, with a huge array of local talent on display. The Centre Stage and Rebel Arts Stage will be serving a busy line-up of acts, along with alfresco tunes at the WigWam, Pop Up and Flying Pig stages, plus you can seek out sounds at the Cambridge 105 stage and with the CamBuskers. The Portland Ballroom offers the largest indoor stage, while dance music fans should turn their feet to the Supertunes and Morphic Resonance stages.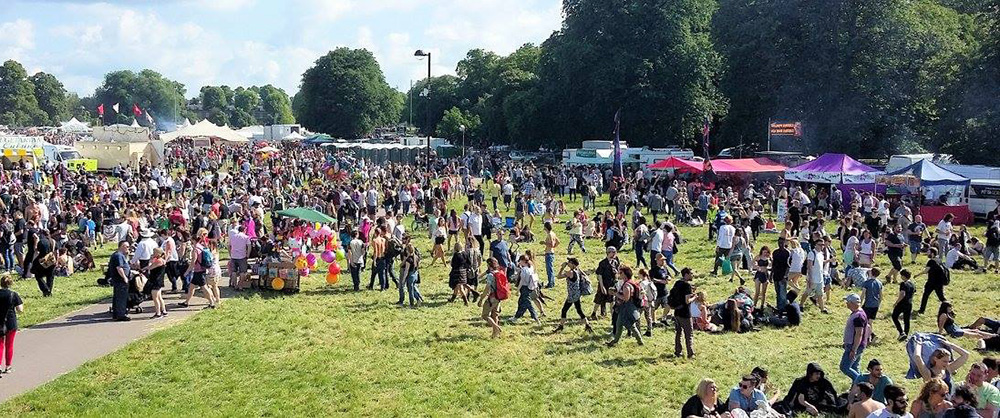 The Strawberry Arts Area will celebrate the work of the city's radical and alternative artists, with interactive theatre, workshops and activities throughout the day. The Arts Area is also home to the Wild Strawberries poetry and spoken word stage, which will have poets, open mic sessions and Strawberry Slam, a live poetry competition. 
There's plenty of fun for children over in the Kids Park, a dedicated area that's open from 12pm to 6pm and features entertainers, performers, storytelling, face-painting and a messy play area. Scarecrow Corner, meanwhile, is also home to a range of community and social awareness stalls, offering anything from massage to storytelling, as well as Hatters Café serving tea, coffee and cakes throughout the day. When it comes to food, there's always a huge choice of cuisines from around the world to tuck into, and you can do a bit of festival shopping too, with stalls selling everything from clothing to crafts.