Siobhan Godwood meets the forward-thinking local punting company bringing a modern approach to cambridge's favourite pastime
The history of punting lies in commerce, as the familiar square-ended boats were used throughout the Fens for reed cutting, hunting wildfowl and transporting cargo. The shape of a punt is perfect for the shallow waters of the Fens, with its width offering stability and space for cargo, and the flat bottom meaning it stays high in the water. The square ends mean that the punt can go in either direction without having to turn, and the pole means you can steer and navigate in places where it's too shallow or narrow to use oars.
It wasn't long before some bright spark cottoned on to the fact that all of these characteristics also made the punt a fantastic pleasure craft: the width means you can pile in lots of people and it's almost impossible to tip the punt over, no matter how inebriated its passengers, plus it offers the chance to snuggle under a blanket, or sit back with a glass of Prosecco, depending on the weather. The pole lends itself to leisurely, relaxed movement along the river, or a bit of macho posturing from young men trying to impress on a first date. All in all, it's no surprise that punting crossed over from commercial enterprise to leisure activity, beginning in the mid 1800s on the Thames and then taking off in Cambridge by the early 1900s.
Despite some stiff competition from Oxford and Stratford, Cambridge is still the undisputed Capital of Punting. Let's Go Punting is a fairly new kid on the river, although founder Simon has been working in punting for more than 17 years, and was one of those involved in persuading the city council to allow individuals – not just the big companies – licences to punt on the Cam. He and partner Caroline set up Let's Go Punting in 2012, as they felt that there was a gap in the market for a company with a strong online presence. "We noticed that other punting companies weren't really using the internet to get business," says Caroline, "so we felt that we could offer something different. Plus, we're really competitively priced online, which helps.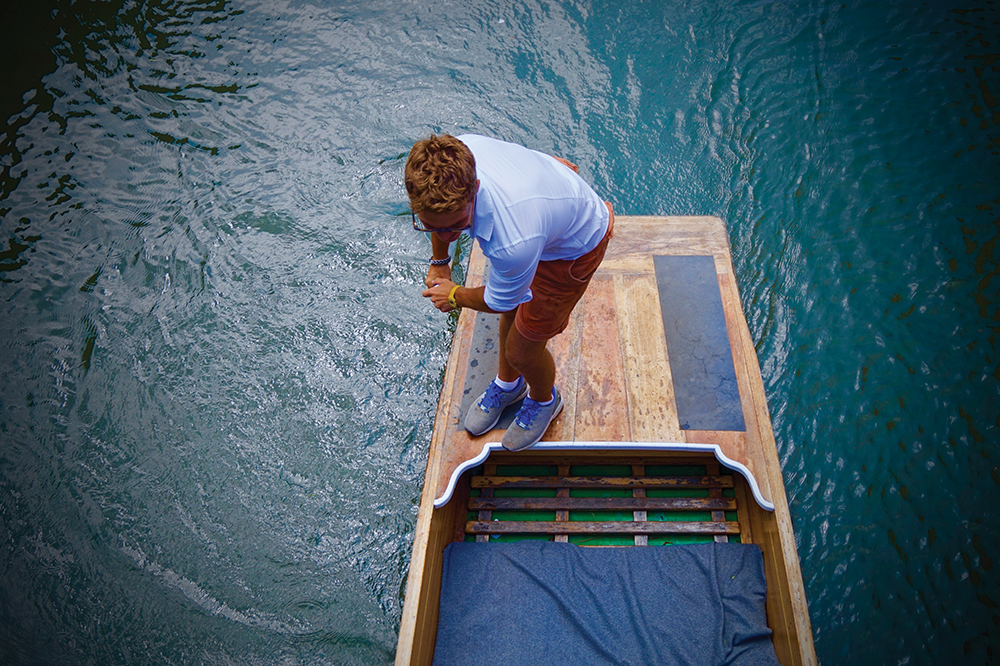 As of this summer, the company has further enhanced their digital presence with the launch of the Let's Go Punting app. Available on Apple and Android devices, it offers customers the chance to have a go at quizzes, with great prizes given to the winners announced on a monthly basis. You can add your favourite selfies too, for a chance to feature on the company's social media pages. Through this kind of forward-thinking, the company's vision is to bring the somewhat antiquated punting industry bang up-to-date – you can even follow their adventures on YouTube, where they share snippets of life on the river via the Let's Go Punting channel.
"A lot of our customers are tourists, which includes people from other parts of the UK as well as abroad," says Caroline, "but we also do lots of events, hen parties and groups of families and friends, and small corporate events."
Perhaps unsurprisingly, hen parties are huge on the Cam. "If you're having your hen party in Cambridge – whether you're a local or you've chosen the city because it's such a beautiful place to visit – then you're going to want to include punting as part of your celebration," she continues. "Weirdly, stags are less keen; we only do perhaps one a year!" Let's Go Punting even has a dedicated hen party website, Cambridge Hen Party, where they offer other activities to complement the punting experience, including cocktail making, life drawing and restaurant meals. One big plus for the hen party punt picnics is that you can bring your own drink. "We did think about getting an alcohol licence," says Caroline, "but we realised that people really like being able to bring along their own drinks as it makes the party much more budget-friendly, and you aren't limited as to what drinks you can have."
As well as taking online bookings, Let's Go Punting have a check-in desk on the quayside, so you can usually find a salesperson from the team either by Cambridge Wine Merchants or near Las Iguanas. And you don't have to be a hen to upgrade your punting experience to something a bit more special; the company offers punting picnics, teaming up with local companies Que Rico, Cheese Co and Food 4 Food to offer customers plenty of choice. "It's also really nice for us to work with other local companies," says Caroline. "Cambridge is a very special city, and we're really proud to be a part of the thriving community of independent companies that make it so unique."
Let's Go Punting | 01223 651 659