Images: Nicola Foley
From farmyard honesty box to Cambridge foodie institution
30 years ago, The Larder, that foodie destination now known and loved across Cambridgeshire and beyond, was nothing more than an honesty box on the Burwash farm selling home-grown asparagus and sweetcorn. "The stand was set up by Mike and Sue Radford, the farm's owners," explains Clare Rosier, co-manager at The Larder. "The idea was that you just took what you fancied and left the money in a tin." The business grew naturally from there, and in the late 80s became a proper shop, occupying one of the old stables on the site. About four years ago, The Larder was doing so well that it outgrew its premises, so a new, timber-framed barn was built, becoming what's now known as the Food Hall.
The farm's asparagus plays an important part in the life of The Larder to this day. Every year they hold their asparagus festival, a day spent celebrating the delicious vegetable in all its glory. "It's one of the highlights of our year, and a really lovely day for families and food lovers," explains Clare. "We do a treasure hunt, and in a marquee on the lawn we have cookery demos from Ursula Ferrigno, a fabulous chef who's been working with us for years. The wine merchant here at Burwash does a bar, and it's just a wonderful way to spend a day in May."
---
"Having a genuine relationship with our customers is what sets us apart"
---
Working out when the asparagus is actually going to grow is a tricky science, however. "It comes up overnight," explains Clare, "and if the temperature drops too low then it just dies. So it's all a bit of a guessing game! Last year when Dave, the farm hand, came into the shop waving the first stalk of asparagus, we all screamed so loudly we terrified our customers! There's something so special about being able to tell people that what they're buying was in the ground just an hour before: there aren't that many places that can claim that, these days."
Asparagus may have been the thing that got the shop started, but The Larder has come a long way since those early days, and now stocks more than 1500 products. But its size and success hasn't distracted the team from their vision. "Our focus is still really good quality, local and – where possible – organic produce," says Clare, "and we try to champion small, local producers wherever we can. If we get someone coming in with a jar of marmalade, saying that they want to start a business, then we want to be able to help them grow. We'll support them until they're big enough that one of the supermarkets picks them up, and then it's time for us to say goodbye, as we can't compete with the prices that the supermarkets pay." This means that the team really have to stay on their toes, visiting food fairs and farmers' markets, searching out new, up-and-coming suppliers.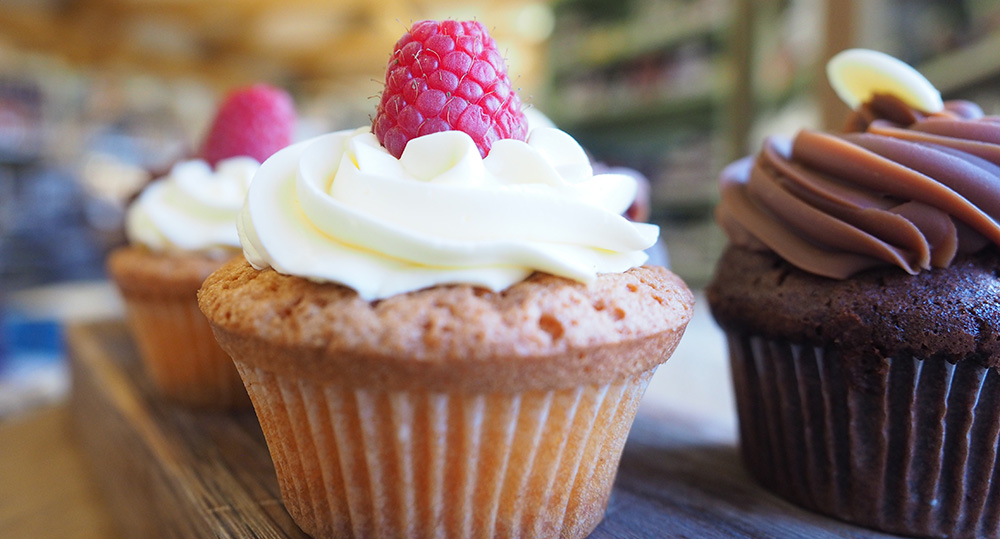 As well as the asparagus festival, The Larder has three other annual events that form a part of its calendar. Each February plays host to Love Food, which is a weekend celebrating local food and drink, where visitors get the chance to sample delicious treats from The Larder's many suppliers. The asparagus festival takes place in May, and then Sizzling Sunday is on the Sunday before the second May bank holiday. It's a chance for guests to taste the delicious bacon, ham and sausages from the farm's rare-breed pigs. "We do a huge barbecue, and our beer suppliers here set up a bar, and it's just fantastic to see the farm strewn with people drinking beer and eating pig!" says Clare. Then, last but not least, The Larder teams up with all of the other businesses at Burwash Manor for Apple Day, usually on the second Saturday in October. "It's a big charity event, a family day out, and last year we raised £5500 for the Sick Children's Trust."
The Larder prides itself on its commitment to seasonal produce, which goes hand in hand with the team's determination to source produce locally.
"We get people coming in asking for our custard tarts on a Monday," says Clare, "and we have to tell them that we only get those on a Wednesday and a Friday. I love that element of being a farm shop: we get things on the day that people make them, and we just have to work around it. And people do; our customers actually change their shopping habits based on what things we sell on different days, and it's really lovely to have that two-way relationship."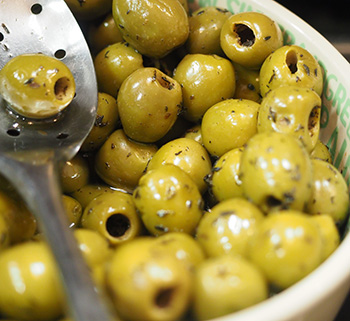 Clare is fiercely proud of The Larder and of what makes it stand out, as an independent, from the supermarkets and multiples. "There are so many places now where you could go and do all your shopping, and not speak to a single human being. We have a rule that if someone comes into The Larder, we should behave as if they've walked into our front room. Being independent and local, and having a personality and a genuine relationship with our customers is what sets us apart and makes us special."
Being part of the burgeoning Cambridge foodie scene is something that the team at The Larder are really proud of, too. "Cambridge has seen such a fantastic resurgence in the last few years," says Clare. "We used to be described as a clone town, but now we have a really thriving independent food industry. It's really exciting to be a part of that."
The Larder, Burwash Manor, New Road, Barton, Cambridge CB23 7EY