With an impressive history and a real passion for beautiful jewellery, Trinity Street Jewellers really stands out
It's not difficult to get your hands on a new bit of jewellery these days. High-street chains and Internet jewellers abound, so you're never too far from a sparkly ring or a glittering necklace. But Trinity Street Jewellers is an entirely different kettle of fish, with an emphasis on quality and heritage rather than speed and convenience.
The jewellery making side of the business was founded back in 1955 by Graham Whitehead, and the shop is currently run by his grandson, Luis Millington. "I'm very proud to be the third generation of our family to work in Trinity Street," he says. "I've had customers who have cried in our shop, overcome to find themselves standing in the exact spot where they bought their wedding or engagement ring many years before. It's a real privilege to be part of a business that has such a fantastic history and lasting reputation."
Luis's grandfather began a jewellery apprenticeship in Hatton Garden at the age of 15, and went on to become a master of fine Victorian jewellery.
One of the shops he produced handmade pieces for was Trinity Street Jewellers in Cambridge, and when, many years later, the owner of the store decided to sell up, Graham bought the business and relocated the family to Cambridge.
The family have now owned the Trinity Street store for 17 years, although the shop has stocked jewellery made by the family for far longer. "To this day, I meet customers who have pieces of my grandfather's jewellery," says Luis, "and some people come in specifically to buy things that he's made. Amazingly he's still making jewellery now, at the age of 82!"
Luis is passionate about staying true to the tradition of quality and craftsmanship begun by his grandfather. The store focuses on handmade jewellery as opposed to mass-produced jewellery, with Luis's uncle and another goldsmith on site making contemporary pieces as well as sourcing antique jewellery from around the UK and elsewhere.
"A big part of what we do is about education," explains Luis. "When a customer comes in to buy something from us, or to look at what we have to offer, it's really important to us that they understand how our pieces are made, and the difference between the untreated gemstones that we offer, and the mass-market, low-quality treated gems that are so common these days. It's the relationships that my family has built up over our long years in the business that allow us to source the best-quality stones and metals."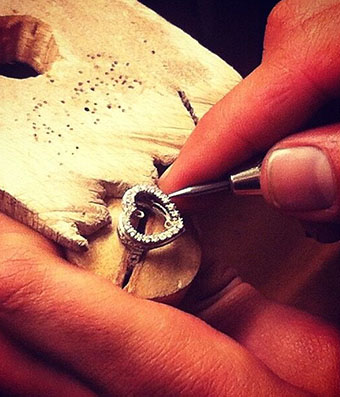 Trinity Street Jewellers sells all kinds of jewellery, and is also the only shop in Cambridge that is currently selling vintage and antique watches, but their real speciality is ring making.
If a customer wants a one-off, bespoke engagement or wedding ring, then they can be as involved in the whole design process as they want to be.
"Some of our customers have really clear ideas of what they like, which we welcome," explains Luis, "and in those cases the design can be a real collaboration between us, with our expertise in designing rings and recommending settings and stones and their own ideas of how they want the ring to look.
Some customers don't really have an idea of what they want, and in those situations we often start with finding out what they don't like, talking to them about what they want the ring to be – something to wear every day, something to hand down to future generations.
There's no rush; although we can design and produce a ring quickly if a customer needs that, we often spend up to six months collaborating with a customer to get the design exactly right."
When Trinity Street customers buy a ring, they can then have a free clean and check every six months. All the jewellery comes with a 25-year guarantee, but of course there are some items that people will be wearing every day, so if there are any signs of wear and tear then they can be sorted so that the piece can stay in peak condition for years to come. "It doesn't matter what kind of budget our customer has, or how much they've spent with us – we want everyone to have the best possible experience of buying from us, so the aftercare is the same."
---
'When someone buys a piece from us, it's the start of a relationship'
---
It's clear that Luis and the rest of the team at Trinity Street feel a real sense of responsibility about producing the best jewellery they can for each customer. "Jewellery is so personal and almost intimate," says Luis. "It's not like selling someone a car or a bit of furniture – we don't want to take the money and never see that person again. When someone buys a piece from us, it's the start of a relationship, and we want to see them again, whether it's just to get a ring cleaned, or to buy another item. People buy jewellery at really important times in their lives – when they're getting married, or having a baby, or treating themselves because they're not well – and for us, it's a real privilege to be a part of that."
Trinity Street Jewellers, 31 Trinity Street, CB2 1TB, 01223 357910