Feeling the effects of Christmas overindulgence? Treat yourself to some self-care this new year
Gresham House Wellness
Tucked away in the grounds of The Gonville Hotel, just across the road from Parker's Piece, is Gresham House Wellness, possibly the city's best-kept secret. A delightful day spa set in a Victorian villa, it offers a range of luxurious treatments in an equally luxurious setting.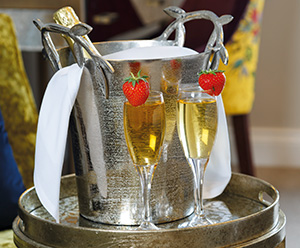 In serene treatment rooms, visitors can take advantage of an extensive spa menu, which includes ESPA facials, massages, manicures, tanning, make-up treatments and more.
Fancy making a night of it? There are also eight feature bedrooms within Gresham House, combining stunning original features and boutique hotel luxury.
"We have such lovely surroundings to work in and such lovely clients come through our doors every day," says spa manager Sarah Thorneycroft.
"It's important when you come for a treatment you are not only made to feel relaxed and extremely pampered, but also that the therapist has listened to your needs, whatever they may be, so you then receive the best individual treatment for you."
gonvillehotel.co.uk/gresham-house-wellness
Bedford Lodge Hotel & Spa
Well known as one of the best spas in the region, Bedford Lodge in Newmarket has got all you need for a blissful getaway, be it a spa day or an overnight stay. With a rooftop hot tub, large hydrotherapy pool, sauna, steam room, experiential showers and relaxation room, not to mention a full suite of pampering treatments, it's the perfect spot for some serious R&R.
This January, try the Truly Radiant Spa Day, which begins with a smoothie in the cafe, continues with relaxation in the spa and concludes with a luxurious facial followed by a tasty lunch (available throughout January and February, from £109).
There's also a Veganuary spa day, priced at £85, which includes a hot drink, ESPA vegan facial or rasul experience, plus full use of the spa and a vegan lunch. If you want to really indulge, the adjoining hotel is stylish, comfortable and boasts an excellent in-house restaurant, Squires. 
Camyoga
An institution for local yoga devotees, Camyoga has studios at Mitcham's Corner, central Cambridge and in Great Shelford. The classes include ashtanga, core strength yoga, hot yoga and more unusual offerings, such as literary vinyasa flow: a dynamic and energetic session where the poses are accompanied by words by some of the world's greatest authors.
There are also classes in barre; an elegant practice that combines ballet and yoga, and various meditation-based sessions. Coming up on 26 Jan is a Winter Detox workshop, a chance to nourish and recharge, which promises to promote wellbeing and balance. If you're new to yoga, Camyoga recommends kicking off with a four-week beginners' course, after which you can still take advantage of the new client offer, which is £55 for 30 days of unlimited yoga. 
Re:Fresh
What better time for a new look than the new year? If you fancy making a change that makes you look and feel good, we recommend checking out Re:Fresh, a friendly Mill Road salon that specialises in modern cuts and colours using ethical, organic and eco-friendly products. The salon is big on the long-term health of hair, too, using only products that contain gentle, nourishing ingredients.
There's a full suite of services available, from highlights to bridal hair, as well as nail treatments and beauty offerings including facials and hair removal. From the ethically sourced teas and coffees served in the salon to the sustainable bamboo towels used to dry your hair, everything inside has been carefully selected to be as kind to people and planet as possible.
F45 Cambridge
Looking to get in shape for 2020? Check out F45, a recent addition to the station area which has been winning enthusiastic praise from Cambridge's fitness fans. The concept originated in Australia and now has over 1,000 studios worldwide, with F standing for functional and 45 representing the 45-minute class length.
Sessions are available seven days a week, and designed to be challenging, but accessible for all levels. At F45, you never do the same class twice, with instructors choosing from between 3,500 exercises to make sure the experience is always fresh and exciting. Uniquely, there are two trainers per class, as well as technology that guides members around the class so the trainers can give more one-to-one support, essentially offering personal training in a team training setting.
"Since opening we have built a great community, which was our main goal", says Sarah Craske from the F45 Cambridge team. "Our members are from all walks of lives and all ages and shapes and sizes and that is what we love. It has brought people together that were the most unlikely partnerships before. We are all about community and getting to know our members personally, so we can help them reach their goals more quickly. There is a lot of fun in the studio, it's a great, supportive vibe with lots of high fives, we are all in it together!"
There are a range of memberships and trials available, as well as pay-as-you-go options, with classes ranging from cardio-based (expect battle ropes, bodyweight exercises and biking), to resistance-focused sessions, featuring dumbbells and barbells. If you're feeling super energetic, check out the special Saturday session: an hour-long, high energy, hybrid session complete with a live DJ to keep you motivated.
To be in with a chance of winning a free month-long membership for you and a friend, go to our competition here
Instagram: F45_training_cambridgestation
Satyam Yoga & Wellbeing Centre
If you need to get away from it all, relax and recharge, visit Satyam Yoga Centre: a chilled-out yoga and wellbeing centre on Hawthorn Way. The range of classes includes beginner yoga and meditation, a qi gong course, yoga for children and teens, family yoga, parent and baby yoga, and massage and pregnancy yoga.
There's also meditation, gong sound baths, pilates and fitness sessions. The wellness room offers treatments including massages, while Satyam is also home to a cool floatation studio, where your problems float away in the warm cocoon of an illuminated pod filled with Epsom salts and warm water. Benefits include relaxation, increased focus, improved sleep and more – where do we sign up?