With stylish, eye-catching decor and the very latest in orthodontic technology, Autograph Dental brings a 21st-century approach to delivering the perfect smile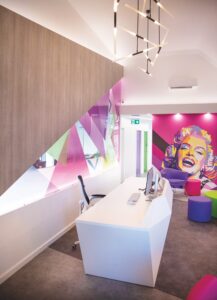 Looking for a straighter smile? The new Cambridge orthodontic clinic, Autograph Dental, is the ideal place to start your journey. The practice is led by Dr Francis Scriven, a specialist orthodontist with more than 15 years' experience, who worked previously at Anglia Orthodontics. The team opened the innovative, private-only clinic on Trumpington High Street in January this year, quickly establishing a reputation for both eye-catching interiors and cutting-edge orthodontic technology.
The clinic has a stylish and contemporary look, with white walls, modern, acid-toned furniture and glass-fronted treatment rooms, creating a clean and bright environment. "We are very proud of the new clinic," says Modesta Jakstonyte Senarath, Autograph Dental's accounts and marketing lead. "It has been a dream of Dr Francis' for a long time to establish an innovative practice, offering new and different types of treatments – the unique appearance of the building is part of showing our patients that this is something fresh." The look of the interiors has proved to be particularly popular with teenage patients: "They quite often want to take photographs while they are here!" laughs Modesta. Anything that makes the process more fun and much less of a chore for the younger end of the client list is always going to be a good thing.
If you want to find out more about orthodontics and the treatments on offer at Autograph Dental, you'll find loads of information on the website. Orthodontic treatment can sometimes seem rather mysterious and potentially confusing, but everything you need to know – from detailed descriptions of different treatment options available and which might be best for your individual needs, to treatment plans and how much you can expect to pay – is on the site. "We want our patients to be as well-informed about the choices available to them as possible," explains Modesta. "Every patient's requirements are different; something that makes Autograph Dental stand out is offering lots of choice, and being transparent and informative."
Technology in orthodontics has moved at a rapid pace in recent years, just as it has in all areas of our lives. While face-to-face appointments are always going to be a crucial aspect of treatment – we're talking about moving teeth around here, after all – more can be achieved remotely, reducing the time patients have to take off either work or school.
One of the innovative systems Autograph uses is Dental Monitoring. "At the start of the treatment, the patient is given Dental Monitoring equipment, which includes a Scanbox and some cheek retractors," explains Modesta. "The equipment works together with an app on the patient's smartphone. All they need to do is insert their phone into the Scanbox, attach the cheek retractors to the inside of their mouth and submit photos through the app. The photos are then reviewed virtually and we get back to the patient with feedback." This means each patient's treatment is being monitored every four to 14 days (instead of the usual eight to ten weeks) and the orthodontist can ensure they are being seen in-person only when absolutely necessary, rather than travelling to an appointment only to be told they can continue with things as they are, which will often happen.
Invisalign is likely one of the better-known orthodontic treatments out there, and Dr Francis is an Invisalign Diamond Apex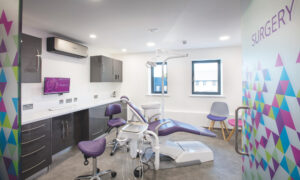 level expert, but he offers a whole range of other treatments too, including aligners, fixed braces – which are still the most common type of brace, and often the most cost-effective – and the Carriere Motion appliance. This is another innovative option for adults and children who need bite correction, and can speed the process up and eliminate the need for headgear. "Dr Francis is a speaker for both Carriere Motion and Dental Monitoring, and delivers presentations to dentists all around the UK and Europe on how to use the treatments. Our patients can really trust that he offers expert advice and will suggest the best treatments available for a whole range of issues," says Modesta.
Both adults and children are often told they don't qualify for NHS orthodontics, even if they are unhappy with their smile or are experiencing issues with their bite. But this doesn't mean they are free from requiring treatment; it is simply that cases have to be particularly severe to get an NHS referral. If this has happened to you – or if you want to explore different options and feel confident in the fact that you're getting the most effective treatment available – the team at Autograph Dental will be more than happy to talk to you and offer advice. And if you do decide to start the journey towards getting the perfect smile, you can be sure the team will be there to help every step of the way.
Autograph Dental, First floor, 56 High Street, Trumpington, Cambridge CB2 9LS | 01223 650286
autographdentalcambridge.co.uk