Following huge investment by the health club, is this the spa the city has been waiting for? Nicola Foley finds out
It seems bonkers, given Cambridge's well-to-do population, that we've never had a luxury spa in the city. There are a couple of 'treatment-led' day spas hiding inside hotels and dozens of salons offering facials, massages, manicures and the like, but when it comes to the full sauna-steam-room-hydrotherapy-hot-tub shebang, you've had to head out of town to get your fix. Until now. 
Following a whopping £3.5 million investment, David Lloyd Cambridge has added a deluxe new string to its bow in the shape of a boutique spa retreat. With sparkling state-of-the-art facilities, this ambitious undertaking sees the health club positioning itself as a super-premium, one-stop-shop for fitness and wellbeing in Cambridge.
Exactly what this kind of financial investment gets you is apparent the moment you're ushered through the doors into the freshly built wing of the building that houses the spa. You're greeted with atmospheric lighting, intoxicating aromatherapy scents and a huge hydrotherapy pool surrounded by smooth, ergonomically shaped loungers. You quickly forget you're in an industrial estate on Coldhams Lane. In fact, the spa's impossibly sleek, modern feel has more similarities with a New York design hotel than your average health club, and it only gets more impressive.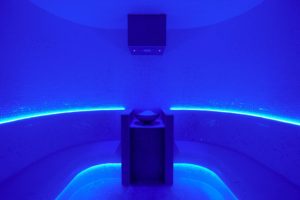 I began my visit with a dip in the saltwater pool, which comes equipped with various features designed to sooth away aches and pains. Within minutes of sinking down into the pool, I could feel my shoulders start to drop as I enjoyed a massage courtesy of the water jets. The saltwater not only adds a pleasingly floaty sensation to the experience, but works to relieve inflammation and boost circulation, helping you reach an almost zen-like state.
After relaxing on the (heated!) poolside loungers, I made my way into the Crystal Maze-like series of experience rooms. This is where things get interesting and where, in my opinion, David Lloyd leaves any local competitors in the dust, presenting guests with a fairground of stylishly illuminated hot and cool experiences. For sauna lovers, there are two to choose from, depending on how hot you like it. Both use salt from the Himalayas, proven to reduce headaches, aid sleep, ease muscular pain, detox the body and even help improve allergies and boost the immune system. After that, I decided to brave the icy depths of the plunge pool: a bracing experience that revitalised my body within nanoseconds. I feel this could, in fact, be the ultimate hangover cure, but its health benefits are more far-reaching than seeing off the previous night's excesses – an icy dip can soothe muscles after exercise and is a technique used by many pro athletes to aid rehab for injuries.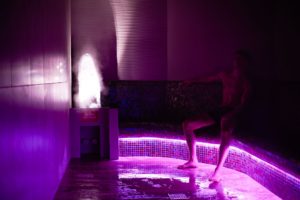 Needing to warm up, pronto, the sweet-smelling citrus steam room lured me in next, followed by an invigorating peppermint aromatherapy shower. A short sit down in the enticingly named 'crystal steam room' (home to a huge pure amethyst crystal), and I was ready to take on the ice cave. Sitting in a freezing room might not sound too appealing, but it wakes up every organ in your body and leaves you feeling awesomely refreshed and ready to take on the world, so I'd thoroughly recommend trying it.
The sumptuous facilities continue outside in the spa garden, which offers a steaming hydro pool, sun loungers and a very cool Love Island-style firepit and seating area, as well as a third sauna and outdoor showers. On the crisp, sunny winter's afternoon I visited, this outdoor area felt like a secluded little slice of paradise. Once again, I found myself amazed I was in central Cambridge.
If, like I did, you find yourself so relaxed that you need a lie down after, I recommend a visit to the lavender room. Here, you can snuggle up in a suspended sleep pod, cocooned under a fleecy blanket. Blissful! 
Enjoying a not-very-health-conscious burger in the club lounge after my pampering session, my spa buddy and I raved about the quality of the David Lloyd offering. It impresses from the very second you arrive and envelopes you in sleek luxury while you pamper yourself, offering a full spa experience right in the centre of Cambridge. The only catch? Currently, it's open to David Lloyd members only – contact the team to discuss packages.