It certainly feels like longer than three months since I wrote my last column, and before the country – and this lovely magazine! – went into lockdown. Life is so different now, and at the time of writing Cambridge is by no means back to normal, whatever that may mean to you. The 'new normal' is a phrase we're already sick of, but what does it mean for the beauty industry? In the time of a pandemic, I wouldn't dream of suggesting that makeup and skincare concerns would be top of your priorities, but it can be a means of self-care and self-esteem boosting. 
That doesn't have to mean spending lots of money, though – in fact, with the help of a few hacks and a bit of creativity, there's plenty you can do at home that costs little to nothing and promotes a zero-waste ethos. Win-win! 
Brows gone wild? Grab a spoolie, spray with hairspray and brush up through the hairs to control and set. And for an Instagram-worthy 'laminated' look, use a normal bar of soap, wet your spoolie, rub it on the soap and brush up through the hairs for a fluffy and full look – this sounds mad, but is an old-school trick that's really effective. For colour, grab an eyeshadow, colour match and use a small brush to sweep the powder through brows in tiny stroke actions to fill in sparse areas. Mix with a little balm for a thicker pomade, and be sure to pick a non-shimmer shade! 
Makeup and skincare can be a means of self-care and self-esteem boosting
So many lipstick containers are filled much further than you can usually reach – if yours is worn out, use a spatula or tiny brush to make sure you get every scrap, and if you want a more natural look, simply mix some of your favourite shades with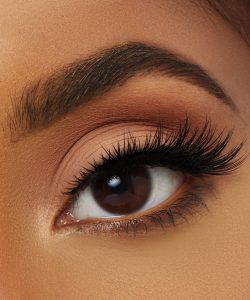 a little Vaseline or balm for a sheer slick of colour. And for multitasking magic, lipstick can look amazing on cheeks; for a natural flush, pat a little colour on to the apples of your cheeks using fingertips. A warm coral will look fab on dark skin tones, and a dusty pink on lighter. 
If you're missing your lash extensions, give an eyelash curler a quick blast with your hairdryer to heat, check the temperature on your wrist to make sure the metal isn't too hot, then apply to your lashes for super curls. Another trick for lash volume is to apply mascara, then use a cotton bud or spoolie to apply a coat of baby powder, then another layer of mascara – repeat for desired effect. And if your mascara is going a little dry and clumpy, add a couple of drops of saline solution and give it a shake to thin out. 
The One That I Want: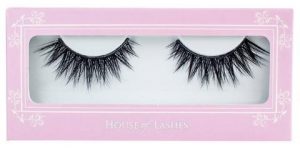 Who remembers the strip lash? Of course you do, but since lash extensions have become the norm for so many, they might be something you haven't used in a while. I'm loving the House of Lashes Iconic strip lashes (£14, beautybay.com) for a cruelty-free flutter. Always do your homework, and don't buy mink lashes when the alternatives are so pretty and don't harm animals.
If you have not yet managed to bag an appointment with your hairdresser and roots are a concern, take an eyeshadow the same shade as your hair and brush through the roots. This works best on mid-to-dark hair. Set with hairspray to stop transference. For coloured hair, it's well worth investing in colour-depositing or correct-care shampoo to prolong the life and vibrancy of your colour in between salon visits. I love Osmo's range of colour revivers, and use Radiant Red (£10.49, sallybeauty.co.uk) for three minutes on wet hair, before washing out for super-bright results that last a week or two. Blondes, vanish brassiness with Bleach London Silver Shampoo (£7.50, cultbeauty.co.uk) every other wash.