From summer swims to Christmas carols, here's our round-up of 25 quintessentially Cambridge things to see and do
1 Cycle along The Backs 
Spring and summer are the ideal time to explore the iconic scenery of the Backs, and there's no better way to do it than via Cambridge's favourite mode of transport: bike! Begin at Silver Street and wheel past the Mathematical Bridge, King's College Chapel and Clare Bridge. 
2 Explore Kettle's Yard
Come rain or shine, the former abode of art devotees Jim and Helen Ede is a must-do activity. Decked out with works by the likes of Joan Miró and Constantin Brâncuși – in a space not quite like any other – the exhibition gallery also hosts some artistic greats. 
3 Spend an afternoon at The Fitz…
Its collections encompass everything from ancient artefacts to contemporary art. Take stock of the impressive works held by Cambridge's foremost gallery and museum – it's an easy way to become engrossed for a whole afternoon. 
4 …Followed by a Chelsea Bun
If asked to list Cambridge's most famous foods, one that is likely to come up is the classic Chelsea bun. Although hailing from its namesake in London in the 1700s, Fitzbillies has made the sweet treat its own. Locals and tourists alike flock to snaffle one all year round. Plus, why not stay for some afternoon tea? 
5 Watch The Footlights
Performing in their home at the ADC, the hallowed ensemble evolves year on year, with new students stepping up to the task of creating comedy gold. The tour show, beginning and ending in Cambridge, is an excellent opportunity to see them live. 
6 People-watch at Cambridge's cafes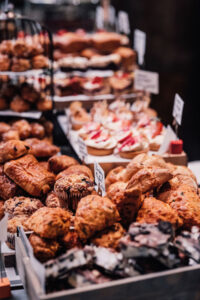 Fitzbillies aside, Cambridge is full to the brim with great cafes. Our favourites include Bould Brothers Coffee, Espresso Library, Hot Numbers, Urban Larder and Michaelhouse Cafe. Although, tucked into side streets, there are bistros galore to get your caffeine fix.
7 Drink in the history at The Eagle
Famed location of the supposed discovery of DNA by Watson and Crick, the second-eldest pub in Cambridge first flung open its doors in 1667 and is still a favourite for both town and gown. 
8 Punt to Grantchester
Another classic way of travelling around Cambridge is by punt, a style of boating which began in the 19th century, initially to move cargo and for fishing. Now, the recreational form of punting has taken over – best enjoyed with a picnic, bottle of wine or glass of fizz. 
9 Visit the colleges
As a university town, Cambridge's colleges are core to the city, lining most of its central streets. Be sure to check which are open to the public on the day before attending (and beware of entry fees) – but even a glimpse from the outside is sure to inspire awe. 
10 Wander the Botanic Garden
Boasting over 8,000 plant species, the sweeping Botanic Garden has something fresh to offer all year round. For families with little ones, there's lots to learn – plus a garden cafe to stop by for refreshment.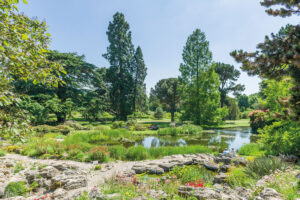 11 Dive into the street food scene at foodPark
You won't be short of tasty eats at foodPark, a street food collective occupying the Science Park, University Library, Railway Station and plenty more sites during lunchtime. Choose from Sri Lankan curry, Lebanese mezze and steamed bao.
12 Swim in the lido
In sizzling weather, the best way to cool off is undoubtedly a splash in Jesus Green Lido. The biggest pool in Cambridge and one of the longest outdoor pools in the country, this aquamarine stretch is nestled just next to the River Cam. 
13 Climb the steps to the top of Great St Mary's Church
A grand total of 123 steps leads up to the top of the University Church tower, which promises panoramic views as a well-earned reward. See what sights you can spot from the best vantage point in the city. 
14 Knock back a pint at Cambridge Beer Festival
Unfurling on Jesus Green, this tribute to all things hop is CAMRA's longest-running beer festival and entices fans of the beverage – or those just looking for a fun day out – in hordes. Swig local and national beers, cider or mead, while sampling delicious cheeses. 
15 See the May Week fireworks
Amid the clamour of May Week (which, contentiously, takes place in June), watching the fireworks is the ultimate way to celebrate summer in Cambridge. Be dazzled by the displays at St John's or Trinity College, with mesmerisingly fiery reflections cast across the river. 
16 Picnic by the Bumps
One of Cambridge's best-known, longest-running, and possibly most terrifying traditions, the Bumps sees boats lined up along the river going head-to-head in a bid to bash the rowers in front. Don't forget to bring along a picnic while observing safely from the banks. 
17 Sip a cocktail on the deckchairs at Garden House
Snazzy hotel restaurant Garden House has an irresistible menu of classic and original cocktails, perfect for a summer afternoon. Kick back and relax on a sunlounger in a prime spot overlooking the serene waters of the River Cam.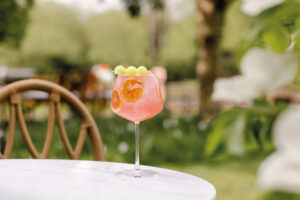 18 Warm up at Midsummer Common on Bonfire Night
Bonfire Night brings a fantastic firework display and colossal bonfire to Midsummer Common every year, where crowds huddle around the toasty fire or polish off toffee apples and other snacks from the event's delectable food vendors.
19 Discover Scott Polar Research Institute Museum
One of our more outlandish establishments, this research institute is dedicated to the chillier climes of the world, promoting both their importance and environmental significance. Expect to learn something novel if you are planning a visit to the Polar Museum. 
20 Grab a bite at the market 
Cambridge wouldn't be complete without its historic market – a hive for jewellery, crafts, arts, books and food. Packed with cuisines from around the globe, pick up a souvlaki, scallion pancake or arepa. 
21 Experience medieval Cambridge at Stourbridge Fair
One of four medieval fairs that traditionally stomped through Cambridge, Stourbridge Fair at its peak was the largest in Europe. In its present-day re-enactment, it sees dancers in period costume, performances, stalls, crafts and talks from the setting of the Leper Chapel – one of the city's most ancient buildings. 
22 Talent-spot at Cambridge Band Competition
Culminating in the winners' performance at Strawberry Fair in June, bands battle it out in the preceding months at music venues around the city. Keep an eye out for gigs. 
23 Run (or watch!) the Cambridge Half 
Pick up the pace with our city's mass 13.1-mile race, which takes place each spring. Setting off from Victoria Avenue, you'll dash past Cambridge's most recognisable landmarks – among them the Round Church, King's College, the Fitz and the Backs. The experience is a unique way to soak up the sights – and the atmosphere is unbeatable.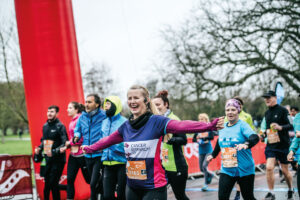 24 Explore haunted Cambridge 
Steeped in history, it's no wonder that Cambridge has a ghostly past. Hit up haunted locations around the city, starting with Little St Mary's Lane, said to be plagued by a demon dog. If you fancy venturing further afield, the unearthly Fens are shrouded in folklore. 
25 Listen to carols from King's
The Christmas Eve carol service from King's College Chapel is broadcast live every year, and for good reason. If you haven't yet heard the angelic voices sounding out within the chapel walls, it's well worth entering the ballot for a chance to attend.