Edition talks to journalist and author Laura Barnett about her multiverse novel, in which a chance encounter in Cambridge determines the course of two lives
---
"That we could take one path or another is something that fascinates me," says Laura Barnett, author of the widely praised The Versions Of Us. It's her first novel, and follows three versions of a story which begins with a couple meeting in Cambridge in the 1950s. In one, they go for a drink, in the second, they miss each other, and in the third, everything gets rather complicated. It was described by The Guardian as 'Sliding Doors, except with three stories instead of two; Life After Life, without all the messy deaths'.
"I loved Life After Life," laughs Laura when I tell her. "I was about halfway through The Versions Of Us when it came out, and I had initial worries about them being too similar. So I didn't read it until I'd finished mine. And I loved Sliding Doors as a teenager: that idea of this crossroads where we could become one of so many people."
Does she believe in fate?
She pauses. "I don't… in the classic sense of predestination. The idea that our lives are already mapped out is so depressing. I believe in us being self-determining, but I also believe in things working out as they should. So perhaps I just want to have my cake and eat it.
"My husband does believe in fate, though, so it's difficult for me to say I don't believe in it because it sounds like I'm saying I don't think we should be together!"
Laura met her husband at a party in Edinburgh. "There were a million reasons why either of us might not have gone," she reflects. "It was a massive 'what if' moment. He walked in, I said hello, and we began a conversation which we're still having now. We clicked straight away."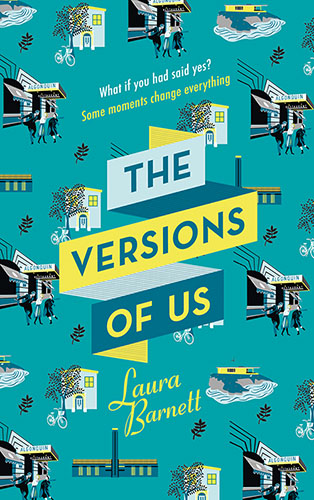 Cambridge is the launchpad for the story, and where Laura spent her student years, reading modern languages and "spending far too much time and money in La Raza, drinking strawberry margaritas".
"The city means a lot to me; it's the place where I became an adult. Cambridge sprung to mind immediately for the setting, because, like any university city, it's a place where lots of people are brought together and hugely important relationships can be formed. I have very fond memories of it."
Laura spent time researching Cambridge in the 50s, 60s and 70s, imagining the city as her characters would have known it.
"There's an important moment when Eva and Jim see each other outside Heffers, which I imagined as being on Trinity Street. But it used to be on Petty Cury in the 70s, when it was still a medieval street. I'm glad I checked, because that would've been a massive error!
"I also got a copy of the Newnham College rule book from 1957 because I needed to know what the reaction would've been if a student fell pregnant in the 50s. Back then, it would have been the end of your time as a student."
Publishing her first novel, says Laura, is "the fulfilment of a lifelong ambition".
She adds: "One of the questions I always ask as a journalist is whether people read their reviews, and I do read mine. They've been wonderful, with the odd exception – I don't expect everyone to love what I do. But it's the most wonderful feeling knowing everything you wanted to communicate has been understood."
Keep a look out for this budding new talent: you might be seeing her work on the small screen soon. "I'm working on my next novel, Greatest Hits, and The Versions Of Us has been optioned for television, so I'm working with Trademark Films who made Shakespeare in Love and Parade's End. We're talking to screenwriters and hoping that'll get off the ground soon."
The Versions of Us, by Laura Barnett, is out now in hardback, £12.99.