The team at Wren Kitchens give the lowdown on the latest trends
The kitchen is the hub of the home where we gather, make plans, eat and entertain. So when considering any kind of design updates, it's essential that they reflect the needs of the household, creating a functional – as well as appealing – space. Wren Kitchens, which has a Cambridge branch at the Beehive Centre, is a good place to start, offering one of the widest ranges of fitted kitchens in the UK. 
There's a world of choice in-store, where the range includes thousands of colourways and unit styles. To help you out, the Wren Kitchens team has highlighted the five most popular design trends they're seeing in 2020.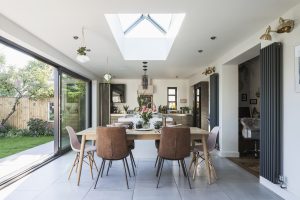 1. Natural Inspiration
Embracing natural materials when designing interiors ticks a lot of boxes, and can help kitchens to merge seamlessly with living areas. Wood and wood effect units – in lots of colours – provide harmonious elements, as do timber worktops, splashbacks and open shelves topped with planters. Green units are in, but you can add interest by combining multiple textures. If this sounds up your street, check out Wren's Country Kitchen selection. 
2. The Flextension Kitchen
Now more than ever, we've come to understand the importance of creating flexible living spaces – especially as many of us double up the dining room table as a desk. The flextension kitchen is a clever, multipurpose space by design: think integrated seating areas, extended breakfast bars and nifty storage solutions that you can use as and when needed.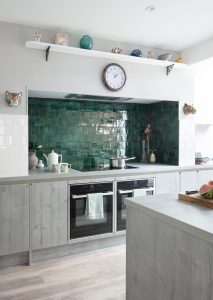 3. Surprising Surfaces
Add some drama to your kitchen by installing statement kitchen countertops. From laminate to quartz and granite worktops, right the way through to eye-catching metallic or patterned splashbacks, or concrete-effect units and floors – it's time to inject your own personal style into your kitchen.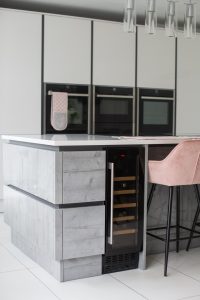 4. Take Two
Duotone kitchens are having a moment this summer: blacks and greys provide a contemporary backdrop; pairing pale pink with pastel blue creates a fun and boutique-chic style kitchen; or go for sage green and cream for a classic farmhouse feel. You could even pair different shades of the same colour for a more subtle effect, or if you're unsure whether you want to commit to two different colours long term.
You could even pair different shades of the same colour for a more subtle effect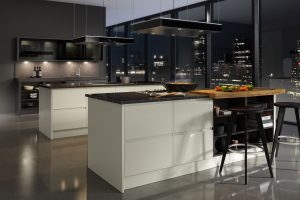 5. Double Islands
For twice the room and twice the style, opt for a double island. Choose ultra-wide kitchen islands to use one side for preparing meals and the other for dining. Alternatively, double-length islands might fit your kitchen – and your lifestyle – better, enabling you to create a workstation with tons of storage, whilst providing you with a focal point in your new, flexible living space.