Make the most of the warmer weather by jazzing up your outside space, ready for a summer of alfresco drinking, dining and socialising
Words by Nicola Foley
With ongoing restrictions and wariness around socialising indoors, our gardens have assumed a new importance as entertaining spaces during the pandemic. Traditional dinner parties are out, and firepit gatherings, barbecues and alfresco drinks are most definitely in… come rain, shine or gale-force winds! 
Predictably, this has created a surge in sales of garden furniture and accessories. It's something which, while very much welcomed in the retail sector, has created its own challenges, as Kate Reed from local furniture shop Angela Reed points out. "It has been problematic as we head into spring, considering worldwide issues with supply chains – and garden furniture has really fallen foul of that problem," she explains.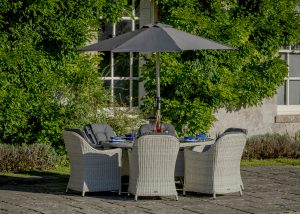 Her solution, if you're having trouble getting hold of what you need, is to get creative with pieces you already own. "I think we will see much more inventive ways of outdoor entertaining, from using indoor furniture outside with rugs and throws to stay warm, to utilising lighting
to decorate our gardens," she predicts.
"Don't feel scared to add indoor cushions, cashmere throws, or even sheepskin rugs to your table settings and relaxing areas, making it feel just as cosy as inside!"
The idea of bringing the inside out ties into a growing trend for blurring the lines between home and garden; creating an appealing additional space, or 'fifth room', that can be enjoyed all year round. That means levelling up the cosiness with cushions, warm lighting and sturdy shelter – and it also means getting real about our climate. Bright white, Ibiza beach-club style might look cool, but the unpredictable British weather necessitates practical colours, fabrics and a heat source – be that a firepit (or a repurposed barbecue posing as a firepit) or some kind of patio heater. Then, of course, there are luxurious upgrades such as hot tubs and pizza ovens to consider.
"Interior decor should extend to the outdoors," agrees Cambridge-based interior stylist, Celine Bridier. "Use corner sofas, rugs and cushions to dress your patios in the same way they're already used in your living room. Blend your indoor and outdoor space by adding weatherproof soft furnishings, instantly transforming your space and making it cosy. You can also opt for colours that are featured in your home and apply them to your outdoor space. Unity in colours allows the space to flow and the property to open up."
There's a growing trend for blurring the lines between home and garden
For Sarah Norris, buyer and visual merchandiser at Glasswells, the key is to: "Treat the garden as an extension of your home and create flow between indoors and out. Make it an occasion by dressing the table with a cloth and fresh flowers for a taste of the Riviera. Introduce outdoor lighting and a firepit, and you can carry on well into the evening."
Her trend pick is classic rattan furniture, which has a timeless appeal, is comfortable and requires little in the way of maintenance. "If you are looking for something more contemporary, aluminium is a super alternative," she suggests. "It's lightweight and often features folding chairs for ease of storage. There's also been a big shift toward sustainability, with PU-free materials
and fabrics woven from recycled plastics."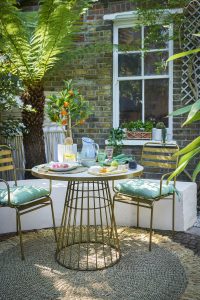 Whether you're after a table and chairs, groovy hammock, elegant sun lounger or finishing touches like fairy lights and solar lanterns, there's plenty to browse for every size and shape of garden at Glasswells, which has branches in Bury St Edmunds, Ipswich, Haverhill and Saffron Walden, as well as a discount outlet in Sudbury.
Celine also highlights rattan furniture as a hot trend for 2021. "It's making a strong comeback in our gardens. It's sustainable, chic and offers unmatched comfort," she says. "It's also low-maintenance and inexpensive when compared to wood. Teak wood is also growing in popularity – it's mainly obtained from ecological plantations, so you know you are getting top quality. It's typically simple in design and combined with natural textiles, which deliver a modern and Zen feel."
Over at John Lewis, a key trend this year for outdoor living is 'modern Mediterranean'. This is a look inspired by the design and culture of southern France, channelling sunny days, leisurely outdoor feasts and nature-inspired motifs. The dining range, with its adorable 'cabbage' bowls, lemon-print glassware and citrus-hued serving bowls, is especially fun.  
Also on the John Lewis radar is 'natural Scandinavian'; think neutral tones, light woods and low-slung seats – the embodiment of understated Scandi chic. There's also the bolder 'contemporary luxe', combining bright colour pops with eclectic accessories and edgy seating, including the neat
little 'Salsa' bistro set, which would be ideal for a small outdoor space such as a balcony. For something similar, check out Wayfair, which has options like the Rhoades metal bistro table (pictured right, £759.99), or for a burst of colour, there's Cult Furniture's almost-neon Armando garden lounge chairs (£153). 
Natural textures deliver a modern and Zen feel
Angela Reed's eclectic range of products, meanwhile, is perfect for creating a welcoming, stylish entertaining space in your garden, featuring everything from braziers and firepits to hanging egg chairs. Kate's top product picks are the eye-catching monkey lights and the super cool TiiPiis: hanging bell tents that can be used indoors or outdoors. 
"You can throw some cushions and blankets in there, and either lounge around with the family, or take some time for yourself and read a good book," she enthuses. "Other than that, I personally love the garden sculptures, and the giraffe is my favourite. It adds drama to the garden – I enjoy that!" 
Once you've got your decor sorted, don't neglect heating and lighting – freezing in the dark isn't part of anybody's perfect alfresco fiesta. "Firepits and chimineas create the best ambient light in your garden, meaning you can extend the party into the evening," advises Celine. "Garden heaters are another option if you want to enjoy your garden year round – but make sure to do your research before buying. Lanterns can create a beautiful vibe as well – try styling your outdoor space with a handcrafted Moroccan-style lamp with detailed artwork for a magical getaway feel. You can also opt for globe-like pendant lights to illuminate your garden and trees." 
For really levelling up your outdoor entertaining, Celine suggests creating a full-blown kitchen in your garden, complete with pizza oven and even a fridge, or maximising your outdoor space with a garden pod, which does not require planning permission and can be customisable and adaptable. "Sustainable garden rooms are a versatile, ready-to-go space solution," she explains. "Often built using eco-friendly materials, they offer a wide range of functionalities that can be combined, including office, gym or studio, games room, bar, or just a place to relax and entertain. With the garden room space being independent of the family home, it can adapt as your life adapts, since they're quite easy to modify." 
Locally, Celine recommends checking out INASPACE, a company that designs, manufactures, delivers and installs modern outdoor room solutions.  INASPACE currently has a show space at the Hot Numbers Roastery in Shepreth, where you can browse the range.
MORE LIKE THIS:
How to increase productivity and happiness this morning