Ripples, located in Saffron Walden, combines bespoke service with an eye for design to stunning effect. Owner Paula Callaway offers expert advice in planning a beautiful bathroom
Can you tell us about Ripples bathrooms?
With its first showroom opening in the aptly named city of Bath in 1988, Ripples has 35 years' experience in designing bespoke bathrooms for customers all around the UK. With an impressive 17 showrooms nationwide, Ripples has built a reputation for innovatively designed and beautifully finished bathrooms.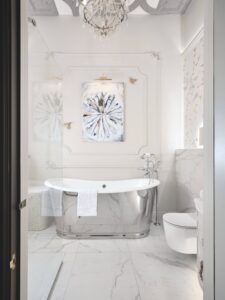 Ripples works differently to other brands – can you explain the process?
At Ripples, we offer a bespoke bathroom design service. Our approach ensures we understand our customers' requirements. First, we arrange a consultation to discuss likes and dislikes, needs and wants. Once key details are agreed, a home visit and follow-up presentation follow. During the home visit, we measure the existing room, taking care to note factors that may influence the financial design scheme. After the visit, we review options for the bathroom project and research the best design solution for the brief. Customers are invited back to the showroom to see our plans. The presentation includes a mood board of solutions (samples of tiles, furniture and finishes) and a 3D perspective drawing. This captures the style, size, layout and overall look of the bathroom, and we provide a detailed quote. Once the customer is happy with the design proposal, they can formally appoint us to carry out the project.
What style of bathroom can you design at Ripples?
We don't offer a one-size-fits-all solution, so the design possibilities are almost endless. We work with the client to understand the aesthetic they are attempting to achieve throughout their home, looking at ideas brought in from magazines and social media. We can create a traditional scheme or something contemporary which incorporates the latest products and technology. Working in a town that is thriving with history and heritage, a popular style within this area is 'modern farmhouse'.
What is important to consider when planning a new bathroom?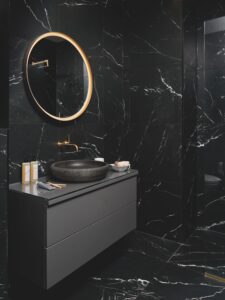 I recommend gathering inspirational images, either from magazines, Instagram, or my favourite – Pinterest. These images can really help us to see what is important to the client and the overall look of their dream bathroom. It's also helpful to understand who will be using the space and whether it's an adult-only sanctuary, functional family space or multigenerational room. Another tip is to have an idea of how much will be invested in the project, and we can run through a few past projects to help the customer understand how much a particular look might cost.
Looking ahead to 2023, are there any styles or products that you think will be trending?
Wood panelling and neutral textures will be strong trends as people search to create a spa-like feel. Marble tiles are also proving very popular at the moment, especially in either gold or deep grey tones. Onyx-effect tiles are an emerging trend – and perfect for creating a luxurious look with unique vein patterns and rainbow colouring.
Click here to visit the Ripples website!