A new development at Alconbury Weald offers modern living in a semi-rural setting
With people considering the spaces they live in more than ever before – coupled with an opportunity to commute less regularly – the desire for out-of-town living has spiked. According to Rightmove, 51% of inquiries in July and August were from those looking to move out of town.
As a well-connected semi-rural location, Alconbury Weald is ideal for anyone looking for a quality home within a short drive of Huntingdon, where direct services to London take less than an hour. This flourishing new community is transforming a former airfield to provide more than 5,000 homes and a new business campus, along with schools, community facilities, transport connections and a number of parks, including a new 155-acre country park for the area. As Alconbury Weald continues to grow, the site will be welcoming a nursery and Co-op to ensure residents have everything they need.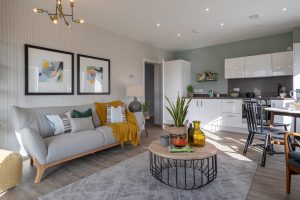 The Radmyle Apartments from Civic Living at Alconbury Weald are characterised by flexible, free-flowing layouts, high ceilings and large windows, which help maximise natural light. Thanks to their spacious balconies and neatly landscaped outdoor areas, these homes are perfect for those looking for a low-maintenance place to live, or landlords looking for homes that would be suitable for professionals. The apartments are ready to move into, with fitted kitchens, sleek sanitaryware and energy-efficient double glazing, along with fitted wardrobes and en-suite bathrooms in the master bedrooms for the larger apartments.
The recent lockdown period has proved not just the value of having green space on your doorstep, but also the importance of nature for people's health and wellbeing. At Alconbury Weald, residents have access to a variety of leisure routes to walk, run, scoot and cycle through. In addition, there are a series of play areas and a skate park, with views of the lake and green space best enjoyed from the seating and picnic spots.
The apartments are available with a special incentive – those who register this summer and reserve within six months will receive free flooring (subject to T&Cs).
More information:
Prices for the Radmyle Apartments start from £179,950. Visit the new show apartment, open from Thursday to Monday between 10am and 5pm, to get a feel for the Radmyle Apartments. For more information about the Civic Living range, visit civicliving.co.uk or call 01480 272 422.