As it grows colder, it's time to snuggle up for the autumn and create a haven of warmth and comfort in your home
As summer fades from view and autumn makes itself known, we crave cosiness: hearty stews, crackling fires, thick jumpers and most importantly, a warm, inviting retreat in which to batten down the hatches and relax at the end of the day. But how best to achieve this heavenly hygge in our homes?
"Use light and natural materials", counsels Kate Reed from the team at Angela Reed, a homewares store with branches in Cambridge and Saffron Walden. "We tend to undervalue lamps these days, with the trend for large windows and bright 'open' living, but if you find a cosy corner, put a nice chair in it and a lovely lamp on a side table – something interesting and handmade perhaps – it adds warmth and cosiness to any room."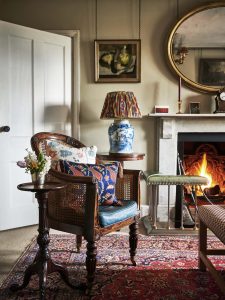 From unique globe lamps made from natural gold Capiz shell fragments, to gorgeously hand-painted terracotta pieces, Angela Reed has a wide range of lamps for adding warm accents of light to your living space, as well as handmade side tables to place them on, like the rustic-style 'Holkham'; made entirely of recycled and reclaimed materials.
"As we have all been cooped up for quite a while and as we head towards autumn, people are thinking about being in their homes with the focus shifting towards living areas, be that kitchens or lounges", continues Kate. "We are seeing lovely comfy sofas selling well; something to curl up in the dark nights. I would hope that people also bring some colour into their homes this autumn and winter, something to bring a smile to your face or literally brighten up your day!"
One sure-fire way to add cosiness to your home is with range cooker, which will provide not only toasty warmth on long winter days, but ample cooking space. The two most famous brands are Aga and Rayburn, both of which have long histories, iconic designs and are sold by local company M&J Abbs, a family-owned business based in Huntingdon. There's inspiration aplenty at the company's lakeside showroom, where you can browse colourways and models, ask technical questions and arrange a home survey.
The warmth from an Aga or Rayburn has a magnetism that draws the whole family to the kitchen
"The warmth from the AGA or Rayburn has a magnetism that draws the whole family to the kitchen", says Hayley from the M&J Abbs team. "The radiant heat from the cast iron ovens is kind to food, and we are all in need of some nurturing at the moment. It's perfect for the long and slow cooking we love in autumn and winter – and it's also forgiving if you forget about it snuggled up in front of the fire!"
For stoves, an increasingly popular option, look locally to Furnace Plumbing & Heating Services, based in Wilburton, which offers a wide range of products, plus installation services.
"There are several different designs out on the market that people can choose from", says Anna Furness from the FPHS team. "Free-standing stoves, which sit on a set of legs, a pedestal, block base or log store, tend to be the most popular style due to their versatility in room placement, design, usability and efficiency".
Free-standing stoves tend to be the most popular style
For a sleek, contemporary freestanding stove that marries aesthetics and functionality, check out the Barcelona from the Henley range at FPHS, which boasts excellent eco credentials and would make a bold centrepiece for a more modern home. For something more traditional, the Aran 5kW multi-fuel stove is a Henley bestseller, manufacturer completely in cast iron and available in a variety of enamel finishes including the attractive French Grey.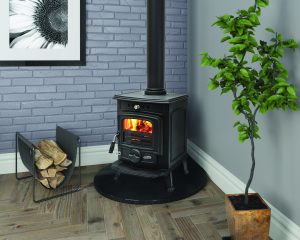 FPHS also offers a range of Pellet stoves and burners, which are a clean and efficient alternative to a classic wood-burning stove. Creating minimal smoke output and using fuel made from a renewable source of recycled waste wood, pellet burners are kind to the environment and offer convenient and user-friendly warmth to your home – and with the government prohibiting the sale of wet wood and house coal as of February 2021, there's an extra incentive to cleaner alternatives to wood burning stoves and coal fires.
If you decide to invest in any kind of stove, advises Anna, make sure you get a site survey by HETAS engineer, have a dry place to store fuel, and once installed, clean it regularly and ensure the chimney is swept annually.
For finishing touches, a hidden homewares gem in Cambridge is Cheffins' fine art department, which auctions off everything from antique armchairs to ceramics, jewellery and rugs. See what treasures you can find on 6 October, the next Interiors Sale, which will offer around 300 lots, ranging from around the £100 mark into the thousands. With a huge range of prices and one-of-a-kind gems on offer, you're virtually guaranteed to find a perfectly unique addition to your décor.