We talk to local experts and suppliers to discover what's now and what's next in the world of kitchen design
With lockdown forcing us to spend more time than ever in our homes this year, many of us have makeovers on our minds. As the heart of the home, the kitchen is top of a lot of people's lists, and whether you're planning a lick of paint, some new furniture or a complete overhaul, this year's hottest trends are sure to provide inspiration.
A great place to start is with a trip to Bryan Turner Kitchen Furniture in Great Shelford, an independent company that has been designing, building and installing fine furniture for more than 30 years. Everything is completely bespoke and made by hand at the company's Norfolk workshop, meaning that you can create the kitchen of your dreams – be it slick and minimalist or rustic and traditional. One thing the team are finding is particularly popular right now is antique brass accents, says senior the company's designer, Jonathan.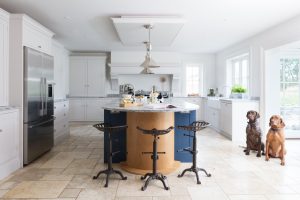 "This may take the form of silky brushed textures or an aged 'living' finish", he explains. "Many of the quality tap manufacturers now offer this option. We are very proud of our craftsmen and they have developed some very exciting accent finishes which may be used creatively on plinths, coamings, and other trim locations. We have many handles to match too!"  To achieve the style in your own home, Jonathan suggests the look would work well added to a classic Shaker kitchen to create a welcoming, homely look. "A complete departure is often undertaken with very modern designs," he adds. "These feature distinct textural changes across the design with ribbed doors, handle-less cupboards and cavernous storage hidden behind flush doors, which glide out of the way into pockets."
Whatever aesthetic you're going for, the key thing is that the designer understands your vision, stresses Jonathan: "Above all else make sure you get what you want! At Bryan Turner we are completely unrestricted by unit sizes. All our cabinets are made from scratch to accommodate any shape or space you may have available. This gives us a unique advantage as not only can we make the most of storage and functionality. We can also tailor its looks. Our kitchens are one offs. Just like our customers! Our designers will encourage you to let your ideas flow."
Successful kitchen renovations rely on communication between designer and client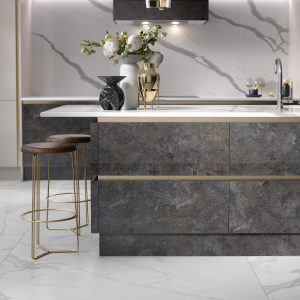 Another must-visit is Wren Kitchens, a manufacturer and retailer of kitchens with branches across the UK, including at the Beehive Centre here in Cambridge. Darren Watts, Wren Kitchens' showroom development and design director, agrees that successful kitchen renovations rely on communication between designer and client, saying: "They will work with you to create your dream space and offer advice on things you may never have thought of".
"Don't forget to create a Pinterest board or a good old-fashioned scrapbook with all your favourite design ideas", he adds. "This will give the designer a flavour of what you're after. Remember to have a budget in mind. If you're opening up your space, include building work fees into your live budget spreadsheet, as well as finishing touches such as tiles and flooring. Also think about how you and your family will use the space – is it purely for cooking or a space for children to do their homework or host dinner parties? This will determine where you want to spend more of your budget. For example, good quality worktops and flooring are a good idea to incorporate into your design if you have sticky fingered little ones!"
Having served as a design expert at Wren Kitchens for 10 years, Darren has his finger firmly on the pulse of the latest trends and innovations in kitchen design. He believes the ubiquitous industrial trend is here to stay, but with a new level of sophistication. "Think hints of luxury metals such as golds and fluted glass in cabinets and lighting. Raw metal and exposed shelving are also key as well as combining vintage pieces such as artwork or rugs," he explains. "Sleek handleless cabinetry is a core part of this design, along with the use of faux materials on doors which mimic the look and feel of natural elements such as concrete, rust and smoked oak. Wren's Elements range is a perfect example to achieve this look with over 20 different textured and naturally inspired designs."
Colour-wise, green is having a moment, continues Darren: "There's nothing more satisfying then earthy forest green cabinetry such as Wren's Georgian Ermine – marry it with golds or brass and a modern black Belfast – you just can't go wrong! This traditional yet modern design offers a super sophisticated timeless aesthetic," he adds. "Plus, this versatile colour palette is a trend that's here to stay and you can play around with how you accessorise it depending on how you feel and what season it is. Think deep greys and blacks during the cooler spells and neutral creams and terracotta accents in the summer."
Think deep greys and blacks during the cooler spells and neutral creams and terracotta accents in the summer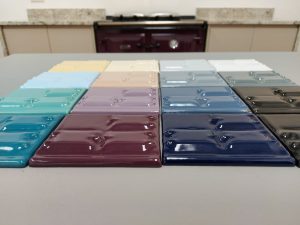 A timeless addition to any kitchen is a Rayburn; an iconic cast iron range which has sat at the heart of many British homes for 70 years. With its singular design, reliability and versatility, it's easy to understand why the brand is so enduringly popular – and as well as transforming your kitchen into a warm and cosy hub, its method of cooking via indirect radiant heat locks in flavour moisture and goodness. Locally, look to M&J Abbs, a family-owned business based near St Ives. From surveys to servicing, plus a lakeside showroom full of inspiration, this a family-owned firm can help you find the best model for your needs, and get it installed and operating to the highest standards. "All Rayburns come in a choice of 16 hard wearing vitreous enamel colours so you can be sure to find the right shade to compliment your kitchen colour palette," comments Hayley from the M&J Abbs team."If you're short on space, you don't have to compromise on great tasting food. The smallest cast-iron AGA model measures just 60cm in width meaning it can slot easily into any kitchen".