Shepreth's Rebecca Willers tells Edition why she braved dangerous jungle terrain, sleepless nights and a monsoon of leeches to help put an end to poaching
In 2014 she climbed Mount Kilimanjaro for polar bears and last month returned from a dangerous trek through the Sumatran jungle to help end tiger poaching. It seems there are no lengths to which Rebecca Willers, curator of Shepreth Wildlife Park, won't go to safeguard our planet's most endangered animals.
The fate of the Sumatran tiger looks bleak: hunted for their skin and bones, which are used in traditional medicine, there are only around 500 left in the wild. Rebecca, pictured below, joined the Tiger Protection Conservation Unit (TPCU) on a seven-day trek through the Kerinci Seblat National Park to find out about their work apprehending illegal poachers.
"My expectations of what it would be like were far removed from what it was actually like," says Rebecca. "We didn't see much wildlife, but we were constantly coming across illegal loggers, snares and live poacher camps."
Rebecca was joined by friends from other UK zoos including Colchester Zoo, Paradise Wildlife Park, Linton Zoo and Woburn Safari Park. "I approached them a year and a half ago when we'd just finished Kilimanjaro, asking if they were up for another challenge. Then I got in touch with Debbie Martyr, who runs the TPCU project, and asked how she felt about letting us tag along with her rangers."
Speaking about the conditions they faced, she says: "The terrain is so difficult and we were carrying over 20kg on our backs, in 30° heat. We'd step over gaps where, if you missed your footing, you'd be done for! One day I swear it was raining leeches – my friend pointed out there was blood on my neck, then we realised it was everywhere. After a while you become hardened to it. On the first day we were careful about getting out boots wet, but by the end we were wading through rivers, waist deep."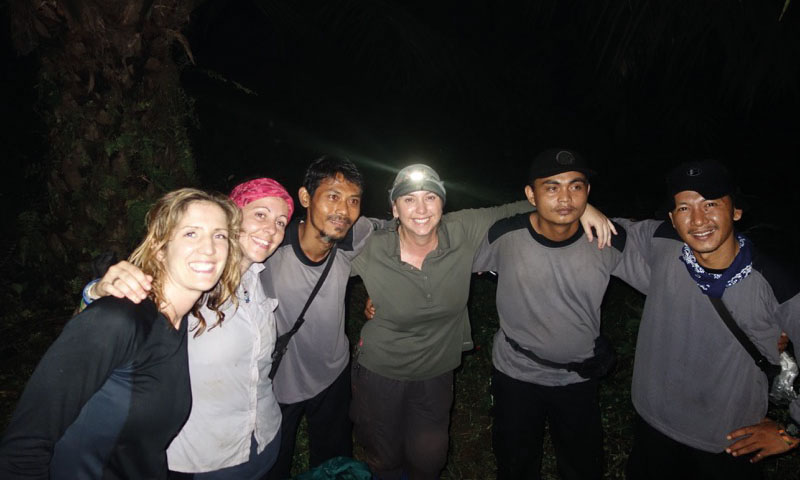 She continues: "We slept in the open, on ground sheets. At night the jungle is so loud with insects. Then to wake up in the morning looking into a jungle is surreal."
Did they ever feel in danger?
"A couple of times we trekked through the dark and you think, wow, at any point a tiger could just take us out. It's always in the back of your mind. But what was apparent was that, by having tigers in the forest, this is preventing some people going in. If you take the tiger out of the equation, what's to stop the illegal loggers?"
Rebecca has a huge affection for Shepreth's two tigers, Amba and Rana, so was naturally moved when they found evidence of tiger cruelty. "We came across an old snare by a tree stump which had tiger marks all down it. The guide said this is where a tiger had been snared and you could imagine it writhing around in pain. I think that stopped us all in our tracks for a minute."
She continues: "We found out that it's not just tigers that are being poached. We came across a tapir, and we thought 'what on earth do they want the tapir for?' But of course they don't – they use it to catch a tiger. It's a live-bait trap. And you realise then that there are two species in danger."
The group also discovered a camp full of caged birds which had had their flight feathers pulled out. "Almost every home in Indonesia has a bird, so they're sold for the pet trade," says Rebecca. "The poachers weren't there, but we weren't sure when they'd return. We had a dilemma as we wanted to take all the birds with us, but then of course they'd catch just as many as we'd taken all over again to replace them. And we still had three days to walk through the forest so we couldn't carry them all. In the end we took half with the aim of letting them recuperate then releasing them. And we left notices up, warning the poachers that what they were doing was illegal."
Later, the group caught some illegal loggers in the act. "When we saw them, the TPCU boys dropped everything and ran at them. They got away, so we took their equipment. So now our rangers were carrying bags, birds and a bunch of chainsaws and tools, while crossing ridges hanging onto bits of vine!
"What the TPCU do is amazing," Rebecca stresses. "Without these patrol guides there is just no hope at all. They just need more funding."
You can help by donating to Rebecca's JustGiving page: www.justgiving.com/Tigertrek