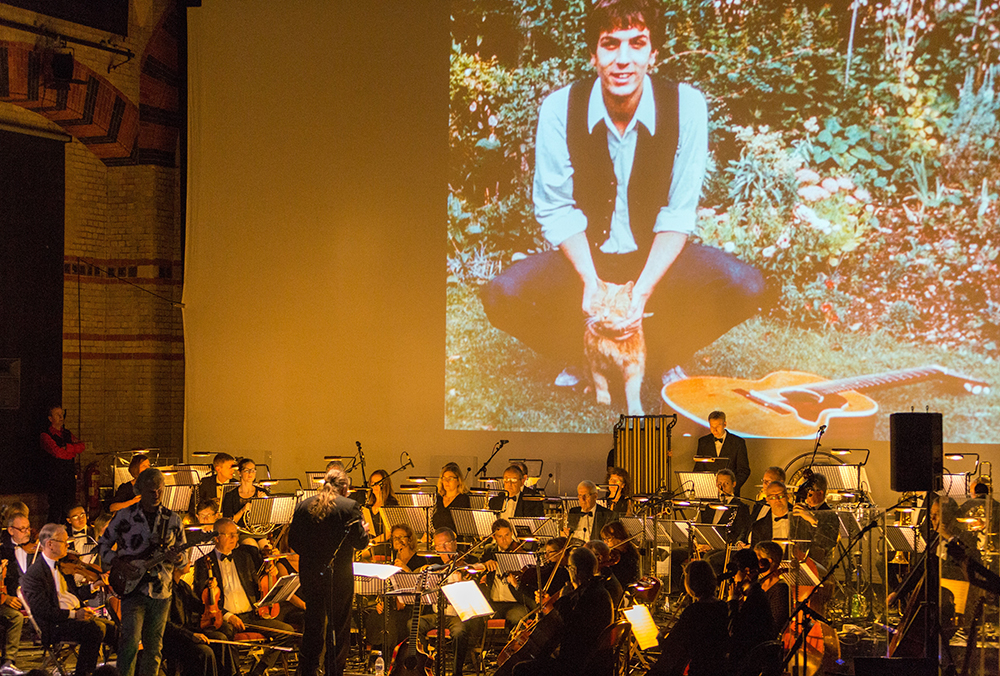 This image (by Jo Randall): memorial concert at the Corn Exchange celebrating Syd Barrett
Ruthie Collins reflects on Cambridge's most famous musical son, Pink Floyd frontman Syd Barrett
"I don't think I'm easy to talk about," Syd Barrett told Rolling Stone in 1971. "I've got a very irregular head. And I'm not anything that you think I am anyway." Psychedelia's legendary pop icon, Syd – named Roger Barrett by his family – died aged 60, in 2006. Long a fiercely guarded treasure in the city, a public art tribute to Barrett, named CODA, can now be seen inside the Cambridge Corn Exchange – helping to keep his magical and ingenious spirit alive. "We selected CODA as a concept because it was so full of glitter and sparkle, like Syd was," says Rosemary Breen, Barrett's sister, who was part of the selection committee for the tribute.
---
"I don't think I'm easy to talk about. I've got a very irregular head.
And I'm not who you think I am anyway"
---
At CODA's centre is a bike wheel, reminiscent of one of the first-ever Pink Floyd tunes Bike (1967), written by Syd. "It is also referencing Cambridge itself, which is a city of bikes, plus surrealist artist Marcel Duchamp. Playfulness and surrealism were essential to Syd," says Clare Palmier, one of the two artists commissioned to create the piece.
"He saw his music in terms of pattern and colour." Once every minute or so an ephemeral image of Syd appears within the wheel – you wait to spot him, his bright light burning the eye. "He appears and disappears. That's what he's about. You have someone who isn't with us any more, who is with us in the music."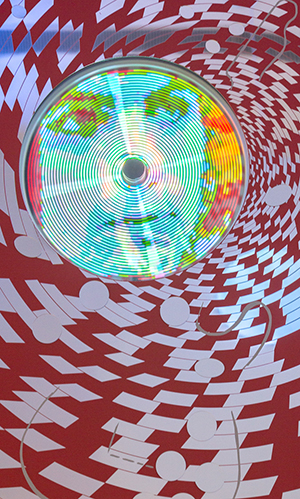 CODA itself (left) was launched at a huge sold-out memorial concert in Syd's memory at Cambridge Corn Exchange back in October 2016. "It was very moving," Clare says. "So many people from Cambridge who had memories of him were there. There was a real sense of him being a Cambridge boy."
Which is exactly what he was. While it was London where Pink Floyd's incipient star exploded into the world in 1967, it was home town Cambridge where Barrett retreated as a young man to spend the rest of his life in strict privacy soon after.
Pink Floyd grew out of the 1960s, a time of technicolour optimism. "You could feel it in the air, we really felt we were changing the world," Rosemary says. Years later, it's bizarre to think that Syd Barrett's school, Cambridgeshire High School for Boys, now Hills Road Sixth Form College, (named the 'crème de la crème' of state sixth forms by Tatler in 2014) was the partial inspiration behind Pink Floyd's Another Brick In The Wall (Part II). A whimsical rule-breaker who described the band's music as 'like an abstract painting', it was art student Syd's startling charisma as frontman that helped skyrocket Pink Floyd from underground cult heroes to fame – a transition that flooded rock with English sensibility and psychedelia.
"The pressure was overwhelming," Rosemary says of that time. Syd's relationship, not so much with creativity, but with the pressures our society can labour on artists, is one that all artists will relate to. "You look at X Factor; Syd would have found that appalling," Rosemary tells me. "Career, being a celebrity – that just wasn't Syd." Many remember him though, his beauty, talent, openness and passion, as a star who was not only an extraordinary artist but inspired two of the most listened to rock classics of all time – Pink Floyd's Shine on You Crazy Diamond (1975) and Wish You Were Here (1975). His work as a solo artist still inspires a fierce loyalty all over the world.
But behind every star is a real person: behind Syd was Roger, who created art for process, not product, whose privacy was largely respected by Cambridge while alive. "Painting was key to his well-being. His decorating for every wall at home was a different colour, not just rooms – the walls themselves. He was an artist first, a musician second. It's a shame he became sidetracked by music, in a way," Rosemary says.
Cambridge was a place that he loved, many of his early Pink Floyd tunes featuring haunting beauty spots such as The Beechwoods and the Gog Magog Hills. Years later, willow-fringed Cambridge still has a timeless, naïve innocence, with a creative scene shaped by intellectuals, musicians, eccentrics and artists reaching for the stars, but many creating art because of something innate to their souls.
Syd Barrett is, to many, as Cambridge Live's operations director Neil Jones says, "Cambridge's most famous musical son", leaving many fans wondering why it's taken such a long time for Cambridge to recognise Syd so publicly. "I'm glad that it took so long. I wouldn't have allowed it any other way. He wouldn't have wanted it," says Rosemary. "He just didn't understand why people were so interested. He only did it all for fun.
"He loved painting nature, pastorals, the English countryside," says Rosemary. "My favourite piece he did is of some flowers," she smiles. "I think what he has left me is that life is not to be taken too seriously, have fun and live every day." Perhaps his English whimsy lives on in all who are brave enough to do just that.
Barrett's influence can be seen across pop culture – from David Bowie to Blur, his stand-out style winning admiration from the likes of Mary Quant and Mick Jagger. Neil Jones comments: "We hope that visitors to the Corn Exchange enjoy the commemorative artwork and we're pleased that it will provide a lasting tribute to a man whose idiosyncratic style in the world of music and art has been such an influence for so many generations
of people."
You can see CODA at the Cambridge Corn Exchange.