Charlotte Griffiths meets the team that breathed new life into Chesterton's Restaurant 22
New, independent eateries are rare beasts in our city, and exceptional ones are rarer still. So when Restaurant 22 burst back onto the scene in March 2018 with new owners, a stylish monochrome look and an ambitious menu to match, foodies fell over themselves to flock to its tables, crossing their fingers that this might be the fine dining experience the city had been longing for – and were not disappointed. Exquisite plates of clever, completely delicious cooking, perfectly judged service, discreetly elegant interiors: R22 is a total dream of a restaurant, which has attracted rave reviews from diners and critics alike, and is fast becoming the worst-kept secret in Cambridge – deservedly so.
As with most good things, R22 has been a while in the making: co-owners Alexandra Olivier and chef Samuel Carter had lived in Cambridge for four years prior to moving upstairs on Chesterton Road, but their dream of someday owning their very own restaurant had been around since the couple first met.
"I was working in London and Alex was in Peterborough, and we'd never been to Cambridge," Sam says. "We looked at a map and wondered where we could live between the two. So, we booked a house viewing, wandered into town and went to a tearoom on Kings Parade, and just really liked it."
"I was still training to be a solicitor at that point," restaurant manager Alex adds, "and then qualified and worked for a couple of years, but Sam was still working down in London. It had always been the plan to have a restaurant at some point, but I just wanted to qualify and get a bit of experience under my belt. So then, at the time we became ready [for our restaurant], we were in Cambridge, and in love with the city."
---
"R22 is a total dream of a restaurant"
---
As Cambridge residents, the couple had encountered the same challenge most of us have wrestled with, at one time or another: where do you go for dinner in town? Despite being enamoured with the city, its rather challenging property market had caused the couple a lot of headaches and heartache, and Restaurant 22's current incarnation very nearly didn't happen. "We were looking properly for about five to six months," says Alex, "at a few pubs outside the city, at Mill Road and in Petersfield – it's such a nice area, we lived there before we moved here and just loved it. We were starting to think about looking in other cities when Restaurant 22 came up. But we said that if it fell through, then we'd look elsewhere."
Luckily, it all went smoothly and Alex and Sam moved in at the start of last year. "We got the keys mid-January 2018 and closed to do the refurbishment – that was full on," Alex says. "My parents moved in with us and we were all here all day, every day, working. We ripped the carpet out; Sam spent three days straight sanding this," she nods downwards, at the dining room's beautifully finished wooden floorboards, "and then my mum varnished it – it was a proper family effort, but it was hard. I remember painting the front as it was snowing outside – it was so cold."
"It was brutal," Sam adds. "And we were still painting on the day we opened: I was watching people thinking 'please don't lean on that wall, please don't lean on that wall'! Alex's mum was still hanging curtains as people were arriving."
That hurried makeover clearly did the trick, transforming the space into a 'discreetly elegant and comfortable' (AA Restaurant Guide) interior that's always mentioned positively in R22's growing number of write-ups. And just a few months after they opened, the critics came calling: The Independent's Ibrahim Salha dropped a triple five-star review in June, describing the restaurant (correctly) as a place which immediately makes you feel at home, and then The Telegraph's Michael Deacon added a second glowing review barely a week later. "The Independent review was huge," Alex says. "Before that, we were always busy at weekends, but our weekdays were quite quiet. Then that happened, and it made such a difference. The phone went nuts for five days straight."
The couple are also quick to state how much they and the team appreciate hearing good reviews. "People taking the time to leave positive reviews is just so encouraging," Alex says. "All the team look as well; it means so much – if you are putting the hours in and working really hard, then good feedback is just great."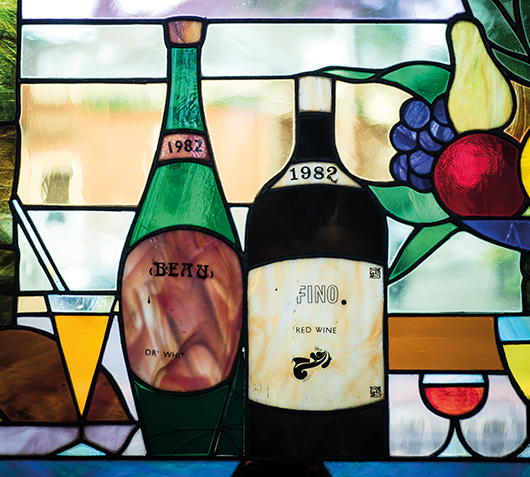 That small but perfectly-formed team is one of the other reasons that dining at the restaurant is such an enjoyable experience. Alex's front of house are smart, knowledgeable and clearly enthusiastic about the dishes they're serving, while below the stairs is a small kitchen where Sam and his crew of chefs turn out some of the most delicious dishes our city's seen for quite some time.
When you're working so intensely it's important to trust those around you, and it's clear that the couple hugely value their entire team. "They're all so involved in it. Normally when you work for a company you turn up and get told what to do," Sam says, "but hopefully they all feel part of it. It's us, all together, figuring it out."
Sous chef Andrew Sleath gets a particular mention – he first crossed paths with Sam when the two were working in London's kitchens. "I met him at Claridge's, then we both started working at maze, where he was on fish and I was on pastry – and we clicked. When he was at Tom Aikens I went and did a couple of days with him there. We just stayed in touch." So when the time came to open Restaurant 22, Sam called Andy, who was working in Scotland at the time – and he came running. "He lived upstairs with us for a week when we opened," Sam laughed. "I've always been in the kitchen here but if I wasn't, then I'd trust him with it. He's great."
Alex agrees, "People ask where the water bath is in the kitchen, but we haven't got one! Andy is just that good at cooking – he makes everything taste amazing."
Even if they actually wanted a water bath, there may not be space – the diminutive kitchens in the basement of the Victorian townhouse must have been a shock to the system for a chef who has worked in some of the grandest spaces in the capital, but Sam's extremely positive about it. "It's very small," Sam laughs. "We haven't even got a pass down there – it's just a shelf, in a corridor – and the amount of times Alex knocks into me…" he jokes.
Interestingly, the restaurant's small proportions have also had a direct impact on the style of food they serve: lack of storage space below stairs means that as soon as ingredients arrive, they're prepped and served, pretty much straight away. "There's nothing in the freezer except ice cream," Sam grins. "Everything's fresh every day, twice – which is a lot of work, but that's all we can do, so we don't have another option. But it works in a good way."
Both Alex and Sam are thrilled to have been able to become part of the Cambridge food scene, and speak warmly of their fellow food enthusiasts around the city. "Cambridge, in general, has been so welcoming to us, we've had so much support," Alex says.
"I just love it – everyone we speak to is so passionate about food and drink," Sam agrees. "You speak to Sam at Thirsty about wine and you'll be there for hours – he just loves it. There's Jacob at Seed to Feed, Sam at Culinaris, Hot Numbers with their coffee – there's just so much here."
"It's so exciting," Alex says, "and it'll just get better and better."
So what's next? Firstly, that dream – time off – may be visible on the horizon. "When we started there were just three of us in the kitchen – we didn't have a kitchen porter for three months," Sam says. "It's better now but we're either here or closed. We try and have a day off on a Sunday when we'll go out to lunch, or down to London, but it's still so early in the business."
"We're just going to carry on doing what we're doing, and hopefully stay busy," Alex smiles.