Entering traditional toyshop When I Was A Kid feels like stepping into a mixture of Bagpuss's shop, Gepetto's workshop and Roald Dahl's imagination. Scarlet pirate ships look set to cast off on micro adventures, ballerinas stand poised atop music boxes and wind-up frogs crouch, ready to spring into life. There's colour everywhere, and is that a faint smell of bubblegum? Overhead, a tin engine whirrs merrily around and I wonder what this place would be like if toys really did come to life once you'd left the room.
Open since September, When I Was A Kid puts the emphasis on classic toys, excellent customer service and a magical, nostalgic shopping experience. Owner Paul Warner explains: "It's about getting kids to use their imagination and keeping traditional play alive. Very often with modern toys, it's a case of on goes the switch, off goes the imagination. Even Lego isn't about buying a big box of bricks and building whatever's in your head, they're all kits where you follow instructions.
"Kids today are growing up in a world rammed with technology," admits Paul, father to two girls, "and they need to understand technology. But I think there should be a balance. In our Wellingborough shop we had a five-year-old lad come in with his mum. He pointed to a pogo stick and said, 'What's that?' She told him, and he said, 'Does it plug into my Wii?'"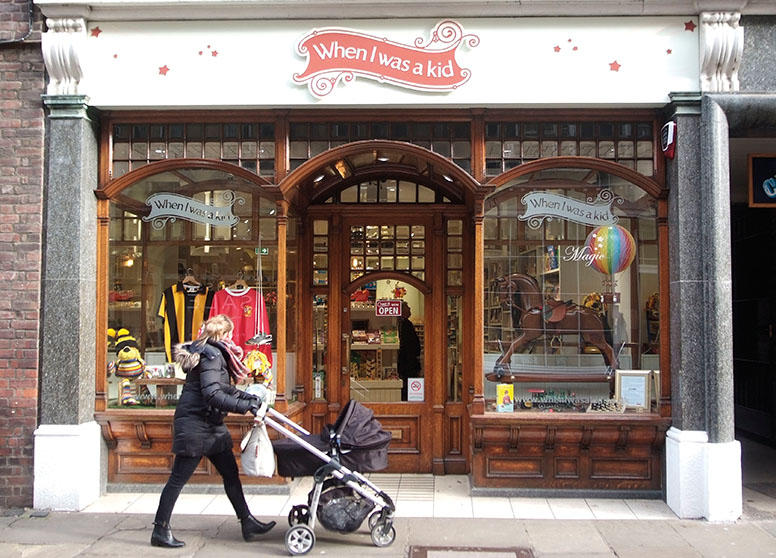 When I Was A Kid started as a website before Paul opened his first shop in his home town, Wellingborough, three years ago. Cambridge born, the city was the natural place for his second shop.
"I'd worked for the same company for 15 years building in-car navigationsystems," says Paul. "But I was bored. When a colleague had a fabulous tin pedal car delivered to the office for his little boy, I started looking online for toys I'd loved as a child and found there weren't many available. So I dabbled at weekends, got a warehouse, did a few fetes then finally opened a shop. Within two years we'd won a best customer service award and most- loved shop in Northamptonshire.
"People tell us shops aren't the future and it's all online, but I think if you get it right and have to stand out on the high street. I love retail and I love the customers: not a day goes by when someone doesn't come in and say how much they love the shop, which is a fantastic feeling."
Asked about his favourite boyhood toys, Paul answers: "There were three things I played with constantly: a spacehopper, a toy fire engine and the sandpit. Though sandpits are a bit big for us, we do stock spacehoppers and plenty of toy trucks." Delving further into the shop I spy a Fisher Price Chatter Telephone from the 1960s, catapults, toy soldiers and more, all guaranteed to put a smile on your face.
"There's a whole generation of children who haven't seen these toys," says Paul. "Some of the toys that we loved as kids are in danger of being forgotten. And because we loved them, why wouldn't our kids or grandkids love them too?"
I'm particularly taken by the beautiful wooden Noah's Ark; a smooth, tactile piece of craftsmanship complete with hand- painted animals. It's simple, charming and timeless: the kind of toy you can imagine being treasured 100 years from now.
"Kids have lots of toys these days, but people like the idea of wooden toys as they're the toys that last," says Paul. "When we started, we sold nothing with batteries and nothing made of plastic. But there are a few rule breakers: we have a range of eco- toys made from recycled plastic bottles for example which still fit with our ethos."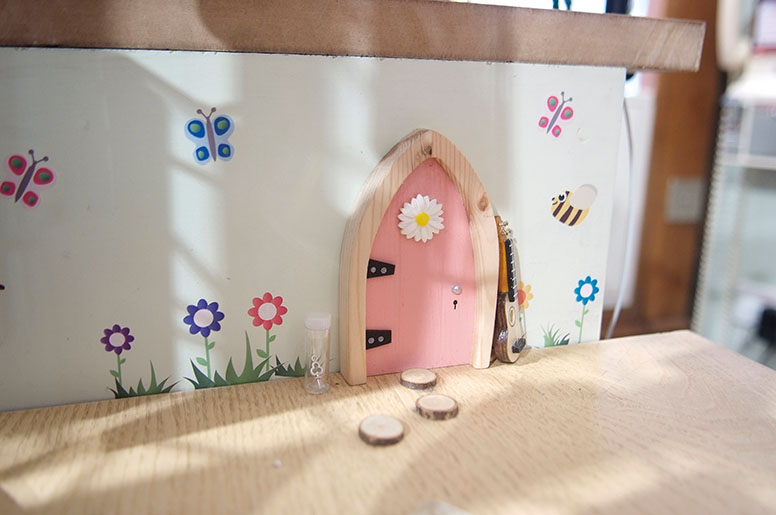 Another highlight is spotting the tiny pink door by the vintage cash register. This, I'm told, is the home of the Till Fairy.
"She lives in the till and prints out receipts from her magic toadstool," smiles Paul. "It's things like that which help engage the customers. We want to create an experience," he continues. "You've got to make shopping exciting and make people want to get up from their computers and come into a shop that smells of bubblegum and has a train going round the ceiling and where you can touch and feel the toys."
Another criteria high on Paul's priorities is customer service. "A lot of shops have forgotten what customer service is about, but we think it's so important so we try to be a bit old-fashioned about that too. We listen to our customers, and if we don't have what they're looking for we'll point them in the right direction or even order it in."
Paul headhunted one of his staff members when she went the extra mile while serving him in another shop. "I dropped her a note the next day, told her we were opening a shop and that, if she fancied a change, we'd love to have her."
Despite the changing face of retail and the British high street, Paul is full of praise for the way Cambridge people support their local stores: "We've been quite taken aback by the number of people who've asked 'are we independent?', as it seems to matter to them, whereas three years ago it probably wouldn't have come up. People are more inclined to support their local shops. I don't think the high street will ever disappear, but I think it will evolve massively, and those outlets which make an effort will be the ones to survive. And that'll make the high street a wonderful place."
When I Was A Kid, 19 Trinity Street, 01933 426365