The onset of autumn always brings a flurry of new novels to get book-lovers through the ever-darkening evenings: here's a hand-picked selection to give you ideas and inspiration for your next read…
Where The Edge Is by Gráinne Murphy
Longlisted for Cambridge's prestigious Lucy Cavendish Prize, this extraordinary debut almost defies categorisation. On paper it's the tale of a terrifying incident where a sinkhole swallows an early-morning bus in a rural Irish town: we meet reporters covering the news, the emergency services responding to the crisis, those saved from the bus, the passengers still trapped underground and the families who gather fearfully and hopefully at the pit's edge – but as we learn more about the characters' diverse backgrounds, their motivations, relationships and hopes and dreams, the book unfolds into an unforgettable story of truly jaw-dropping depth and scope.
The book unfolds into an unforgettable story of truly jaw-dropping depth and scope
The rage-inducing pace of bureaucracy and the requirement to 'follow protocol' is set in stark opposition to the split-second life-and-death decisions made by the response team and those desperate for rescue. As people facing trauma tend to experience, these tragic events leave the protagonists questioning what truly matters in their lives, while the media spotlight shining brightly on those saved from the wreckage forces them to confront illuminated truths that might have been better left in the shadows.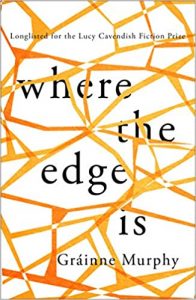 The book also plays with the characters' perception of time, and will leave you wondering how so much can be covered in just a few days. The trapped bus riders, watchless, sleep to make time speed up: those above ground long for more hours with those they've lost. It's a reminder that time, like pain, is relative: or as Nina, the journalist covering the incident thinks to herself: "on difficult days, she remembered an article she read that said the slower your heart rate, the faster your perception of time passing, so that while children and insects felt days stretch out for weeks, adults feel time speed up on them."
Murphy really puts her cast of characters on trial, continually testing their individual capacity for both heroism and humanity: they are simultaneously wracked with physical and/or emotional pain, yet still hopeful for the future in bewildering yet beautiful sets of contrasts that all add up to make Where The Edge Is into one of the most memorable and affecting reads of the year.
The Death Of Vivek Oji by Akwaeke Emezi
Published at the end of the summer, this is the latest work from The Women's Prize-longlisted writer Akawaeke Emezi, whose debut 'Freshwater' was universally lauded: like her previous novel, this new book deals with characters who seem to slip between worlds. As the title plainly states, Vivek Oji is dead, yet also seemingly not: the book slowly pieces together his life and the fallout from his death from the perspective of those closest to him, but Vivek also returns himself to add colour and life to these anecdotes, to rewrite the story from a different point of view.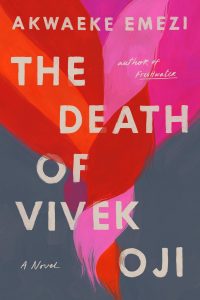 Born on the day of his grandmother's death and bearing an identical birthmark to the family's matriarch, Vivek is continually between states, raising questions of selfhood and identity from the very first moments we meet the eponymous character. His absent father Chika and besotted-to-the-point-of-obsessed mother Kavita are the touchpoints who first identify the character's otherness: "He should have known, Chika told himself as Kavita screamed in grief, Vivek clutched to her chest. He did know. How else could that scar have entered the world on flesh if it had not left in the first place? A thing cannot be in two places at once… this is how Vivek was born, after death and into grief."
This is a book about how something – someone – can be in two places, two states at once: in just a few sentences the narrative can take us from soft, maternal delight at the young Vivek's warm skin to brutal, bloodied grief at the wrapped corpse left on the family's veranda.
Some changes cannot be avoided: death is a part of life, and present throughout, but what happens to our true selves when we are forced to adjust, to alter our nature to make those around us more comfortable? Do we end up, like Vivek, feeling heavy our entire lives – " like being dragged through concrete in circles, wet and setting concrete that dried with each rotation of my unwilling body. As a child, I was light… I slid through it and maybe it felt like a game, like I was just playing in mud… but then I got bigger and it started drying on me and eventually I turned into an uneven block, chipping and sparking on the hard ground, tearing off into painful chunks."
There is no escaping Vivek's fate, but as with his grandmother's passing, birth often follows on from death – if in an unexpected fashion. Tender and painfully raw in places, The Death Of Vivek Oji is a book that will stay with you long after the sad conclusion that all of a sudden has been hiding in plain sight throughout.
The Postscript Murders by Elly Griffiths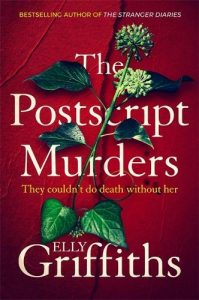 The second novel featuring Elly's splendidly drawn detective DS Harbinder Kaur, this new tale follows on from The Stranger Diaries (which we featured back in Edition at the end of 2018) and is a total treat of a tea-time drama. The book features a clue-following collective of extremely unlikely associates as they attempt to solve the apparent killing of an elderly resident of Shoreham who is revealed, post-mortem, to provide services as a 'murder consultant'. The suspense-packed pacy hunt leads the pack to a crime writers' convention in Aberdeen, dips its toes in the murky world of Eastern European cryptocurrency, and deftly weaves in thoughtful asides on the modern plague of loneliness – caused in these characters' cases by solitude, old age and not-being-from-round-here – which will resonate deeply with many readers following the long days of lockdown. Perfectly cosy winter reading that will leave you hoping for even more to come from Harbinder and her new set of friends.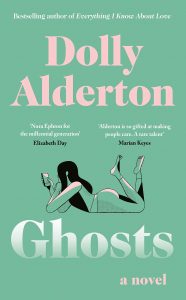 Ghosts by Dolly Alderton
Pandemic-induced brain-fog resulted in my excitedly-looking forward to what I'd very literally interpreted to be not only Dolly's first novel, but her first foray into horror writing, and it was only upon actually reading the book's blurb that I realised it was a tale of ghosts in the 2020 sense rather than the gothic fantasy I'd attempted to imagine. In the same manner as her smash hit Everything I Know About Love, in perhaps what's becoming a hallmark of Alderton's writing, the story's scope unfolds to beyond the title, to not just cover literal ghosting – the experience of going sudden cold turkey on those you'd been in a relationship with – but about past connections that nostalgically haunt our thoughts, or those who are fading from view before our eyes. Ghosts is utterly glorious, and contains one the finest fictional first dates ever committed to paper, a splendid concept called the 'Schadenfreude Shelf' that you'll encourage your friends to adopt immediately, and a truly yelp-out-loud perfectly rendered account of surviving the horrors of a hen weekend. Hugely, whole-heartedly recommended.
You Exist Too Much by Zaina Arafat
Another debut novel, You Exist Too Much strings together a set of beautifully-drawn vignettes like pearls lit from within, slowly connecting the motivations of a young woman feeling stuck between expectation, reality, religious and societal convention and choosing to follow her own path – or as the book's epigram from Kierkegaard neatly sums up: "pleasure disappoints, possibility never."
You Exist Too Much strings together beautifully drawn vignettes, like pearls lit from within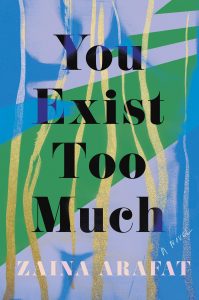 Leaping from past to present, from the Middle East to the US, the chapters weave together the strands of the protagonist's dreams and desires into an exquisitely written and provocative whole. After moving into an apartment with her first serious girlfriend and faced with the prospect of domesticity, the narrator seemingly subconsciously and deliberately implodes the relationship by seeking and having affairs with others, often totally unobtainable individuals. Admitting and facing up to the destructive tendencies rooted deep within her, she seeks help at The Ledge, an unconventional therapy centre where she's diagnosed with an addiction to love and forced to undergo numerous sessions with other addicts, all hunting their own resolutions. How can you find somewhere to call home when you float between worlds? Can the love given by another individual ever fill the void of not truly loving yourself? Though the book is painful in places it's also perfectly paced, leading the reader slowly through realisations just like a brilliant therapist would: and as with Pandora's box, there's hope at the end. An impressive debut that's well worth your time, and makes Zaina Arafat definitely one to watch.