Birds are not only reptiles, they are living dinosaurs, too! They feature as part of the biggest permanent addition to the Museum of Zoology displays since it reopened last year.
Visitors may not expect to chance upon a chicken among the reptiles in the new displays, but the museum is highlighting that birds are a specialised group of reptiles, having evolved from small velociraptor-like dinosaurs 150 million years ago.
We want to create a trend
The idea that birds are living dinosaurs has been proved after the discovery of countless feathered dinosaur fossils. Still need convincing? Well, did you know that crocodiles are more closely related to birds than they are to lizards, snakes and turtles? 
 "Museums still tend to separate birds from reptiles in their galleries", says the museum's director, professor Paul Brakefield. "We want to create a trend for making the relationship between birds and other reptiles much clearer."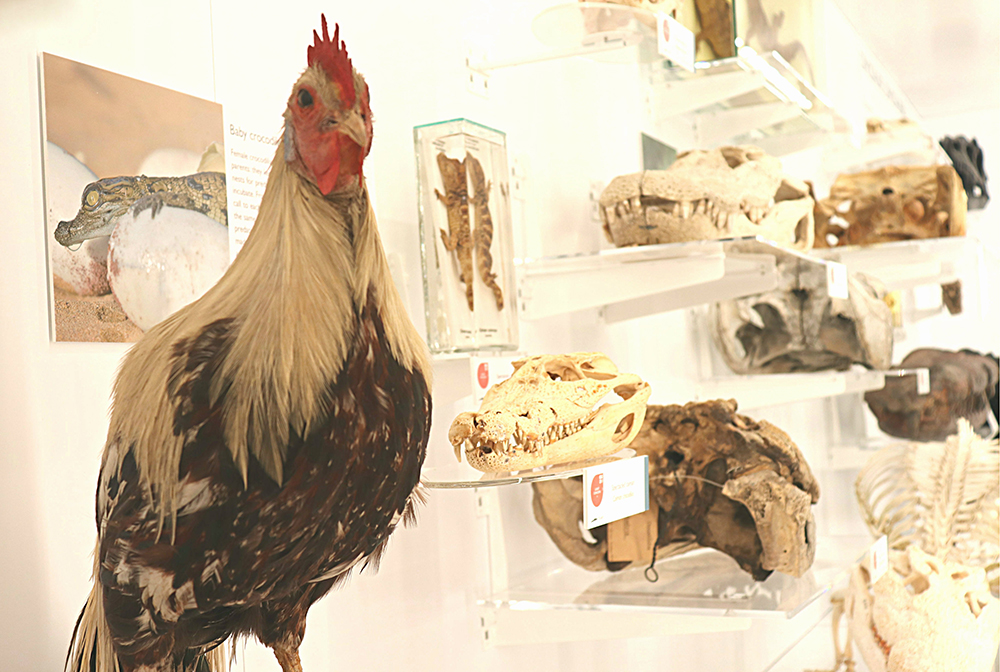 Included in the new displays is a reproduction of the fossil vertebra of the largest known snake to have ever lived, the brilliantly named Titanoboa. The huge reptile case exhibits snakes, lizards, crocodiles, dinosaurs and the extinct flying and swimming reptiles that lived alongside them, plus explaining where birds fit in.
Another new display features turtles, from the extinct horned giant tortoise Ninjemys (yes, tortoises are, technically, turtles) to tiny terrapins.
Perching birds, a group containing more than half of all living birds, have their own new display, featuring finches, crows and thrushes, as well as the birds-of-paradise group from Australasia, famous for their elaborate dances to attract a mate. 
The museum is open seven days a week and is free to explore.