New Hall is the home of the biggest collection of art made by women in Europe. Ruthie Collins finds out more
"So many people have fallen in love with the college, fallen in love with the collection, fallen in love with the building. There's a lot to love about this place," says Harriet Loffler, curator for New Hall Art Collection at Murray Edwards College – and she's not wrong. What started with the acquisition of Extase, a six-part work from US feminist artist Mary Kelly in 1986, has since grown to Europe's largest collection of art made by women. 
Over 500 works across all media housed in a Grade II listed building, in an all-women college at Cambridge University with stunning gardens; the collection is an active challenge to gender inequality in the art world. Yes, the collection is in a college setting, but it's a stone's throw from the city centre up on Huntington Road, open 10am to 6pm, every day. "It's a mini Utopia," Harriet laughs. 
For lovers of great art, this is a utopia open to anyone, throughout the week. "It's so different to the standard Cambridge college here and the usual 'don't walk on the grass,' 'closed to visitors'. We're like – 'come and make use of this wonderful resource!'" Harriet says. "There's a freedom here, an invitation to come and enjoy the work." And those that come, really do. Quite often, as with many of the more hidden museums in Cambridge, it's just a case of knowing the collection is there. "People spend two or three hours here, with the self-guided tour. It can take a lot to step over that college threshold, so once here, they are very engaged." 
It's difficult not to be. Just a simple walk around the corridors of the college gives you intimate access to extraordinary pieces; excellent work, by many leading artists – from Bridget Riley to Tracey Emin. "There is a real spirit of generosity resulting from all the works being donated and being open to the public," says Harriet.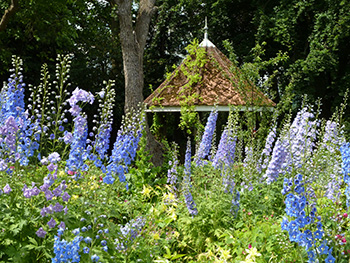 Generosity is key to the collection, which was amassed after a call was put out for further works in the late 1980s by then-president of the college, Valerie Pearl, who wrote to 100 artists asking for donations. Works were donated from artists including Paula Rego, Maggi Hambling and Turner Prize winner, Lubaina Himid. 
"I think she thought they might get around 25 but in fact a whopping 75 women gave work. Those women were being invited to be part of something that gave them a voice. The act of giving became a radical act, being part of something," explains Harriet. 
"This speaks of so many things. Not just an incredible act of collective giving, but also spoke of a moment when women wanted to be represented. They were probably having to supplement their work, their studio practice, with multiple jobs, a bit like now. At that time there were few opportunities for women artists, their work was rarely shown in exhibitions and there was very little being sold or promoted; the collection offered them a vital platform and a community to be part of."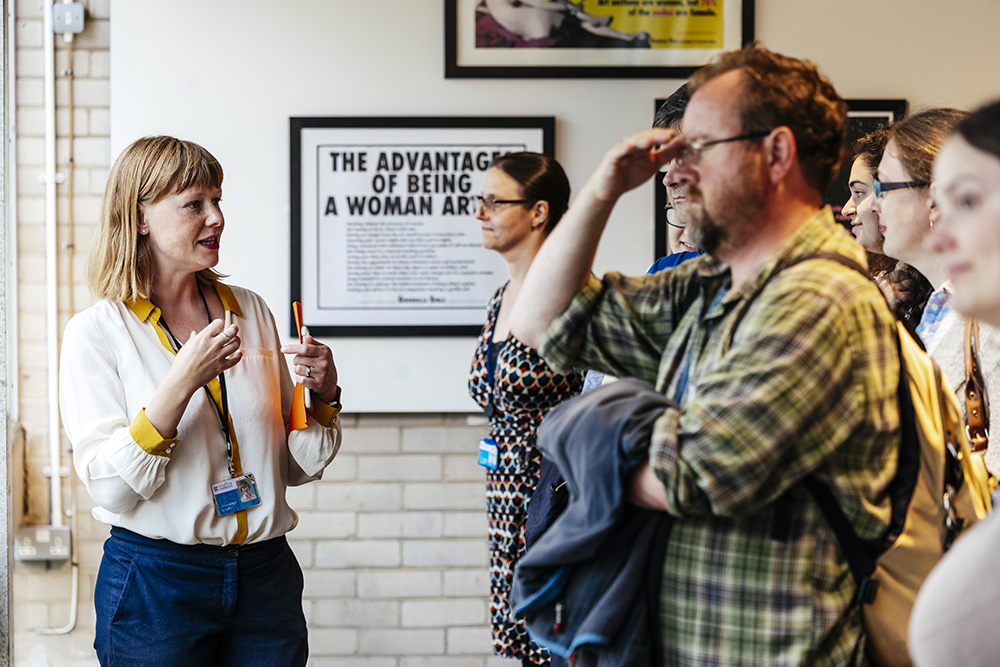 Harriet stops suddenly, to make a note. "It's for a PechaKucha (talk) this Thursday," she explains, accompanying the launch of a book that's just launched, Great Women Artists, published by Phaidon, exploring five centuries of female creativity. "We know things are changing for women. There's a huge desire from the public to see these works now." 
We walk past a collection of pieces donated by Cambridge artists for the Nasty Women exhibition at Artworks, Victoria Road, in 2017; part of a global movement of female-led protest. Wendy Cope's poem Differences of Opinion has been turned into a piece by local artist Sue Law: black type on bold yellow echoing classic Guerrilla Girls palettes, whose now iconic lithograph Do women have to be naked to get into the Met. Museum?, is hung opposite. This sense of community, links to activism and a push for change, is palpable throughout the collection. "It's important to give women a space where you don't have to fight to be heard," says Harriet. Though men are of course a key audience for the collection, collaborators and supporters as well. Like women, they are inspired by great art, too.
2020 will see change, with Harriet planning a rehang of many works, making the narrative of the collection more fluent. "I really want to make it better known, foster collaborations that connect the academic community and research with a wider public," she explains. Current show Creative Connections, Portraits of Women Scientists and Artists from photographer Anne Katrin-Purkiss, running until March 2020, is doing just that – supporting a cross-disciplinary approach to presenting art. "This show is exploring the artist's studio as a laboratory. All their work is based on experimentation, imagination and curiosity," says Harriet. After that is a collaboration planned with Kettle's Yard for Spring 2020, plus talks and workshops, the programme centring around landmark events, throughout the year – all with the collection at the heart. 
"This is the piece I normally end tours with," she stops at Rose Garrard's Models Triptych, mounted next to a curving stairwell, a cross-disciplinary piece depicting three historical female artists, fusing painting with installation. "I love this piece. It's a brilliant symbol of what the collection represents, in that behind this work you can see the bricks and mortar of the building – we are the support structure for artists over history and now." A piece reflective of New Hall Art Collection's work as a vital champion for gender equality throughout the art world – that anyone can access. 
"I see the Collection as being really important in giving women a voice, a platform, and an academic context for their work," says Harriet. "Come and visit!" 
Visitors are welcome to ask for a self-guided tour of the New Hall Art Collection from the Porters Lodge at Murray Edwards College, 10am-6pm daily.