If there's ever been a play more pleased with its own cleverness than this, then I've never heard of it. From the sparkling opening dialogue between frivolous young bucks Algernon and Jack to the fabulously farcical finale, The Importance of Being Earnest is pure theatrical pleasure.
Last night (18 May), Cambridge audiences were treated to a shiny new adaptation set to open in the West End in June starring none other than David Suchet (Poirot, Death of a Salesman) as Lady Bracknell. Lively, astute performances and an exquisite set and costumes, paired with Wilde's unforgettable characters and wordsmithery, made for an evening of theatre that is near impossible to fault.
It's hard to believe that Wilde's masterpiece – an arch, still hilarious critique of Victorian manners, ideals and the hypocrisy of the age – is 120 years old. The dialogue dances from one playful observation ('If the lower orders don't set us a good example, what on earth is the use of them?') to the next ('I never change, except in my affections'), the characters more wonderful than any modern sketch show could produce.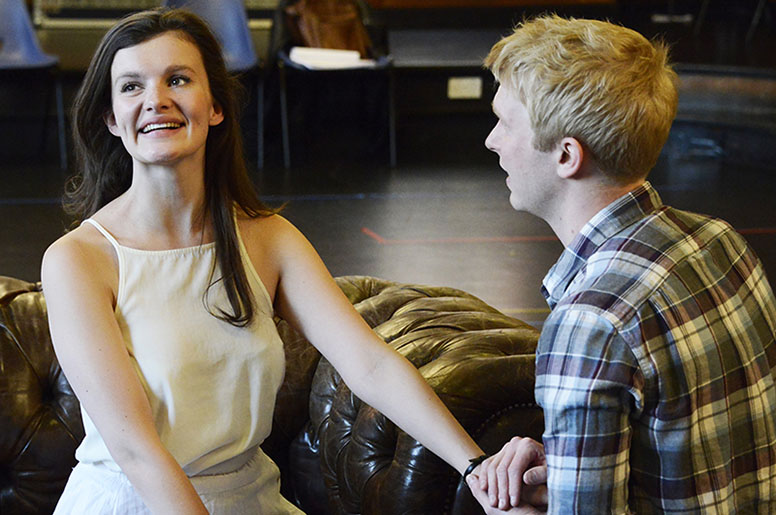 With such material, it's surely a challenge for any actor to make a part their own and not be simply carried along by the play's own magnificence. But this cast do a sterling job of which even Lady B might approve. Emily Barber is particularly enchanting as the elegant, flirtatious and equally repugnant Gwendolen: her battle of wits in the garden with the excellent Imogen Doel, who plays Cecily with a kind of childlike mania, is a delight: all tea, cake and barbed remarks. Did anyone do bitchiness better than the Victorian upper classes?
The boys, Philip Cumbus and Michael Benz, revel in the childishness of Algie and Jack, each pretending to be 'Earnest' in order to woe their women. And Michele Dotrice and Richard O'Callaghan are an unexpected joy as giggly, bashful late-in-life lovers Miss Prism and the Reverend.
But we've all come to see Mr Suchet take on that great dame of literature, Lady Bracknell: a pillar of Victorian morals and manners on whom the young people's happiness depends. He rises admirably to the task, delivering arch put-downs and shooting looks that could wilt a pot plant without straying into panto dame territory. His presence commands every scene, and those looking forward to the cross-examination (aka handbag) scene won't be disappointed.
An unfailing delight to revisit, The Importance of Being Earnest can't fail but to captivate – as the standing ovation on opening night confirmed. It's on until Saturday. Book now or risk being exposed to comment in the foyer.
:: Read an interview with David Suchet on his latest role ::
The Importance of Being Earnest, Cambridge Arts Theatre, 7.45pm; tickets from £15.