Siobhan Godwood reviews Cambridge Junction's new Christmas show, by theatre group Figs in Wigs
It's springtime at the riverbank, and Mole is emerging from her underground home and looking forward to seeing her friends again. But the gang are pretty traumatised from what happened last spring, with Toad crashing cars, being put in prison and having Toad Hall taken over by the evil weasels. They're doing their best to put it all behind them, but it's hard when Toad is still quite, erm, unpredictable…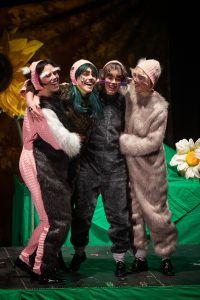 At the Junction this Christmas, the excellent and multitalented Figs in Wigs theatre group have taken the much-loved characters from Kenneth Grahame's Wind in the Willows and created a brand new adventure for them, one that helps them learn more about a lot of things: space, relativity, friendship, forgiveness, online security, the early hits of Madonna and most of all, the importance of getting Santa's magic sleigh back to him by 24 December at the very latest. The show is packed with music, dancing, speedy costume changes, plenty of audience interaction and a lot of laughs. It's hilarious and heartwarming, and has plenty to appeal to audience members of all ages – when we visited, there were groups of adults on work nights out, families with teenagers and some very tiny toddlers, and everyone was joining in enthusiastically with the onstage fun and games.
The Figs – Suzanna Hurst, Sarah Moore, Rachel Porter, Alice Roots and Rachel Gammon – wrote and choreographed the whole production, as well as taking on the roles of not only the animals, but sundry bits of onstage plant life, too. Praise is also due to the set design, by Tim Spooner, and Tom Parkinson's musical soundscapes, both of which add to the production's aura of magical madness.
Tickets are £15.50 and can be booked here.