This year, Bright Publishing will be raising funds for regional life-savers EAAA, in a bid to help the team go 24/7
In 2020, Cambridge Edition is pledging to support East Anglian Air Ambulance, a life-saving local charity that depends on donations to keep its vital service operating. 
Providing Helicopter Emergency Medical Services (HEMS) across Norfolk, Suffolk, Cambridgeshire and Bedfordshire, EAAA exists to save lives by getting specialist doctors and critical care paramedics by air or car to seriously ill or injured people in the region. 
It needs around £13 million per year to keep its service airborne, but aside from occasional grants, receives no direct funding from the government. Team Edition (and our colleagues at Bright Publishing) want to do our bit to support this incredible charity, so we've set ourselves a fundraising goal of £10,000 for EAAA in 2020. We've got sporting events, raffles, bucket shaking, bake sales and more planned – and we're asking for your help! 
Why EAAA?
To say that EAAA makes a difference in our community is a colossal understatement: the highly-skilled team attends to the very worst medical emergencies; caring for local people in their most dire moments of need and comforting them in the months that follow if they need it, through their aftercare programme.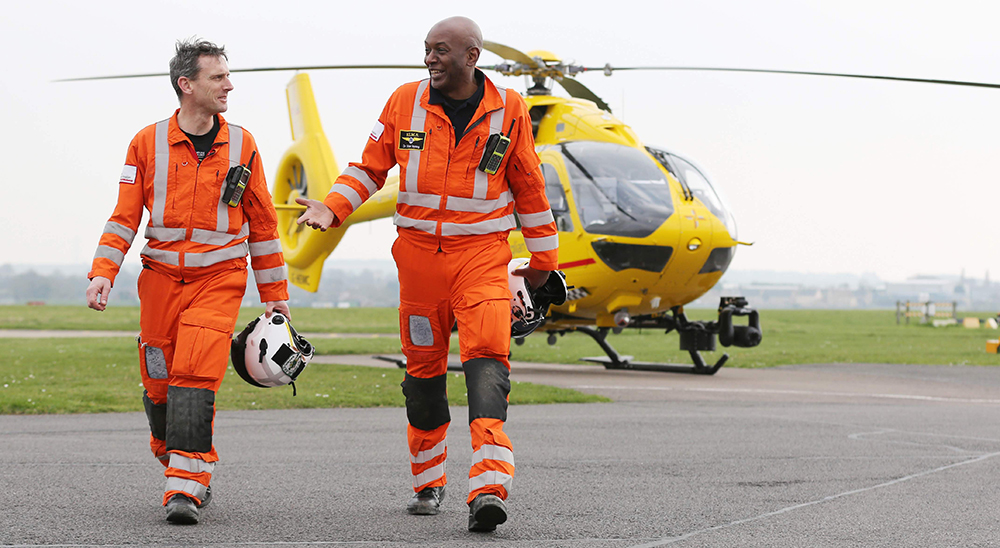 Since its launch in 2000, EAAA has been dispatched to more than 27,000 life-saving missions, averaging eight per day. The service enables the most critical patients to get to appropriate hospitals in the quickest way possible, but it's more than just a transportation service. Each call-out is staffed by elite crews consisting of two pilots, a doctor and critical care paramedic, plus extremely advanced equipment, meaning that patients in urgent need of help can get it immediately, rather than waiting until they are admitted to hospital.
You realise that if you invest in a service, you're going to get a good service!
EAAA has two H145 helicopters, each with a travel speed of 167mph, allowing the crew to get anywhere within its more than 5,000 square mile jurisdiction in just 25 minutes. When every second counts, this speed can mean the difference between life and death. In addition to these two aircrafts, EAAA has two rapid response vehicles – both Land Rover Discovery Sports – which can provide an alternative means of reaching patients on land and getting the teams to them as efficiently as possible. 
"We're sort of a delivery service; it's about delivering us to the patient and starting that care," explains Dr Terry Collingwood, who has ten years' experience as a doctor and joined EAAA in August last year. "What we can do is go there and start the critical care right from the start. We've got so much advanced kit that we can do a lot of what they do in hospital – we know our kit, we're very well drilled and we work together as teams – so actually, even though there are only two of us, medically we can deliver a lot.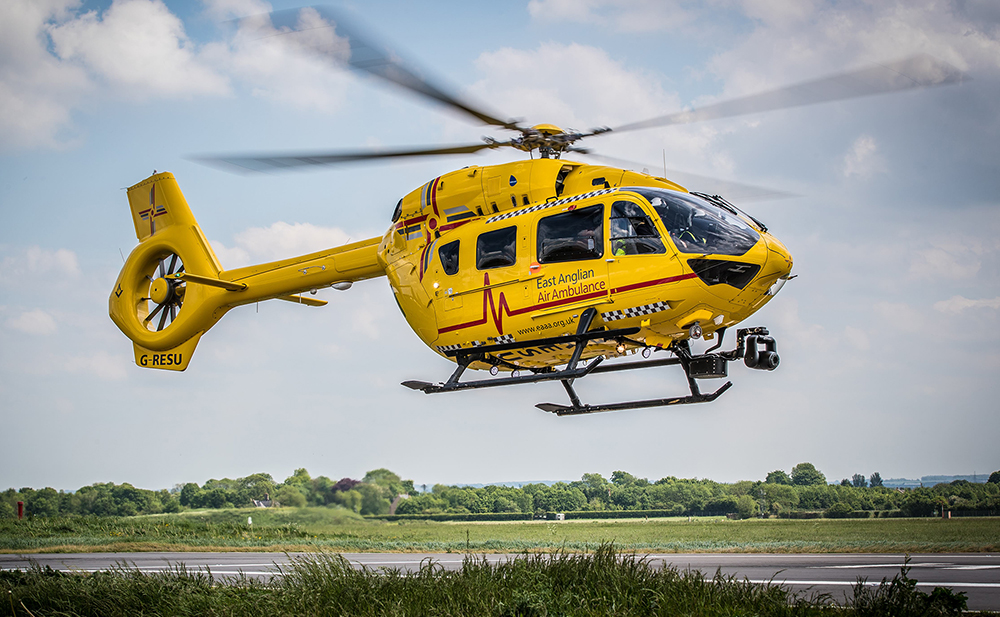 "I suppose the thing about this charity is that you've just got to hope against hope that you'll never, ever need us," concludes Terry. "I can't imagine what it must feel like to hear the helicopter land, knowing it's for you – on the one hand you'd be enormously relieved, but on the other hand, it's literally the worst day of your life. And whilst our ambulance service is fantastic – and it really is, we've got that extra level of skill and we go to those fairly unique cases across the region where we're really needed – you just really, really hope you don't ever need us. But if you do, you'll be so grateful."
"There's a push and a pull," agrees Dr Ed Gold, an emergency medicine and HEMS consultant in his tenth year of working with EAAA. "The push is: who knows what's going to happen to you? When you're driving home at a certain time, and it's dark, if something goes wrong, you know that somebody is going to come and get you. Then the other way of looking at this organisation is that it belongs to the community and the people who donate. I've only been here ten years, but the guys who've been here for 20 years have seen it grow from nothing to something. The change is enormous in ten years, and it's for the people of the region – you see your money making a difference and you realise that if you invest in a service, you're going to get a good service!"
As well as providing critical care and quick transfers, EAAA offers dedicated aftercare support, helping patients and their families with their recovery journeys. It also seeks to limit the effects of trauma in the community by training as many people as possible in basic first aid. Currently one in ten people in the east of England don't know how to perform CPR, and EAAA wants to increase that number through free sessions (donations welcome), which you can sign up for at eaaa.org.uk 
Mission 24/7
A big push for EAAA in 2020 is to become a 24/7 service by helicopter. Accidents and medical emergencies don't stop overnight, and the team don't want to have to, either. To operate a 24/7 helicopter service across East Anglia, the charity has to raise an additional £1 million each year. With this, they could attend up to 600 additional missions and be there for over 400 more patients every year. 
How to donate
To keep up-to-date about EAAA fundraising activities and to donate, visit the Bright Publishing Just Giving page at justgiving.com/fundraising/bright-publishing