As regal revelry unfolds across Cambridgeshire, Miriam Balanescu looks at the history of Jubilee food – and what's on the menu this year
Feature Image © Wolf & Badger
Despite the fact that, under the Roman Catholic Church, Jubilees have been honoured since 1300 AD, it was only in 1809 that the first proper jamboree got underway. Recognising George III's 50 years on the throne, the event saw soirées, plum puddings, seasonal delicacies and jellies of all shapes and shades.
"Feasting was a tradition focused on the court," states culinary history consultant Dr Sue Bailey. "However, there was a spectacular week-long joust at London's Smithfield Market for Edward III's Golden Jubilee in 1376. No record of the food survives."
"Whole oxen were roasted in towns like Windsor and Chester," says food historian Sam Bilton – a tradition which has continued in the counties. "The meat was donated by the Prince of Wales, a rich landowner or noble, and distributed to the poor. Beef was – and arguably still is – a luxury food. It would have been a special treat for the working population, particularly in large cities. Most people would not have had the means to cook a joint of any meat, as relatively few homes had stoves or access to ovens." 
A fete was held in Queen Charlotte's house and gardens at Frogmore, with non-nobles invited to enjoy negus (hot, spiced port), sherry, jellies and sweetmeats. "It was great PR for the royal household," says Emma Kay, founder of the Museum of Kitchenalia. "It's important to mention here that the King himself was not present for any of this jollity, retiring early due to his ongoing illness.
"This open house and garden party tradition has been maintained over the centuries," Emma adds. "Queen Victoria staged several garden parties at Buckingham Palace and Windsor Castle for her Diamond Jubilee in 1897, and Queen Elizabeth II hosted some across both London and Edinburgh during her 2002 Golden Jubilee."
Queen Victoria would top George III's efforts 78 years later, dining alongside 50 dignitaries on French fare of croquettes, poulet and bombes glacées (tallying six to seven courses), while expansive open-air feasts were held in her name. According to historian Ivan Day, The Jubilee of George the Third was reprinted in 1887 to help instruct partygoers.
Today, the Jubilee street party lives on, with food and drink at its heart. "Lavish is probably the first word that comes to mind in terms of Jubilee food, an excuse to banquet and feast communally," says Emma. "It has traditionally also been a time to distribute food to the poor or reach out to wider communities, enabling society's less affluent citizens to become actively involved in a national event."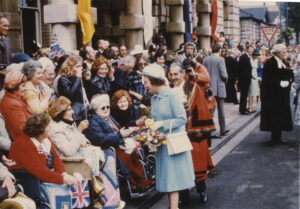 "The street parties we associate with Royal Jubilees seem to date from 1919, when peace teas were held to commemorate the end of World War I," says Sam.
Throughout the 20th century, the celebrations snowballed. "One village in Hampshire recognised Queen Elizabeth II's Silver Jubilee with a 300ft table seating 400 local residents, who enjoyed cold meat, salad, fruit salad, ice cream, cheese and biscuits, wine, orange and lemon squash," describes Emma. 
These often-imperial British feasts have even spread abroad: "There were 23 Jubilee banquets hosted across South Africa for King George V's Silver Jubilee in 1935," says Emma. "Donations of food from those same nations to Britain were encouraged, like the 167 carcasses of mutton Dundee received from Australia in 1897 as a benefaction for Queen Victoria's Diamond Jubilee."
Jubilees have become a time when the shops are stocked up with everything from exclusive Harrods chocolate coins to whisky. Special dishes have also been concocted; among them, says Emma, cherries jubilee for Queen Victoria, three versions of jubilee chicken and a tinned plum royal jubilee pudding created by confectioner Allardi Bordeaux. Each monarch has brought with them an ornate, bespoke jubilee cake.  
"The Abingdon jubilee cakes were currant buns thrown to the crowd – a tradition started for Victoria's 1887 Jubilee," says Sue. "Free buns also featured prominently at an open-air party for children in Hyde Park that year. The allowance for children of a half-pint of beer that celebrated the previous Jubilee of George III had by then been replaced with ginger beer and lemonade."
Another foodie event is still around today. Sue points to Haslingfield's merriments during the Victorian Golden Jubilee as one origin of the ubiquitous 'afternoon tea', with a meat tea hosted by the Conservative Club, followed by a plain tea. The Victorian penchant for dainty sandwiches and cakes has carried across the centuries. 
Big lunches and street parties abound for the upcoming Platinum Jubilee. Writer Ameer Kotecha and former diplomat Jason Kelly, together with Fortnum & Mason, have issued a nationwide challenge to devise a completely new pudding for the Platinum Jubilee. The hope is that it will be recreated in the years to come – with 5,000 entries so far.
"As a village, we have a tradition of selling homemade cakes," says Donna Duckworth, chair of the Jubilee Field charity in Clavering. The group will host a Big Lunch on the 4 June, with food stands and a beer tent. "The Queen of Puddings competition came about as we wanted a tasty, fun way to celebrate the Queen!"
Houghton & Wyton's Platinum Jubilee Party on 4 June has opted for cake rather than puddings, appraising the most regally decorated, while two local pubs will host outdoor bars. Over in Debden, four days of celebrations are lined up – some of which are historically themed. "It ties in with a period of the young Elizabeth's life in the army during World War II, and her sudden ascension to the throne in 1952," says April Gardner at Debden Parish Council. "The food at the event will be very much of today. Yuva Fine Fusion restaurant in Debden is supplying for up to 150 people. This was a way to support a much-loved local business, which has been part of our community for the past 20 years." Join in their Big Lunch on 5 June.
 Some festivities are more unusual. Witness an eel throwing competition and eel puppet procession at Ely's Jubil-Eel Day on 5 June. The city's Grand Jubilee Food, Produce and Craft Fayre on 3 June is more conventional – with a myriad of artisan foodie offerings. 
The Willingham Picnic on the Rec on 5 June, meanwhile, should boast finger sandwiches aplenty, hopes organiser Paul Knighton. "We deliberately went for The Vegan Witch as the only food truck, to accommodate the ever-growing number of people opting for the non-meat choice – and add a bit of uniqueness," he says. 
"A community that eats together, stays together (or at least get along a little better!), and you always have a good atmosphere when there's food around for everyone to enjoy," Paul says. Planning to toast her majesty with kombucha, these Cambridgeshire events are testament to the evolution, driven by imagination and inspiration, of the Jubilee feast. We can't wait to tuck in. 
Bygone Banquets
"Be prepared to cook a lot of food," to recreate a historical feast, warns Emma Kay. "All food was seasonal then. If you wanted a Jubilee menu for June, you would be looking at a starter of soup, maybe vermicelli with a nod to fashionable Italian cuisine, mushrooms and veal cutlets, a pie, then fish or fowl – all followed by sweetbreads. That would be your first course. A second course would be meat-based – goose, rabbit or pigeon, with some vegetables, followed by jelly or blancmange, macaroons, a pudding, but also ham and eggs, a light omelette… and then more meat. Your second course might also contain a sweet cherry pie. Although sweet desserts would have followed the first course."
"Perhaps a seared beef carpaccio salad would be more practical than an ox roast," suggests Sam Bilton, also recommending cherries jubilee to celebrate Queen Victoria's Diamond Jubilee – and a later version with pancakes. "Anything incorporating red, white and blue is a good choice." Head to her website, sambilton.com, for jubilee muffins and Crystal Palace pudding recipes.
"I would not be inclined to recreate a typical street party menu from the Queen's coronation in 1953. This was usually sandwiches with fish paste or jam, blancmange and jelly – a great treat in the 50s," says Dr Sue Bailey.
 Jubilee tea cakes taken from the Victorian Mrs A.B. Marshall's Cookery Book are a different story. "These are made from a baked, rich almond paste, glazed with tea–flavoured icing. The sides are then rolled in desiccated coconut and sprinkled with chopped pistachio nuts."
For more ideas on how to celebrate the Platinum Jubilee, check-out our round-up here.