The season of giving is fast approaching, so it's time to get your gift on and start scouring for those all-important festive finds. Here are just a few of our favourite places to shop in the city
Grand Arcade
For those looking to get all of their gifts in one fell swoop, the Grand Arcade is the place to go. Providing an extensive list of popular high street retailers, as well as a cosy, fairy-lit escape from the cold, the centre is an ideal one-stop Christmas shopping location. And this year, there will be a string of events going on to keep the family entertained. "We wanted to bring a bit of magic to this unusual Christmas with a series of events and special decorations, while being mindful of the latest government guidance," says Julie Kervadec, marketing manager at the Grand Arcade.
Providing an extensive list of popular high street retailers, as well as a cosy, fairy-lit escape from the cold, the centre is an ideal one-stop Christmas shopping location
From 23 November until 27 December, the centre's atrium – next to John Lewis & Partners – will be home to an exclusive Christmas decoration made of LEGO bricks. Visitors will also have access to a North Pole Express mailbox, where they can post their letters to Santa and get the chance to win a voucher for one of the Grand Arcade's stores. Or if you're Christmas shopping at the weekend, you can also catch Mrs Claus in the former Rigby & Peller, located next to The White Company on the first floor, during the first three Saturdays in December. Mrs Claus will be telling Christmas stories to the little ones, and parents can book a space online prior to their visit.
Cambridge University Press Bookshop
Located at 1 Trinity Street, Cambridge University Press Bookshop is one of the oldest bookshop sites in the country, where books have been sold since 1581. The bookshop specialises in non-fiction books and also stocks lots of bookish gifts and Cambridge souvenirs. Alice Tranah, bookseller at Cambridge University Press, says: "We are so happy to be back in the shop again after lockdown and we have loved seeing our customers face-to-face again!" Alice also has a couple of special recommendations for this Christmas shopping season: "the books we are really excited about recommending this Christmas are All the Sonnets of Shakespeare and the Body Image Book For Girls, both of which have been really popular this autumn. The Sonnets is a truly gorgeous new edition which collects together all of Shakespeare's sonnets, including those from the plays, and gives new understanding to how, and why, they were written. The Body Image Book for Girls is aimed at 9-15 year olds and covers all aspects of growing up: changing bodies, food and social media, but with a special emphasis on strength and confidence. My twelve-year-old loved it!"
At a time when bricks and mortar bookshops are more important than ever, you can shop in confidence at Cambridge University Press Bookshop knowing that you are supporting local business and the high street. "It makes all the difference in the world," says Alice. Pop in and browse the bookshop's cosy corners as an escape from the chilly streets this Christmas.
The Grafton

Revamped and delivering a shopping experience like no other, The Grafton is Cambridge's go-to mall, located a brief walk across Christ's Pieces from the city's historic centre. Bringing internationally recognised brands like Debenhams, River Island, Next, H&M and Decathlon, and combining them with loveable independent names like Little Roo's and ItsSo Travel, this is a shopping centre that has everything you could possibly want under one roof. The Grafton is not just about fashion, though. Whether it's eating out at one of Cambridge's finest indie eateries (La Piazza by Signorelli's, Amélie Flammekueche, Chi Asian Street Food, The Burger Priest… the list goes on), taking in the latest blockbuster hits at Vue Cinema, or even powering through your workout goals at PureGym, this is a shopping centre that has everything for the perfect day out.
Rutland Cycling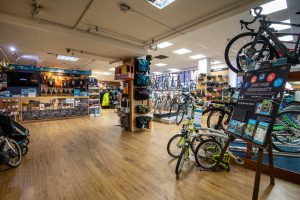 Established in 1981, Rutland Cycling is an independent, family-run bike retailer with fourteen stores across central England. Five of those are located here in Cambridge, with branches at the Grand Arcade, Cambridge Station, Barnwell Road and Histon – plus Rutland's giant store on Hills Road – all are open seven days a week. Much has changed in the world of cycling since 1981, but Rutland's core values remain the same: to offer excellent customer service, sell the world's best cycling products and inspire local communities with its passion for cycling.  In the company's award-winning stores, you'll find the perfect cycling gifts for Christmas: bikes for all ages, clothing, parts and accessories, everything you need to help keep family and friends cycling through the winter. Come in-store and the Rutland team can help make your Christmas a cycling one to remember!
For those looking for some new wheels this Christmas, the Gazelle CityGo Hybrid Trapeze bike (£598.99) is built to withstand everything an urban environment might throw at it. Its robust frame can get you to and from work, the gym, and everywhere in between. And not forgetting – safety first! The Lazer Compact Helmet (£29.99) is perfect for commuting to work as well as general leisure cycling, and is available in an array of contemporary colours.
Podarok
Podarok is a proudly independent, award-winning gift boutique based in Cambridge's arts quarter, packed to the rafters with beautiful gifts for you and your loved ones. Podarok (the Russian word for gift) came to life in 2012 in place of the much loved Bene't Street treasure Arcadia. More recently – in early 2019 – a local Cambridge couple took the reins, but the shop is still full of unique gifting ideas, a fab team of staff and with the cheeky Podarok Bear out front. "We're especially known in Cambridge for our quirky shop front and book-themed handbags, along with our wide range of jewellery handmade in the UK, says Carrie pluck, manager at Podarok. "Many of our customers have adorned their houses over the years with our funky screen-printed lampshades, and snuggled down with our sumptuous vegan suede cushions – all printed in the UK celebrating the work of British artists. From pocket money pieces to some more extravagant one-offs, our fabulous team are always happy to help you find the perfect gift for that special someone. We'll even gift wrap it for you for free!" If you'd like to beat the queues this Christmas, you can shop online on Podarok's website, and if you're a local you can collect in store free of charge.
Harriet Kelsall
Harriet Kelsall Bespoke Jewellery is one of the UK's leading bespoke jewellery design companies, and has had a studio nestled in the heart of Cambridge's independent quarter since 2005. The atmosphere really sets the studio apart, as it gives browsers the opportunity to mingle with jewellery designers, who are always ready to offer expert advice or helpful suggestions. "Some other jewellers offer a watered-down version of bespoke, but we focus on 'clean sheet bespoke jewellery' which is a very special skill," says Harriet. "
Designed during the Covid-19 lockdown, Harriet's latest collection of 'lockdown pendants' were inspired by togetherness and wanting to remember each other even when we are far apart and all missing those that we love – lovers, sisters, friends, daughters, mothers – and a need to express these feelings when physical meeting was impossible. £10 from each pendant sale will be donated to NHS charities.
And if you're planning to propose (or be proposed to!) this holiday season, Harriet has designed a subtle snowflake-inspired engagement ring. The ring has a classic Christmassy look from the front, with a sparkling 0.75ct diamond clasped in a six-claw snowflake-shaped platinum setting.
The studio and shop also has beautiful one-off pieces of ready to wear jewellery available to buy, and with Christmas around the corner, now is the perfect time to have a browse!
Love Cambridge Gift Card
Although it's the season of giving, it has to be said: buying Christmas gifts can be stressful. What to buy? Where to buy it? And will they even like it? It can be a nightmare, especially when you just want to show your loved ones that you care. So, if you're looking for a present for someone special, we'd recommend avoiding the holiday hassle and treating them to a Love Cambridge Gift Card.
The Love Cambridge Gift Card is a pre-loaded MasterCard that works in just the same way as department store or shopping centre gift cards, except it's valid for the whole city!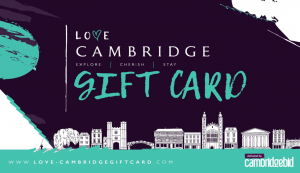 Accepted in over 200 businesses in Cambridge, the Love Cambridge Gift Card – delivered by Cambridge Business Improvement District (Cambridge BID) – is a pre-loaded Mastercard that works in just the same way as department store or shopping centre gift cards, except it's valid for the whole city! You can choose how much money you'd like on the card (it can be anywhere from £5 to £500), and the amount can be spent across multiple businesses, so you don't have to worry about choosing just one from the list. There are a huge variety of participating businesses to choose from as well, from shops and restaurants, cafes and bars to hairdressers and beauty salons, so you can plan a whole day out on your Love Cambridge Gift Card, with the added bonus of supporting Cambridge businesses by keeping spends in the city. You can order the Gift Card online, too, and get it delivered directly to friends or family in time for Christmas, complete with your own personalised message.
"The Love Cambridge Gift Card is a great alternative to existing national cards," says Helen Hames, marketing and commercial manager for Cambridge BID. "It can be spent in over 200 participating shops, restaurants, bars, hotels and leisure facilities within Cambridge, giving the recipient a phenomenal choice of options, whilst ensuring that the money spent stays local. The Love Cambridge Gift Card takes the stress out of choosing the right present, offering superb choice and supporting our local high street."
Best of all, Love Cambridge Gift Cards are valid for 12 months from the date of purchase, so you have all four seasons to make the most of yours. For a complete list of shops where you can spend your Gift Card, please see the Love Cambridge website.
love-cambridgegiftcard.com/where-to-spend