Summer isn't cancelled! Here are ten ideas for family days out this August…

1. Camp Lodestar 
Loading the family on to an Easyjet flight for a two-week stay in the sun is probably off the table for this year's summer holiday, so why not look a little closer to home? Lodestar founder Doug Durrant has launched a pop-up campsite in Lode, on the rolling meadows where the festival once took place, which will be open from 25 July to 21 August. With 200 acres of peaceful countryside, it's the perfect spot for escaping to the great outdoors, with plenty of walks and cycle paths to help you explore the surrounding Fenlands. 
 "Whether people are seasoned campers or not, now is the time to enjoy the benefits of fresh air and the summer sun," says Doug. "Now is your opportunity to enjoy the big outdoors on your doorstep."
A pitch for two adults and three children (including a toilet on the pitch) is £175.
2. Botanic Garden 
After a nearly 12-week closure, the Cambridge University Botanic Garden reopened to the public at the end of June. Though the team has had to make some changes, such as one-way systems, they hope that the garden's peaceful charms will provide an oasis of calm during these uncertain times. 
 "We've missed the sound of people's voices in the garden," says Professor Beverley Glover, director of CUBG. "The happy shouts of children and the conversations people have about particular plants and plantings. During lockdown we have continued to maintain our collection – which supports plant science research into some of the world's most challenging problems – but it has become apparent just how important our visitors are to bring life, enjoyment and support to our 40 acres." 
The garden is currently bursting with blooms after the recent downpours made up for the unusually dry spring – so there's plenty to enjoy and explore, and the Garden Cafe and shop have reopened for picking up food, drink and mementos of your day. 
The garden is open every day between 10am and 6pm, and tickets must now be booked in advance via the website.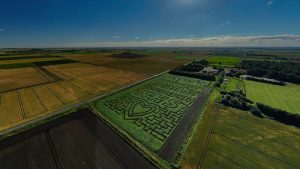 3. Skylark Maize Maze
If you often wish your family would get lost, a trip to the Skylark Maize Maze might be just the ticket! Located in Wimblington, this giant corn-based labyrinth is designed anew each year – 2020 brings us an extra-special 'thank you' message to the NHS. Kids will also love the Funyard, which is packed with outdoor games, inflatables, go karts and animals to meet, plus when tummies start rumbling there's a cafe or BBQ kiosk.
4. Cromwell Quest
Learn more about one of history's most compelling figures on the Cromwell Quest – a family day out back in time to the 17th century. Treasure has been hidden in Oliver Cromwell's house in Ely, and using a series of clues and some snazzy augmented reality, your job is to reveal its location. The quest is currently offered at the reduced price of £3 per family for the summer holidays. Kids can also try the popular spotter trails, and there are all sorts of additional summer walks taking place which allow the whole family to explore and enjoy Ely's rich heritage.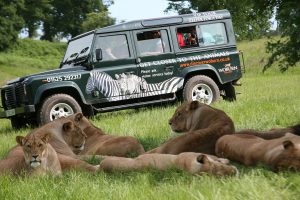 5. Woburn Safari Park
Take a walk on the wild side at Woburn Safari Park, where you can get up close and personal with big cats, elephants, black bears and more – all from the comfort of your own car. The road safari travels through sweeping parkland reserves, from the Northern Plains, which are home to bison and camels, before crossing into the Savannah Grasslands, where you'll make your way through a herd of Ankole cattle and see white rhinos, wildebeest and buffalos. Buckle up and double check your windows are shut for the next stop, the Kingdom of Carnivores, which is where you'll find Amur tigers, African lions and North American bears. The park is also home to one of the largest herds of giraffe in Europe, plus a mischievous troop of Barbary macaque monkeys who enjoy nothing more than bouncing on visitors' cars. The fun doesn't stop here: there's also a foot safari on which you can visit smaller mammals and birds, plus boats, a railway and outdoor play areas.
6. Lego Day
Brick History, an exhibition on display at the Grand Arcade this month, takes famous moments from history and reimagines them as incredible LEGO® brick creations. From DNA to the Big Bang, Mozart, Martin Luther King and mobile phones, LEGO® artist Warren Elsmore and his team have created a celebration of our shared stories, struggles and triumphs, made from everyone's favourite Danish toy. Running from 10 to 23 August, you can expect tiny recreations of Concorde and the Titanic that could fit in your hand, a 1.5m square medieval castle bustling with activity, and many more models to make you smile, make you think – and inspire you to build a better world.
7. Go Ape 
You'll be king of the swingers on a treetop adventure at Go Ape, which offers a range of high-flying adventures from its woodland base in Thetford. It'll be easy to social distance as you navigate your way along the treetop crossings, tackle obstacles and have fun exploring the wilderness. There are also routes for cycling, plus you can try archery, have a go on giant swings, visit treehouses and pyramids, and zoom about on an off-road Segway.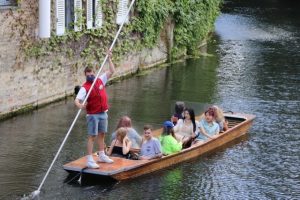 8. Punting
The most quintessentially Cambridge of all summer activities, punting has had to make changes in this brave new world. It may be a very traditional industry, but the city's operators have wasted no time in implementing high-tech solutions to new regulations and restrictions. Let's Go Punting has created an online booking platform with a text messaging service to alert punters of their boat's departure, eliminating queues, as well as launching the first audio tour app for punting, which delivers snippets of info about the historic buildings as you glide past. Another new addition is Perspex screens to form a protective barrier between groups from different households, making for a safe and relaxing day on the river. 
9. Orchard Yurt
A magical little find just outside Saffron Walden, The Orchard Yurt would make a glorious family day out in the great outdoors – with a little glamping luxury on the side. Book the space for £20 per half day or £40 for a full day (it's also available for overnight stays through Airbnb), and make the most of the private orchard and beautiful domed yurt, which comes complete with log burning stoves, books, games and seating. There's everything you need to make a perfect campfire, too – including marshmallows for toasting, plus some chickens to meet, and an outdoor kitchen if needed. What more could you want for an enchanting family day out? Search The Orchard Yurt on Facebook for more details.
10. City Parks
For a free day out, look to the city's green spaces. There's Cherry Hinton Hall Park, a lush and leafy 12 hectares with large ponds, ducks to feed and a grand Victorian house at its centre, or a must-visit for families is Byron's Pool, a peaceful woodland site where you can take a circular riverside walk and see kingfishers and grey wagtails, as well as a number of pretty ponds brimming with wildlife. There's also Lammas Land, to the south-west of the city between Fen Causeway and Newnham Road, which is a popular summer spot for its paddling pool, play area and picnic spots, and Wandlebury Country Park (pictured), a beautiful countryside estate that offers miles of walks through woodland and wildflower meadows, grazed by Highland cattle.