Revolutions often start small, but Full Circle has achieved great things in just over a year. Charlotte Griffiths finds out what's next
The start of a new year – or a new decade, in this case – presents an ideal opportunity to begin again with good intentions. 
Most resolutions are inwardly and individually focused: losing weight, learning a different language or starting a new exercise regime – but with an ongoing climate crisis altering the world at a "scale and pace that threatens our way of life", as the Cambridge City Council's website puts it, perhaps it's about time we all made changes with our planet in mind.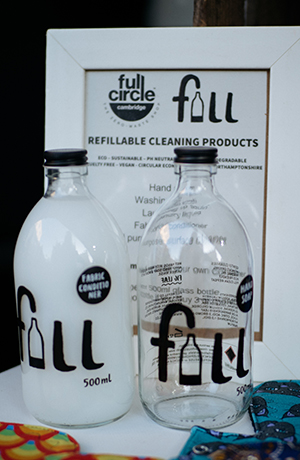 Full Circle is a zero-waste shop aimed at helping humans to easily embrace a low-impact lifestyle through its range of environmentally friendly products that come without any unnecessary packaging.
Currently found on Cambridge Market six days a week, with two stalls on Saturdays and a pop-up stall in Histon, the brand is poised to open a bricks-and-mortar shop on Norfolk Street in Cambridge in spring.  It's run by a small team of three – Emma, Johanna and Paul – who are working flat out to be the change they wanted to see in the world.
"Paul and I met Johanna in March 2018: we were all involved in animal rights activism in Cambridge," softly spoken Emma explains, over hot drinks in Indigo Coffee House on a chilly wintry afternoon. "I was giving talks about plastic and the plastic crisis, so I invited Johanna to one of my talks the day after we met – and we became friends." 
"After her talk, we joked that we should start our own zero-waste shop," Johanna adds, "to change, to do something bigger and meaningful – so we did. Paul, Emma's partner, said he'd be interested in joining in as well: he has a background in business, which has been really helpful."
Full Circle is scrupulous about the suppliers it works with and the products it stocks
Before founding Full Circle, Emma was working in ecology consultancy. "I've also done five years in conservation research, travelling the world, looking at species at risk of extinction," Emma says. "When I went into consulting I really felt hamstrung by the legislation, not being able to have as much influence as I wanted to. So I started thinking about what's causing all the problems that we're trying to fight, and the answer is consumerism: the pressure, collectively, caused by all of us. So we just went for it: full circle," she explains, smiling. Johanna's own career switch coincided with what she describes as a 'quarter-life crisis'. "I thought I'd rather work for myself and do something that's really meaningful and that aligns with my ideals. In a workplace you can't always be yourself," she says.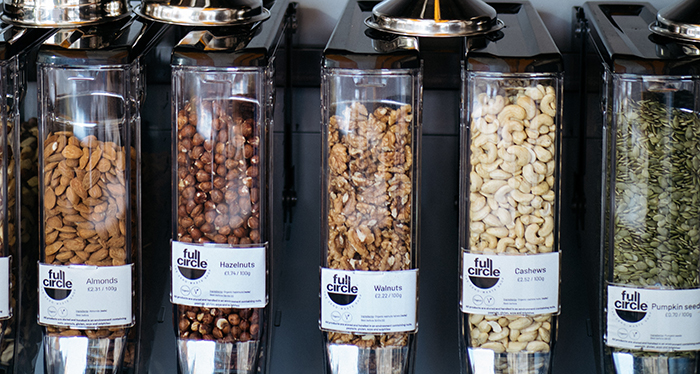 The trio hadn't known each other that long before deciding to go into business together, but the road has been smoothly paved so far. "When we started, we'd not known each other for long," Johanna laughs, "but we just went for it. We work together really well, the three of us."
Emma continues: "All of us are from a science background, so we don't jealously hang onto ideas: the ideas we have don't define us. If one of us says 'No, that's a really bad idea', we let it go. It wasn't until eight or nine months in that we were like…. 'Oh. That really could have gone wrong!'"
Full Circle started life a little over a year ago, trading lifestyle items: the first event took place in Ipswich.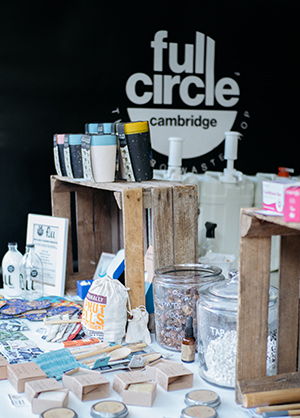 "None of us had any experience in retail – it's been a real learning curve," Joanna laughs. "We only did events at the weekend, because Emma was still working full time: we collected second-hand items to help build the stall." 
Emma shows me a picture of a neat but small stall from their first day trading, with a photo of their current, expansive set-up next to it (you can see this shot for yourself on Full Circle's Instagram).
"That's an old duvet cover," says Emma, pointing at the first stall. "The only thing that was new was the table!"
The Full Circle offering expanded to include food products and household cleaning solutions, all refillable from the stall on the market.
Customers now bring their own containers to refill (though there's always a small stash of recycled containers available for impromptu purchases), which are weighed before being topped up with lentils, cornflakes, washing liquid – the list of available products is extensive and ever-growing.
"Our initial order was based on a questionnaire, where we asked people what they'd like to get – we had more than 200 responses, and then people kept on asking for different things: chia seeds, linseeds…" Johanna explains. "That's how we grow. The lifestyle range has expanded in the same way, with people asking for sponges, moisturisers and so on."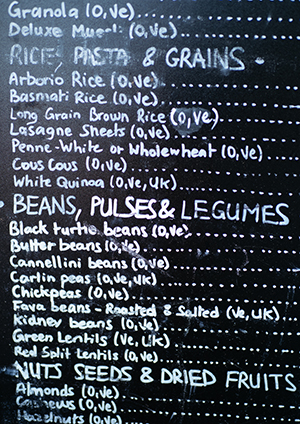 Emma adds: "We have a great range of soap bars, shampoo bars, deodorants and balms from Zero Waste Path, or ZWP. They're our neighbours at the industrial unit where we store our bulk orders, so we have a super-low carbon transfer on ZWP products. We had hot chocolate with them last night!
"On the food side, people are really loving the nutritional yeast, plus our oats, pasta, nuts… we also have a lot of UK-grown crops, like quinoa – and we just brought on the first crop of UK-grown chickpeas, from Hodmedod. People who are into sustainability really want to support that innovation and UK growers.
"We also got some Unsponges that just arrived – they're fabric, made from recycled materials. We've had people asking, but it's been difficult to find products that tick all our boxes. So that's been another surprise: suddenly I'm getting excited about sponges…" she laughs.
That box ticking is not just 'box ticking' per se: Full Circle is extremely scrupulous about the suppliers it works with and the products it stocks. "We can be quite strict," Emma says. "So – water bottles, for example – because we don't yet have a bricks-and-mortar shop, some companies won't supply to us.
"We want to know about working conditions, we want to make sure it's not packaged in plastics, or those biodegradable alternatives that still go to landfills. We thought we'd found the perfect water bottle but when it arrived, it was wrapped in biodegradable plastics, so for us that was a no – and we've not been able to find an alternative because worker conditions have been a hurdle."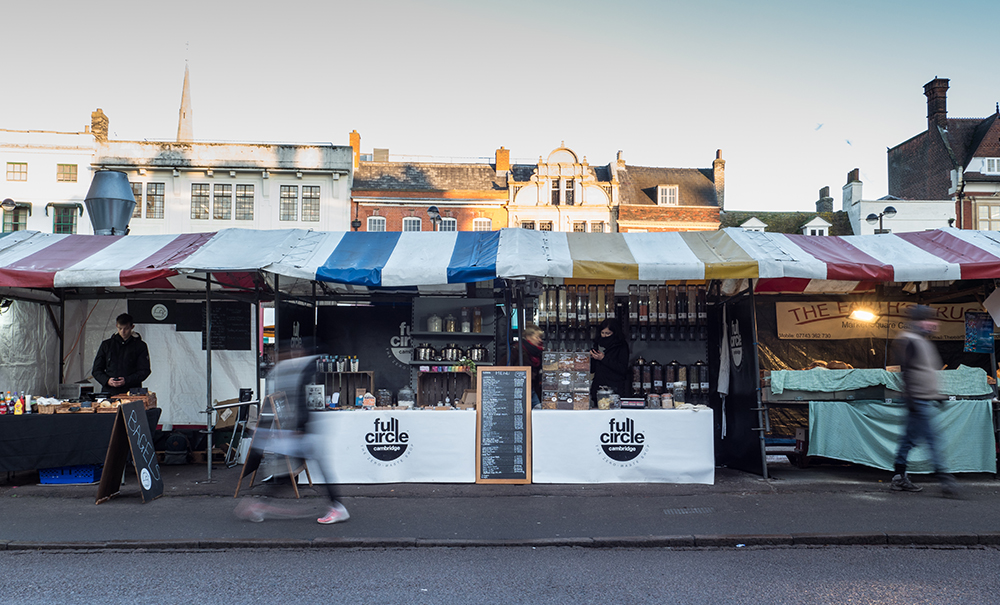 Full Circle applies the same level of scrutiny to its small makers as to larger suppliers. "There are a lot of makers who are doing amazing things, but maybe not realising they're not doing the ideal, so we talk to them about that," Emma says. "We're all still used to 'Oh, I want this now' – but if we run out of stock, it may be a couple of weeks, because a real person is making that product, and they need a balanced life as well. They need to sleep, they need a holiday, time with the kids – it's been really good to open up those conversations and slow everyone down. We're a small business, we need time, too – and our customers support that, they get it."
There are a lot of makers who are doing amazing things
It stands to reason that Full Circle's customers would share the same values as the store's creators, but the trio have been thrilled by the warm reception they've found in Cambridge. "The thing that's struck me is the community we're building – and that sounds really cheesy – but we've got to know people through doing the store, and people have got to know each other as well," Emma says. "We've got two friends who met each other at the stall and now go to lunch together, and people have exchanged contact details, because they work in similar areas of research. Having the stall facilitates so much more within the community than we were expecting."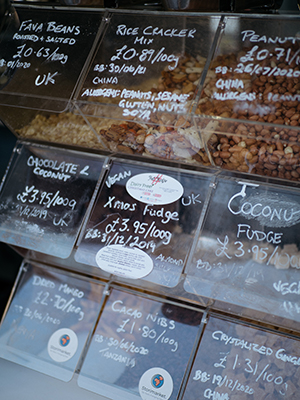 If you're not already a follower of Full Circle's refillable approach, how can you get started? "What we usually say to people is that it depends on their lifestyle," Johanna says. "If they get a coffee on their way to work, the first easy swap would be a reusable cup – plus you usually get a discount if you use one. It all depends on people's lives." Emma agrees: "One of the most common swaps would be with food: if you eat a lot of lentils, come and buy those packaging-free. Look for those high impact areas and – just do something," she says. "Just start." 
Cambridge Market
Monday/Wednesday/Thursday/Friday 10am-4pm, opposite St. Mary's Church
Saturday 10am-4pm, B Row (aisle opposite Franco Manca: non-food only)
Sunday 9.30am-4pm, E Row (aisle opposite the Guildhall)
Tuesday CLOSED
Histon High Street
Saturday 9am-4pm
Find out more at fullcircleshop.co.uk