September brings not only a celebration of organic produce, but also the pleasure of eating game, says Dr Sue Bailey
appled sunlight drifts through the trees and the crow of a cock pheasant is heard in the undergrowth. Outside our cottage, by the back door on a cast iron hook, hangs a brace of pheasants, strung together with orange twine. They are ready for us to pluck, gut, then roast till golden, stuffed with soft pink quinces. We'll be adding some of our allotment kale and leeks, some spices, a pinch of creativity and a measure of our appreciation of countryside heritage.
But first, let's step back in time. Before the Fens were drained in the 1630s, Tudor Cambridgeshire was rich in game that could be trapped and sold on the market, given to the manor house or consumed in college halls. 
Game played a healthy and easily accessible role in local larders. Medieval physicians recommended partridges as one of the healthiest of all the game birds, being "of moderate heat and moisture and generating good blood", while Elizabethan Cambridge graduate Sir Hugh Plat wrote one of the earliest household recipe books, Delightes for Ladies, giving recipes for boiled larks or sparrows (which we'd no doubt balk at today).
Game is healthy and often locally sourced
By the 18th century, land enclosure had occurred and legally controlled shooting had been imposed by landowners, with risky game poaching becoming more frequent as common land declined. However, by the 19th century, strict laws started to relax, with the sale of game being legalised and guns licensed under the Game Act of 1831, which is still in force today. This legal protection fixes the dates of the seasons of various species so they can reproduce and preserve an ecological balance, covering red and black grouse, partridge and pheasant; the birds that are commonly known as 'game birds'.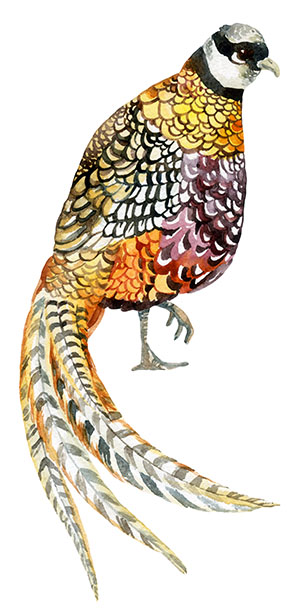 Obviously, there were many economic reasons for the enclosures, and the regularisation of game was an important factor in the diet of the aristocracy and the smallholder. It's also worth noting that until the turn of the last century, most food grown or reared was just natural food: the term organic did not exist. No agrochemicals and sprays were used to enhance growth and yields, as the petrochemical industry was in its infancy.
The new agricultural techniques, although with short-term benefits, had risks of longer-term side effects such as soil compaction and soil fertility decline, plus the worry of toxic chemicals entering the food supply. Partly as a response to this, 1930s educationalist Rudolf Steiner developed biodynamic farming. Then, in the 40s, Sir Albert Howard (graduate of St John's College) was an organic farming pioneer and a principal figure in the early organic movement.
Cambridge has long been a supporter of organic produce, with Arjuna on Mill Road being early organic suppliers over the last 49 years. Cambridge Organic Food Company's owner, Duncan Catchpole, says: "In the 21 years we have been in business, we have seen a tremendous change in the Cambridge organic food scene. Awareness about the environmental impact of food is greater now than ever before, and more people are making conscientious decisions to eat food with a lower environmental footprint. Membership of our organic box scheme is at a record level."
It also should not be forgotten that fundamentally, game birds are organic and wild. The importance of game in our diet has decreased, but game is healthy and often locally sourced. In Cambridge and nearby villages, The Art of Meat, The Gog Butchery, Leech & Sons in Shelford and Mill Road Butchers all sell top-quality game when in season.
When I speak to Sam Carter, owner of Restaurant Twenty-Two, one of the most respected restaurants in Cambridge, he tells me they take full advantage of game season. "Rabbits, hare, pigeons, pheasant, partridge, venison, grouse and mallard are all likely to feature on our menu. Dishes such as grey-legged partridge with parsley root, trompette and jus gras; loin of venison with salt-baked kohlrabi, blackberry and chocolate; and roasted wood pigeon with pine, celeriac and pear.
"Mill Road Butchers have an eye for quality produce and an understanding of what we are trying to achieve," he continues. "They have a great relationship with local shoots and dealers, and we're already discussing the first orders. In terms of 'organic', where possible we use local producers who operate in an organic way. It is not always financially viable for small-scale local producers to get certified as organic, so we work directly with suppliers on a trust basis to guarantee organic produce regardless of a certificate. We are supplied locally by Jake Ball at Seed To Feed micro farm, which grows organically, sustainably and ethically."
Another local restaurateur, Alex Rushmer at Vanderlyle, also mentions his supplier. He and Lawrence Butler work directly with farmers, growers, producers and suppliers to create ingredient-led menus that ebb and flow through the seasons. "We are not dogmatic about anything we cook, but we just happen to be cooking vegetables at the moment. We use Flourish Produce, which is about as organic as you can possibly get, and the best produce we can get our hands on. The owner, Calixta Killander in Hildersham, specialises in growing for chefs with an ethos of sustainability."
So, whether you are a vegetarian eater of organic produce or a dyed-in-the-feather game eater, remember the benefits, learn from history and support your local suppliers, growers and restaurants.