Nicola Foley turns her feet to East Road to discover why this much-loved cafe is about so much more than coffee
In all my food-based adventures around Cambridge, I'd somehow not made it along to Espresso Library: the huge, hip coffee emporium which sits on bustling East Road. A stone's throw from Parker's Piece, this sleek café opened in 2015 with the aim of creating a new kind of hangout in the city, fusing the owners' interests of cycling, art and speciality coffee. It was an instant hit, proving as popular with mobile workers and students as with those simply in search of an excellent cup of coffee or a plate of fresh, feel-good food.
The light-filled space, with its Scandi-cool-meets-industrial vibe, is beautiful, and it's easy to see from the moment you step through the doors why this café has such a devoted following in the city. It's a working art gallery too; an ever-changing display of works by local artists giving you something (along with the suspended bicycles) to admire while you eat and drink.
The Food
The first thing which you'll notice on EL's menu is the abundance of plant-powered dishes. Non meat-eaters of Cambridge: this might well be your veggie Valhalla. It's not an exclusively vegetarian eaterie, and there are opportunities to add extras like cheese and prosciutto, but by and large the lunch offerings are imaginatively v-friendly, making excellent use of glow-giving greens and on-trend meat substitutes like tempeh.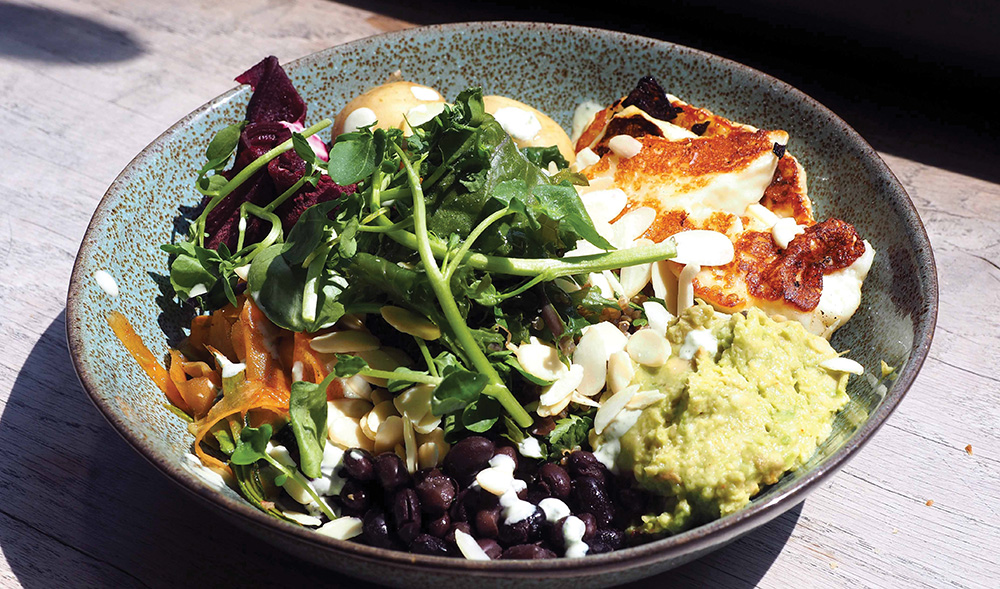 We opted for a spread of dishes which included the Rainbow Bowl: an uber-instagrammable dish of nourishing goodness with a cornucopia of fresh veggies and grains, liberally doused in a creamy tahini dressing. From the optional extras list, we selected halloumi (which came in pleasingly chunky slices and had just the right amount of char), but you can also add feta, poached eggs and smoked salmon if you wish. Also on our table was Espresso Library's 'famous frittata', a perfect summer's lunch, with deliciously squidgy sweet potato mingling with tangy feta and sun-blushed tomatoes, served with ribbons of spiced carrot and leaves.
---
"Non meat-eaters: this might be your veggie Valhalla"
---
The final dish in our colourful spread – the 'tummy loving burger' – puts paid to the idea that burgers have to be junk food. Eschewing meat and dairy altogether, this health-conscious burger features vegan hero ingredient tempeh – a soy-based nutritional powerhouse in the tofu family which brings a satisfyingly smoky, sweet flavour and firm texture. Also overflowing from the floury bap were grilled Portobello mushrooms, strips of roast courgette, tahini and a generous dollop of minty pea and avocado mash. At a time when many of us are looking to cut down our meat intake, this bun-full of goodness manages to be indulgent, messy and roaring with flavour – everything a good burger should be – without an animal product in sight.
The Drinks
It should be no surprise, given the name of the place, that coffee is a serious business at Espresso Library. Made on a custom-built, 'Cambridge Blue' Slayer Espresso machine all the way from Seattle, the coffee is roasted by The Coffee Officina, an artisan small-batch roastery over the Cambs border in Essex.
Fiori is the house espresso, blending beans from South and Central America and East Africa to create a punchy but rounded coffee with rich, dark-chocolatey and floral notes.
There's a selection of single origin coffees and a guest coffee that changes regularly, too, so there'll always be a new blend to try for any coffee connoisseurs. The drinks list also includes a range of juices and smoothies, plus craft beers and cocktails.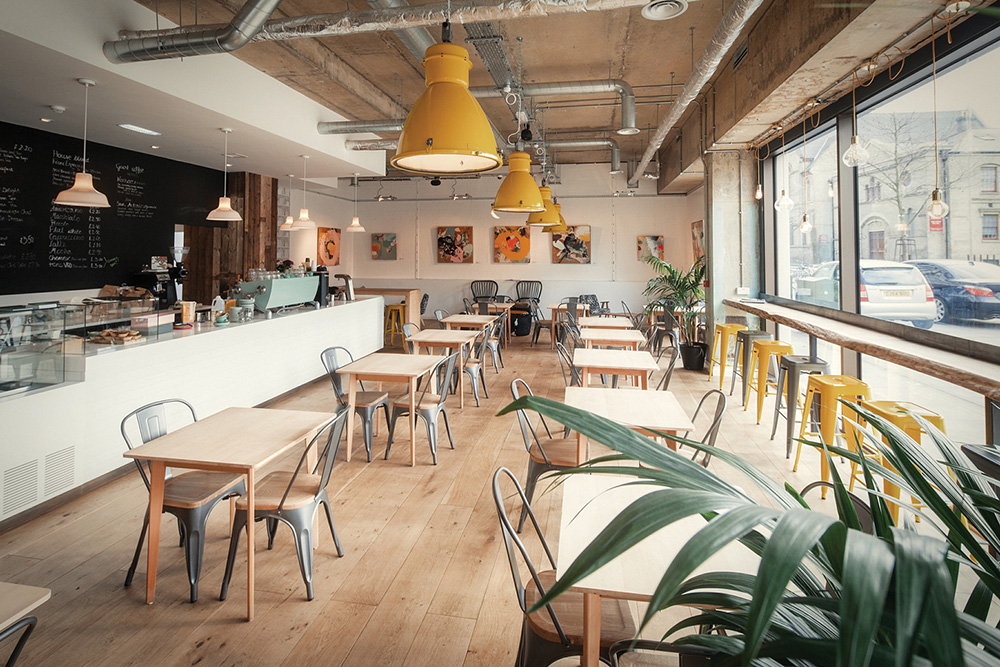 The Verdict
As the city's café culture continues to flourish, there are ever more venues vying for the attention of Cambridge residents, but Espresso Library rightly stands out for its stylish look, excellent coffee and well thought-out food. Whether you're stopping by for granola at breakfast, smashed avo on toast at brunch, or a colourful, wholesome lunchtime feast like we did, you can be certain of top quality food and a buzzy, friendly atmosphere.
What: Much-loved cafe serving delicious coffee and fresh, vibrant food
Where: 210 East Road, Cambridge, CB1 1BG
How Much: Breakfast from £2.90, lunch from £5.90