Ahead of this year's Cambridge Folk Festival, Nicola Foley talks to operations manager Rebecca Stewart for a behind-the-scenes preview of what's in store
From small beginnings in the 1960s, Cambridge Folk Festival has flourished into one of the best-known and best-loved gatherings of its kind in the world. It's a festival cherished by many for its friendly atmosphere and delightfully eclectic line-ups, which embrace folk music in its many guises.
A merry melting pot of traditional fiddlers, pipers and folky troubadours with acts at the cutting edge of the contemporary scene, the programme spans blues and country, too, along with gospel and world music performers. In total, some 14,000 folk fans make the pilgrimage to Cherry Hinton Hall each summer, many of whom return year after year – but what makes this event such a favourite, and how do the organisers keep guests coming back? 
It's not just about what happens on the main stage
"I think it holds a really special place in people's hearts, because every aspect of the festival is considered important to us," says the festival's operations manager, Rebecca Stewart. "It's not just about what happens at the main stage; it's every stage – and the audience is key, too. We try and look after them to the best of our ability from the booking of their tickets to their arrival on site to the camping; the whole thing is thought about. It's the attention to detail and the care we give that makes it special."
Rebecca is part of the small team at Cambridge Live responsible for the monumental task of bringing everything together for the festival each summer, and for whom it's a year-round job. "There's three of us on it full-time, and we're already thinking about next year's event," she explains. "That's mostly in terms of getting artists sorted. We do
get a bit of a break after the festival and some time off. Then it's straight into debriefing and planning again. It's definitely a rolling process." 
While around 200 staff will come together on the weekend itself, Rebecca and her colleagues are the lynchpins of the behind-the-scenes organisation, taking care of everything from sourcing artists to organising the caterers and traders. "My role is a bit logistics, a bit admin – and a bit of talking people down from having paddies," she laughs. "One of the best bits of the job, of course, is going and seeking out new stuff and seeing what's out there – so that's always a bit of a joy; finding the next thing."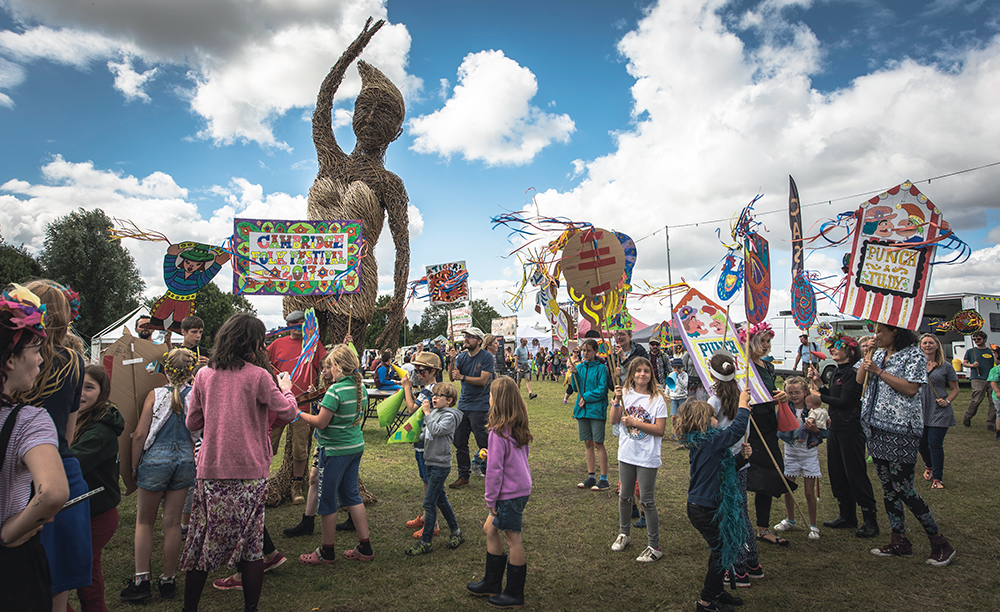 Alongside headliners like Graham Nash and José González, this year's event includes a guest curator in the shape of acclaimed singer-songwriter Nick Mulvey, an artist who is no stranger to CFF. "Nick's been on the list for a long time," says Rebecca. "He's a local boy done good, and he's played on every stage at the festival over the years. He always goes down incredibly well with our audience, and because of his ties to the area, it was a perfect fit for us. And Cambridge Folk Festival is special for him as well, because he can see the route he's taken through his career and his own progress." 
Nick picks up the mantle from last year's guest curator Rhiannon Giddens, and has taken to his role with gusto, assembling a motley collection of artists  which reflect his love of world music.
Among them are Welsh harpist Catrin Finch and Senegalese kora player, Seckou Keita, who'll delve into their respective musical heritages for an utterly unique collaboration, plus Fofoulah, a group that fuses West African sabra drumming with hip-hop, pop and dubby baselines. 
One addition to this year's festival that Rebecca is particularly looking forward to unveiling is The Sisters of Elva Hill, an original ballet commissioned especially for the event. Based on Kate Crackernuts, an old folk tale, it blends dance with a beautiful score woven from traditional British songs. "It has classical ballet in it, but a contemporary feel, and there's an amazing interplay between the live musicians on the stage and the dancers. I went to a sharing performance they did recently and it was just amazing," she beams. "I'm so excited for everyone to see it!" 
The organisers have been running a connected outreach project with Netherhall School, where students are creating their own piece based on an element of the ballet. The pupils have been invited along to the festival to watch The Sisters of Elva Hill on the stage, before showing their own performance in the flower garden later in the day.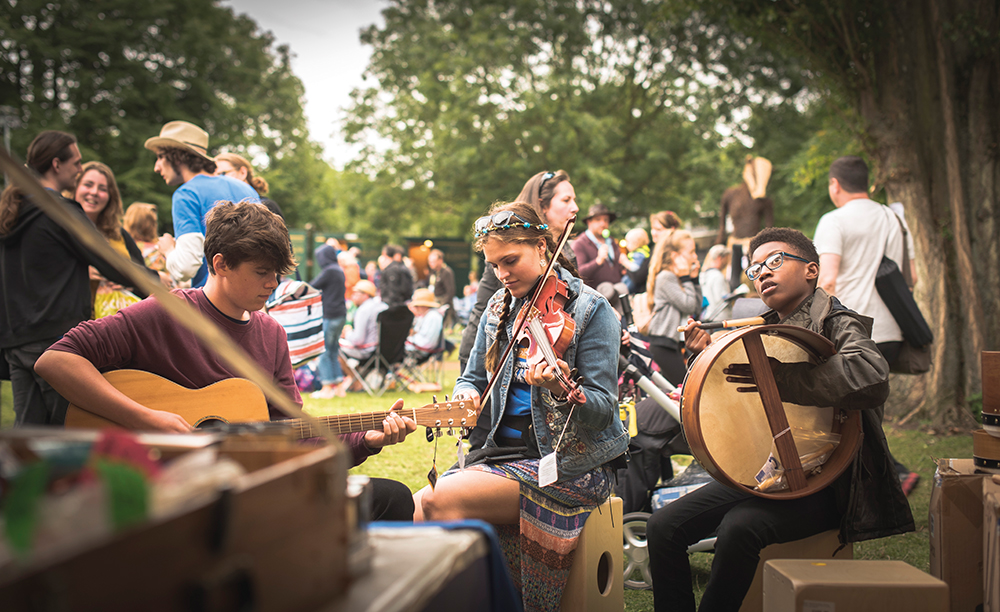 Other performances to look out for, says Rebecca, are the unique pair-ups and collaborations that the festival is known for orchestrating. "There are a couple of really nice one-offs that you'll only see at our festival. Nancy Kerr and James Fagan are doing a Saturday afternoon slot with friends – so there'll be a few surprises and special guests joining them, and Daoirí Farrell is doing a similar thing on Sunday, with some amazing Irish and Scottish musicians coming down to join him – that's going to be really good." 
It might be perceived as a pretty traditional affair, but there are ways in which CFF pushes boundaries and innovates in its space, leading the way for other festivals. As well as being award-winningly eco-friendly (the event picked up a Greener Festival Award for its planet-positive practices), it's also committed to maintaining a 50:50 gender split on its line-ups.
"It's something we've been doing for a number of years, and it's really important," says Rebecca. "You know, in most people's minds we're a bit of an old fuddy-duddy folk festival, but we're actually quite pioneering and ahead of the other festivals. In 2017, the main stage was all female-fronted artists; in fact, we ended up having a day of only female artists on the two stages – and it was just a great day of music."
The 2018 bill continued in this vein, pushing beyond a 50:50 balance to a split that was 60% female, in a move that was applauded by many, including The Guardian, which praised its "verve and energy in a female-focused weekend". 
"Interestingly, though, we had a number of complaints about it…" smiles Rebecca, wryly adding that she found responding to those particular emails to be "quite a cathartic thing". 
"It was an interesting experience for us, and it's something we'd be looking to do again in the future, for sure. You've got to keep pointing these things out, keep highlighting them. It's important." 
As the big weekend draws closer, Rebecca is most looking forward to those moments of calm when she and her team can relax and soak up the atmosphere. "There's this feeling that usually hits you around Friday afternoon: suddenly there's a lull in what people are asking, and you realise that it's all working, and it's all fine… For me, it's the little things. It's when I'm wandering around at midnight, and there's people just having a lovely time, and just seeing people's enjoyment – that's when you know that you've done a good job."
Cambridge Folk Festival runs 1 to 4 August, weekend tickets available at £179.