Nicola Foley speaks to bestselling memoirist Tara Westover ahead of her appearance at Cambridge Literary Festival this month
Raised in rural Idaho, Tara Westover escaped a brutal upbringing at the hands of her survivalist Mormon family to study at Cambridge University. Growing up, she was kept out of school, out of doctors' surgeries when she fell ill or got hurt, and beaten by her terrifyingly violent brother. As her family prepared for the End of Days, she – inspired by one of her siblings' escape to college – began to read and learn independently, away from the eyes of her fanatical father.
And so began her remarkable journey of self-education and emancipation from her now-estranged family, which has seen her ascending in the worlds of academia and literature.
Awarded a scholarship to study at Cambridge, she went on to complete a doctorate at Harvard and then a PhD at Cambridge. In February this year, she released her memoir, educated, to a rapturous reception. An evocatively written tribute to the transformative power of education, it topped bestseller lists and laid bare the harrowing tale of the childhood she'd kept buried for so many years.
"In some ways, writing the book was out of character: I am not someone who enjoys having others know personal details of my life. But I had a set of convictions about why I wanted to tell the story, and those convictions pushed me forward," Tara tells us. "One of those convictions derived from my own experience of estrangement. When I went through the confusing, harrowing process of losing my family, I felt alone, isolated, as if I were the only person in the world who had parents give up on them, denounce them, break faith with them. I felt like there were precious few stories about estrangement – about the feverish feeling of being at war with yourself, of loving someone in one moment and hating them in the next. Of missing them to the point of nausea, while praying that you never see them again.
---
"I had to trust in that great rule of storytelling; that the universal is felt most powerfully in the specific"
---
"After a few years had passed, and I had more perspective," she continues, "I understood that there were reasons these stories were so scarce: because they are difficult to write, and even more difficult to share. The solution seemed obvious. If I wanted the story told, I had to tell it."
Tara's first taste of life outside her family's ranch came when she left home to study at the Mormon university, Brigham Young in Utah. Her schooling up to that point – done entirely at home by her family – was limited at best, but her experience of socialising with new people was virtually non-existent. Thrust into a strange, often baffling new world, Tara experienced a huge culture shock, quickly realising the gaping holes in her knowledge.
"I was 17 the first time I set foot in a classroom. I had never attended a lecture, written an essay or taken an exam (except the college entrance exam, which is not where I would recommend having your first experience with test-taking)," she recalls.
"I had been raised in a radical form of Mormonism, and suddenly I was being asked to socialise with mainstream Mormons, whose clothing and dietary habits and choices of entertainment seemed to me to be licentious. I was also very ignorant. I had never heard of the Holocaust, or the civil rights movement. I believed Europe was a country. It was not a promising beginning."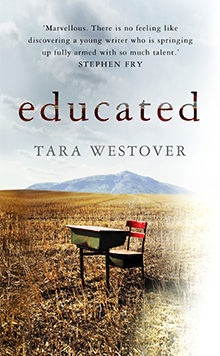 Despite some embarrassing missteps, Tara excelled academically. Aged 20, she was encouraged to apply for a spot on a study abroad programme at Cambridge University's King's College. She was accepted and packed her bags, beginning another eye-opening chapter in her remarkable journey.
"I remember stepping out of the car and staring up at the glorious spires of King's chapel. It didn't seem real to me. It was too fantastical, too otherworldly. It felt like I'd stepped into a book," she says of her first impressions of Cambridge – the city she's now chosen to make her permanent home.
"It's a feeling I get when I deplane at Heathrow," says Tara, when asked what made her want to settle here. "I get the same feeling when I step off the train in Cambridge. A gut reaction I can't put into words, but if I had to, I suppose the words would be: 'Thank god that's over.'"
She admits that she's been constantly astounded in every stage of getting educated out into the world. "That I was able to write it surprised me. That anyone should want to publish it surprised me. That anyone would bother to translate it, that so many people would read it, that some of them would tell me they cried through it," she says. "I didn't expect any of that. You hope for it, but you never expect it."
Since the book came out Tara's world has been transformed again. A household name now, her days are filled with interviews and TV appearances and a deluge of glowing reviews from critics and praise from readers with whom her story resonated.
"My story was so specific, I wasn't sure anyone would be able to see themselves in it. In that way, writing the book was a leap of faith," she muses. "I couldn't see how others would find themselves in my story, but I knew from my own experiences that I had found myself in stories about other people. Stories that, on the surface, had nothing to do with me. So I had to trust in that, in the power of stories, and in that great rule of storytelling that the universal is always felt most powerfully in the specific."
She remains estranged from half of her family, the other half – made up of uncles, aunts and cousins on her mother's side – have read the book and been supportive (a reaction she gratefully describes as "wonderful"). And as for what's next, with so many opportunities presenting themselves, she's not yet sure which path she'll take.
"The future is wide open," she says. "I have made no plans or commitments. I want to see how things settle before I decide what to do next with myself."
Tara Westover is in conversation with fellow memoirist Miranda Doyle on 15 April at Trinity College as part of Cambridge Literary Festival. The talk is at 10am and tickets are £9 or £11.
For more information about the festival, look here
For an interview with chef Tom Kerridge, also at the festival, go here
'Educated' is out now, £14.99 (Penguin)
Save
Save
Save
Save
Save