Charlotte Griffiths catches up with bestselling author Dolly Alderton ahead of her live show in Cambridge this month
Journalist and author Dolly Alderton is in Cambridge on 20 February as part of a UK-wide tour to mark the paperback release of her bestselling debut, Everything I Know About Love. Her wildly successful book is best described as a series of chronological essays, charting Dolly's experiences from her early 20s through to almost 30, and includes her ever-evolving thoughts on friendship, love and growing up. There's also laugh-out-loud sections on the horrors of event-organising group emails and a very reliable recipe for macaroni cheese, which means the book, in short, wholeheartedly deserves a space on your bookshelf. Owners of the hardback copy may want to seek out the paperback for a new chapter, Everything I know at thirty, which Dolly describes as having been "a total joy" to put together.
"I loved writing that chapter," she says. "The thing that no one tells you is that you write a book because you love writing, and then you publish a book and you're basically not allowed to write, because you're doing Woman's Hour, or interviews with charming journalists from Cambridge, or you're doing tours, or promotion – and all these opportunities come up that are nothing to do with writing. It amazes me how little of my life I spend writing now: I feel like every day, my life is a battle to push stuff back so that I can do what I love doing, what makes me happy, which is writing."
Dolly finished writing her book two years ago, and now feels as though it's from a different life. "I think that's just the nature of your 20s: it feels like dog years, to borrow a metaphor from Nora Ephron," she says. "The difference between a 21 year old and a 26 year old is just enormous. I already feel like I would have written it so differently. I'm still so proud of the book, of course, but it just feels like such a long time ago. I got the [paperback] proofs through and it's like a different woman's writing this new final chapter."
---
"It does turn into a bit of a group therapy"
---
When she comes to Cambridge, Dolly will be sharing the Corn Exchange's stage with writer and director Lauren Bensted, her best friend and former teenage bandmate. Though the live event is hooked on the themes of the book, it's not directly about the book itself: "It's more about us talking through the millennial female experience and growing up: it's nostalgic and anecdotal, and looking to the future," the author says. The audience is invited to ask questions, which again, tend to spin off into wider themes. "Most of that section [of the show] ends up being women looking for advice, which I often feel like I'm in no position – in terms of experience or expertise – to advise on. I think it feels like a really supportive space – Lauren and I try to set the tone of it being honest and irreverent, but also safe. It does turn into a bit of group therapy and the section often goes on for twice as long as you think it will, because women just aren't really afforded space a lot of the time, where they're allowed to talk about their experiences in a way that's taken seriously and uninterrupted. The rooms we've done those shows in have felt really magical: there's normally thousands of women and one begrudging husband," she laughs.
One of the most appealing aspects of Everything I know about love is the honest documentation of both peaks and pitfalls of the modern experience. "It's the journey of a woman getting older and realising what's important in life," Dolly says. "It's exposing the journey of self and growing up, and the mistakes we make, and the things that we come to realise are what matters, and the things that don't – and that means there are going to be uncomfortable chapters. I'm against the idea that when women are on the page or screen they have to be bastions of puritanism, and always behave in this exemplary, compassionate, well-mannered and beautiful way – that's just not how life goes. I don't know any 21 year old that wasn't a bit of a twat."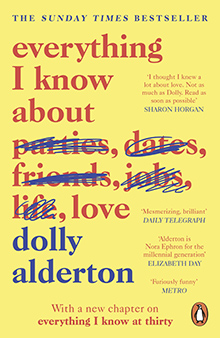 Dolly continues: "With women, we always talk about transgressions as evidence of poor morality or self-indulgence, but what we don't leave room for is what we leave so much room for when we're talking about male flâneurs or anarchists or bon viveurs.
"First of all, life is really hard, and life is difficult when you go from childhood to adulthood, and you have to face the reality of what this experience is going to be until the day you die, and the way a lot of us cope with that is in oblivion. If you're not an addict and you're not harming anyone, to push those boundaries is not only acceptable, but to be expected. I find it bewildering that this should be something we punish or shame women about."
"You can celebrate being alive with many things: you can celebrate it with hard work, raising children, falling in love, charitable work, connection with others, achievement, being in nature… but you can also celebrate being alive by going out and drinking two bottles of rosé between two friends, dancing to Common People, doing the worm on the floor of a pub with a dance floor and then going home with a bloke you'll never see again. It might not be for everyone, but it certainly was for me and I know lots of women who it was also true for."
With two hit podcasts, scripts in development, regular columns and the emotional labour of everyday life to tackle – plus as Dolly says, "maybe doing something as radical as going on a date, and falling in love and having a family at some point" – it's fair to say the writer has A Lot On. "I have so many different things going on in my work life with so many different people that if I start thinking about all the components of my career in a macro way I immediately want to cry, because I can't see how I'm ever going to be good at all of them at the same time, and keep everyone happy and create good work," she says. "The only way I can deal with my career now is to think day by day, and what I have to do that day – otherwise I just feel crushed by it."
To navigate a smooth course, Dolly creates structures: she sets aside Monday to go for a long walk or run, and holds monthly planning meetings with editors for her weekly column to lay out the four or five topics ahead. "It's really difficult coming up with a column every week. Sometimes something big will happen in my life, or I'll have an interesting experience and I'll change [the plan], but I like having the four in my head because it means I've done a lot of the writing in the back of my mind before I sit down with the page, which is such an important part of the process. For example, I know I'm going to write about vaping – so every dinner I have with a friend, every party I go to, there's a little box open in my subconscious mind that's looking for material and stories and anecdotes – and by the time I get to write it, I open up that little box and I've absent-mindedly been absorbing all the detail for it, so writing it is easier."
Having kept diaries and notebooks her entire life and worked as a journalist for almost a decade, Dolly's plethora of source material made the act of piecing together Everything I Know About Love relatively straightforward. "I've always had records, be it private or public, of things that were happening in my life, but I had no idea what the book was going to be about when I started – I knew I was following certain themes and stories," she explains. "I knew I wanted to write about my relationship with men and intimacy and romance; I knew I wanted to write about living with girls; and I knew I wanted to write about growing up, and going through your 20s, and facing realities – about coping mechanisms and hedonism. But it was only by the time I got to the end that I realised what the book was actually about."
---
"I had no idea what the book was going to be about"
---
Once all the stories were written, Dolly's editor pointed out the lack of a strong narrative thread – so the writer set about the task of finding one. "I looked back retrospectively to edit and signpost, and to come up with a satisfying conclusion – and I realised there were two massive themes," she says. "The first was my relationship to myself, and how that wasn't very good in my younger life, and how that manifested in dysfunctional relationships – and I also realised that in every single anecdote there was a chorus of women, these recurring characters. And then I thought – oh – this is a love story, about these people that have been in my life at every moment, and they are in this book on every single page. I didn't realise it was about friendship until I'd reached the final chapter."
Though the book's open approach is a huge part of its appeal, one conceivable challenge of having revealed so much in the pages is the perceived imbalance of familiarity: audience members and readers feel deeply connected to the book and its creator, yet Dolly knows nothing about them or their lives – though this isn't something that fazes the author. "I don't mind it," she says. "When you've made money and taken people's time by telling them all about yourself, who you are and what you stand for – to then, when anyone shows you the great compliment of taking an interest in that or feeling like they have some sense of intimacy, turn round and say 'you don't know me' is shitty. Because they do and if you don't want them to, then you shouldn't open up your life, your heart and your thoughts to them. Sometimes it's a little uncomfortable, but it's a small price to pay for feeling very close with a lot of people I've never met before. That's a really profound sense of loveliness."
Dolly Alderton: Everything I Know About Love Live is at Cambridge Corn Exchange on 20 February, tickets are £23
Save
Save
Save
Save
Save