URBAN GEOMETRICS
One of the key trends of the season is the use of geometric patterns. Whether you give a nod to the theme by adding in directional accessories – think hexagonal shelving and chevron-print cushions – or invest big with flooring or wall coverings, these simple but bold designs make a huge impression.
Hexagons, triangles and squares in interesting shape combinations are essential to this trend, and, although they have a 1970s retro feel, there's something intrinsically modern about this look. Specialist in handcrafted furniture, The Sofa & Chair Company, supplies a wide selection of luxury furniture for the home and its interior design consultant Martin Slabbert agrees that the geometric print is currently having 'a moment'.
"Geometric prints are almost never out of fashion," he says, "and this year, they are more on trend than ever before. But you don't have to go big and bold to master this style, as classic monochrome prints are the perfect way to add interest to a living room. "In 2014, patterns are more delicate than have been seen previously – almost as though they have been sketched," Martin continues. "This is perfect for smaller rooms, and keeps this look up to date and far from the typical 1970s aesthetic. For an easy update just add some printed scatter cushions, or to make a real impact, go for floor length, patterned curtains."
PLAYFUL MOOD
Source eye-catching accessories and home décor from urban lifestyle stores, such as Anthropologie, which has collaborated with painters Lauren Walcott and Ashley Longshore on a range of fun, painted animal cushions. Furniture emporium Out There Interiors stocks French-style armchairs upholstered in funky, stripy fabric, gold cabinets and vibrant postage stamp rugs.
"I am not a fan of serious sitting rooms," Out There Interiors director Jenny Hurren says. "Try a bold rug or non-matching stripy armchair to sit alongside your sofa, play with scale by placing a huge lamp on a small table, or hang a flamboyant chandelier in an unexpected place. Experiment with cushions and lamps: they are brilliant, non-permanent ways of 'quirking up' your space.
"Playful and eye-catching pieces are also great for drawing attention away from unattractive elements such as uPVC windows or woodchip wallpaper. There's a lot to be said for creating a feast for the eyes – it can cover a multitude of sins."
Bring a room to life by choosing vibrant textiles to frame a window or upholster a key piece of furniture. Team Hand Made to Measure's Ferdinand Sunset fabric – a vivid orange and purple stripe – with oversized florals. Not for the shy, is the latest trend in ombre-effect walls. Start with the darkest colour at the bottom and graduate to a lighter tone towards the ceiling. While fluoro colours give the wow factor, a more sophisticated take on this is to use lighter colours, so the effect is more 'watercolour' than 'poster paint'.
DRAMATIC GLAMOUR
Dark, moody walls set off with metallic or mirrored furniture is an instant hit if high-end glamour is your goal. Paint walls black or midnight blue and contrast with Chinese lacquered furniture, such as the teal and pink cabinets from Shimu. Make a focal wall with mirrors, such as the black and cream flower versions at Oliver Hayden.
Oliver Hayden's director, Bernice Say, comments: "If you have a flair for the dramatic, a black and red colour scheme will appeal. It offers a bold palette with the ability to create a variety of styles. Silver and mirrored surfaces are a wonderful complement. This look is pure glamour."
Sumptuous furnishings – such as the handmade velvet chairs stocked at John Sankey – and the deep fuchsia ottomans, black cocktail chairs and orange velvet Demi Lune sofas at The Sofa & Chair Company are the ultimate ways to make the look work.
Interior design consultant, Martin Slabbert, at The Sofa & Chair Company, says: "Interiors have become far more glamorous this season, moving away from the shabby-chic aesthetic. The use of clean and classic colour palettes; black, whites and even mirroring is a great way to add a touch of opulence to your home. High gloss black flooring is also making a comeback, a trend I am happy to see return!"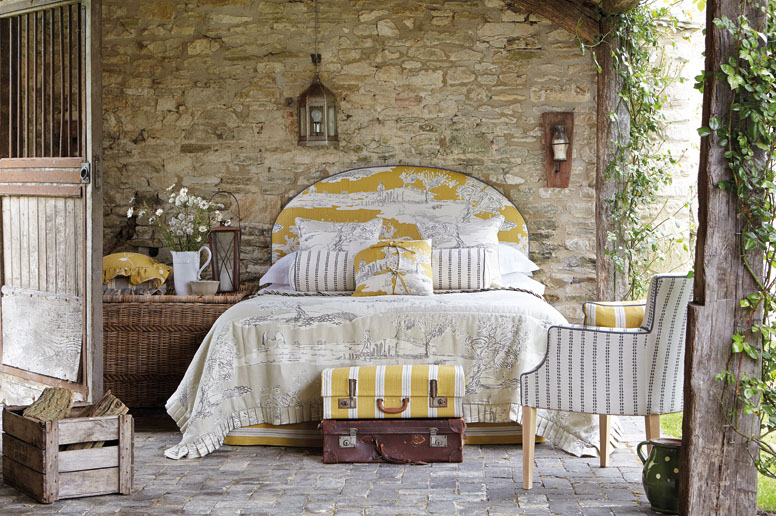 SLEEPING
Cosy is key to the latest bedroom styles. Use an assortment of different textures for a modern approach to a traditional aesthetic and go for a blended, mismatched look. Contrast cushions in different fabrics and don't be afraid to mix modern with the old – a floral eiderdown on a silk-covered duvet, for instance, works really well. Traditional iron bedsteads, such as those available at The Original Bedstead Company, are perfect for this look – giving an old-time sentiment to a bedroom.
To add in a contemporary twist, choose unusual textiles, such as Vanessa Arbuthnott's Bohemian range with its natural scenes in a grey and chartreuse colour palette. To create the ultimate retreat, layering is crucial – but keep it neat. Set up a small tableau of curiosities or collectables on chests of drawers or occasional tables, pile on the bedcovers in contrasting prints and create feature walls with vintage hand mirrors or small oil paintings in a similar colour palette. Check out Oliver Hayden's quirky accessories for inspiration.
IN THE PINK
Whether it's soft blush or rich raspberry, pink is making a comeback. Taking its cue from last season's catwalks (where the shade was featured by virtually every designer), the colour – used correctly – can look modern and sophisticated.
Director of Out There Interiors, Jenny Hurren, comments: "Pink bedrooms don't have to scream Barbie! Soft pink and grey is a wonderful colour combination, for instance, and creates a sophisticated room. Think pastel pink bedside tables with copper lamps and sumptuous textiles – gorgeous! When it comes to hot pink, don't go overboard. One piece is perfect. Allow it to own the space, then choose neutrals to sit alongside."
Essentially a romantic colour, using too much pink in the bedroom is in danger of being too frou-frou and feminine. Keep it modern and subtle by dressing a clean-lined ottoman bed, such as the Cameron Ottoman bed at Cambridge's Feather and Black, with the Poetica range of fabrics – faded glamour in style – from Harlequin.