Packed with hidden surprises, the University Arms Inaugural Art Fair 2022 is certain to make you glance again, says Miriam Balanescu
The work of any individual artist or collective when curated for an exhibition is almost always threaded through with special themes – from the sea-blues of Tracey Emin's sketches to explorations of identity in Lubaina Himid's paintings – so a collection which contends to have no particular theme at all is in some ways truly radical.
A lack of a central concern, recurring colour palette or even a unifying medium is what the Eclectic Eye Cambridge Art Fair claims injects their uniqueness – the concept is solely to bring together the best of regional and national artists' work to raise money for charity Blue Smile, which supports the mental health of Cambridgeshire's students through art-based therapy. Selected by Skymeadow Gallery, Art East, Nicholas Holloway and Ramsay Prints, each East Anglian art dealer made their selection without any brief or communication and their separate choices are interspersed and intermingled throughout the four walls of the University Arms Hotel's ballroom.
Though on closer inspection, some unexpected themes do come to light. Recreations or riffs off the titans of the impressionist and cubist schools (think lots of Claude Monet) are woven throughout, including multiple works from contemporary London-based artist Luke Martineau, a smattering of Monet-esque paint smudges from Tina Orselic Dalessio and the impressionist evident touch elsewhere in the works of Sandy Murphy and Cathleen Mann. A handful of Picasso-inspired sketches from 1958 are easily missed, propped up against the bottom of the entrance wall. A Cambridge theme is kept subtle: the famous railway posters of Fred Taylor are displayed on easels slightly detached from the rest of the exhibition, while nearly an entire corner is devoted to cows (both over-kitsch and tranquilly delicate depictions from Algernon Tamage, David Gauld and Anne Louise Falkner) – perhaps a nod towards one of Cambridge's own arguably most prominent themes.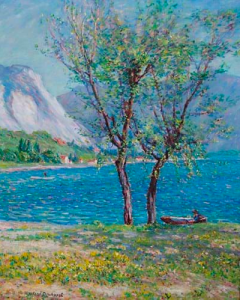 This art fair's displays stretch modestly from early 20th century works to the present day. The oldest painting present is Portrait of a Young Girl by Follower of Mary Beale 1633-1699, so scrupulously preserved that it appears almost as modern as the art surrounding it. Though the time span is small, the range of styles is diverse – particular highlights include the brazen and bristling brush strokes of Lucy Harwood's Landscape, the stubborn intricacy of Will Topley's Poppy and the zingy to cool colour contrasts of William Telfer's Roses & Fruit. A vorticist take on mushroom hunting delights in George Large's Edible Fungi. The sculpture offering here is also strong, with Georgiana Anstruther's humanoid experimentations in bronze – almost trying to escape their own solidness, the statues seeming to trickle – dotted throughout the room. Tom Hiscocks' nature-inspired work is the foil to Anstruther's figurines in its sturdiness: his Octave Flower and Caballo Bebedor II are displayed proudly in the centre of the room.
Eclecticism brings its own problems. More moody works feel out of place next to the sugary tones of Howard J Morgan's work; Joan Warburton's watercolour sketches feel flat next to denser oil mediums; the grotesque realism of Val Archer's Three Quinces is a yank out of the sweet pastoral scenes surrounding it – one surprise that isn't welcome. The set of 12 lithographs by one of France's best-known poster artists, Paul Colin, seems an uncomfortable addition. With their racialised portrayals of 1920s jazz artists, none of the context needed when displaying such works is given here.
The Eclectic Eye's focus is a work created in real-time: Frances Segelman's live sculpted portrait of Blue Smile patron Sir Simon Baron-Cohen. It's a reminder that this art fair in decadent surrounds is held in honour of the children across Cambridgeshire which Blue Smile helps – we can only hope that such initiatives continue to grow.
The Eclectic Eye Cambridge Art Fair is free to visit and held in the Ballroom of the University Arms Hotel from 23 to 26 February.